Rooster - Chinese Zodiac Animal
Personality
The rooster ranks tenth of all the animals in the Chinese zodiac. People born in the year of the rooster are very observant. Hardworking, resourceful, courageous and talented, roosters are very confident about themselves. They are always active, amusing and popular among the crowd. Roosters are talkative, outspoken, frank, open, honest, and loyal individuals. They like to be the center of attention and always appear attractive and beautiful.
Roosters are happiest when they are surrounded by others, whether at a party or just a social gathering. They enjoy the spotlight and will exhibit their charm at any occasion. They expect others to listen to them while they speak and can become agitated if others don't. Vain and boastful, roosters like to brag about themselves and their accomplishments. Their continually seeking the unwavering attention of others annoys people around them at times.
Health
People born in the year of the rooster are typically healthy people. They are active and enjoy sports such as hiking and swimming. They don't get sick very often because they tend to fight illness fairly well. Even when they do become ill, they feel better quickly. Roosters are a little sensitive, and they feel stressed and moody at times.
Career
Roosters are more motivated than other animals in the Chinese zodiac, making their careers a priority in their lives. They are hard working, multi-talented and can deal with different jobs. Good career choices for roosters are newsreader, sales person, restaurant owner, hairdresser, public relations officer, farmer, athlete, teacher, waiter, journalist, travel writer, dentist, surgeon, soldier, fireman, security guard, and police officer.
Relationships
Roosters are loyal and they make devoted friends. They always keep their promises and are always true to their word. Sensitive individuals may find it hard to get along well with roosters, because they always brag about themselves and their accomplishments, which may make others uncomfortable.
Compatibility
Best with: Ox, Dragon or Snake
Worst with: Rabbit, Chicken or Dog
Send a Chinese Zodiac Birthday Card to Your "Rooster" Friend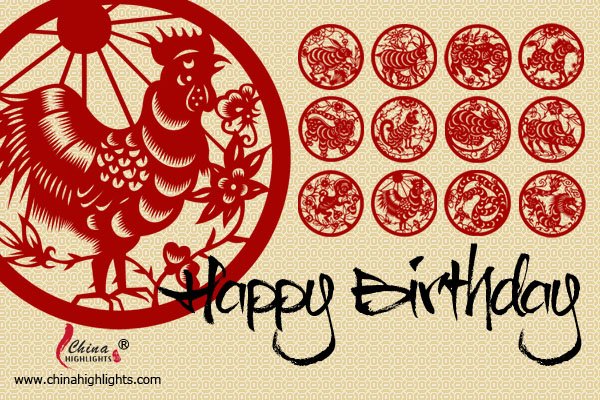 More Chinese Zodiac Birthday Cards
Related Links