Tiger - Chinese Zodiac Animal
Personality
Among the Chinese Zodiac animals, tigers have the third position. They are characterized by bravery, competitiveness and unpredictability. With stubborn personalities and tough judgment, tigers work actively and boldly express themselves, and do things with a high-handed manner. They are authoritative and never go back on what they have said. With great confidence and indomitable fortitude, they can be competent leaders. They will not make preparations for anything, but they can handle anything that comes along. Tigers are naturally inclined to accept a challenge and do not like to obey others.
Health
Tigers enjoy good health. They are active so they like to do different kind of sports. Small illnesses, such as colds, coughs, and fever, are rarely experienced by tigers. However, they should avoid excessive strenuous exercise, because some dangerous actions may lead to physical damage. When involved in outdoor excise, they should pay particular attention to warm-up exercise. Aerobic-type exercise, such as jogging, is suitable to keep fit. Tigers are energetic and have great enthusiasm at work. When they feel exhausted after extended work, they need some relaxation to refresh themselves.
Career
Due to the title " king of animals", tigers are the focus that everyone pays attention to. Born with leadership, they are respected by others. Tigers are suitable to any career as leaders. They can take up such careers as advertising agent, office manager, travel agent, actor, writer, artist, pilot, flight attendant, musician, comedian, and chauffeur. However, in early years, tigers are not so smooth in their careers. After their thirties, they turn to a better cause and gather wealth.
Relationships
In social relationship, tigers are always in the dominant role. Due to treason and over confidence, tigers do not like to communicate with others, so they are not good at coordinating in social circles. They are inclined to use commanding means to deal with interpersonal relationships. Even though they are acquainted with a lot of people, they do not further the relationships to deep friendship. In love relationships, tigers can not give sweet love to their partners because they lack romance.
Compatibility
Best with: Dragon, Monkey or Ox
Worst with: Goat, Horse, Rabbit or Rooster
Send a Chinese Zodiac Birthday Card to Your "Tiger" Friend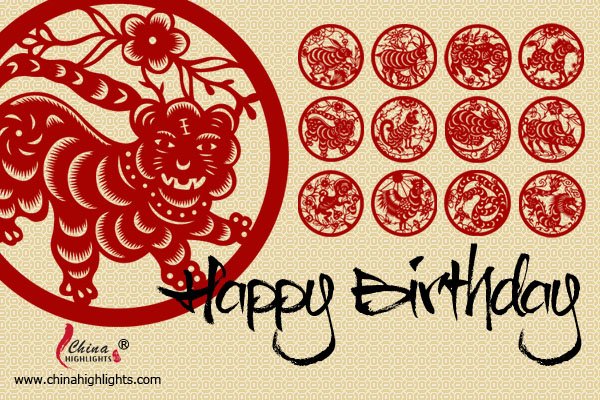 More Chinese Zodiac Birthday Cards
Related Links