Yangtze Cruise Routes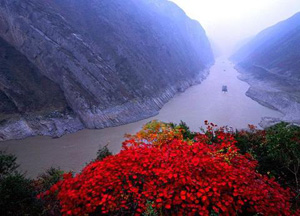 There are four Yangtze Cruise routes:
1. A cruise from Chongqing to Yichang (downstream) takes three nights and four days.
2. A cruise from Yichang to Chongqing (upstream) takes four nights and five days. Read the differences between upstream and downstream cruises.
Most cruises run between Chongqing and Yichang. Popular cruise companies are Victoria Fleet Cruises, President Fleet Cruises and China Dragon Fleet Cruises. Shore excursions vary according to ship and schedule, mainly including the Three Gorges Dam, Daning River Lesser Three Gorges, Shennong Stream, Fengdu Ghost City, Shibao Village and Fengjie (White Emperor City).
Although Yichang is often overlooked by travelers, who travel straight through to board a Yangtze cruise ship, Yichang has a freshness and tidiness, and has some picturesque natural sights in the vicinity. China's largest municipality, Chongqing, has a number of tourist attractions. If you are interested and your itinerary permits, China Highlights can tailor-make your own Yichang half-day (or one-day) trip and Chongqing one-day trip.
3. Cruises from Chongqing to Shanghai (downstream) take six nights and seven days.
4. Cruises from Shanghai to Chongqing (upstream) take eight nights and nine days.
Only Victoria Prince Cruises run between Chongqing and Shanghai. Downstream and upstream shore excursions are the same, including Fengdu Ghost City, Daning River Lesser Three Gorgers, the Three Gorgers Dam, Hubei Provincial Museum, the Yellow Mountains, the Mausoleum of Dr Sun Yat Sen and Confucius Temple.
Recommended Yangtze River Tours
Destination: Shanghai, Chongqing, Yangtze, Yichang, Shanghai
Shanghai is an intoxicating blend of historic culture and an ultra-modern mega city. Combine this with some of China's most spectacular scenery, cultural treasures and religious and historical sites on the Yangtze River to see the huge contrast which is China.

Destination: Beijing, Chongqing, Yangtze, Yichang
Beijing has been at heart of China's history, government and culture since ancient times and the Yangtze is known as the cradle of Chinese culture and in many ways is the life blood of China. We combine both to give a great insight to our country in 8 short days.

Destination: Hong Kong, Guilin, Chongqing, Yangtze, Yichang, Shanghai, Beijing
Take a cruise on the spectacular Yangtze River and stay in Hong Kong and Shanghai. This is a truly comprehensive and very popular journey exploring China's greatest treasures at a relaxed pace.