President 8 Cruise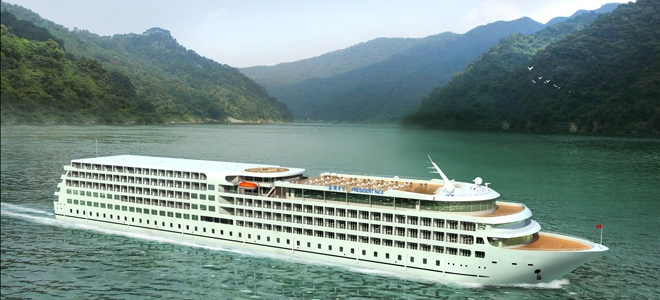 Select your cruise dates
2

Book

3

Expert reply

4

Your cruise is ready!
Select your cruise dates
(price per person, twin sharing basis)
Cruise
Map & Itinerary

Cruise
Introduction

First Navigation
Latest Renew
Length
2013
-

146.8

m
Width
Passengers


20.2m
460
Similar to the deluxe President 7, the President 8 has the same state-of-the-art design. It is a new cruise ship on the Yangtze River, which had its maiden voyage in April 2013. The President 8 is a large cruise ship with a length of 146.8 meters.
There are three kinds of cabins on the President 8: 215 luxury standard rooms, 13 luxury executive rooms on the top deck, and 2 presidential suites at the fore of the third deck. 100 of the standard rooms can be upgraded into triple rooms for families.
The ship may depart from Fengdu because of low water levels at Chongqing. Passengers are transferred from Chongqing to Fengdu by bus (4 hours) for boarding in the event of insufficient docking depth at Chongqing.
Why Choose the President 8
VIP Services — China Highlights provides a fruit basket to all customers after boarding the ship, as part of our VIP service.
Large rooms: Each deluxe standard cabin has a total of 27.5 sq. m.!
Private balconies: all rooms have a private balcony.
Advanced design to reduce disturbances: The new design puts a clear division between public areas and resting areas so that guests can rest easy.
The largest indoor constant-temperature pool among inland cruise ships.
Food
Breakfast: Chinese and Western Buffet
Lunch: Chinese and Western Buffet
Dinner: Chinese-style set menu
President 8 Facilities
Lobby, reception desk, souvenir shop, business center, clinic, café, reading room, swimming pool, driving range, children's park, card room, dancing hall, multi-function hall, karaoke bar, banquet hall, Internet bar, cinema, dining room, front viewing area, beauty salon, massage room, conference center, radio room, sun deck, public washroom, gym room, and sauna.
Entertainment
Shows on ancient Chinese clothes, lectures on Chinese history and medicine, Chinese tea ceremonies, and tai chi exercises take place during the trip.
Cabins
Info
Deluxe Cabin

Number of cabin: 215
Area: 27.5㎡
Bed Size: 2.0m*0.9
Balcony: 2.8㎡
Executive Suite

Number of cabin: 13
Area: 41.2㎡
Bed Size: 2.0m*1.0
Balcony: 3.6㎡
Presidential Suite

Number of cabin: 2
Area: 198㎡
Bed Size: 2.0m*1.8
Balcony: 30㎡
Deckplans
Info
6F: Sun Deck

5F: Recreation Center

4F: Souvenir Shop

3F: VIP Dining Hall

2F: Dining Hall

1F: Main Deck

-1F: Leisure Center
Reading Room

Red Wine Bar


Fengdu Ghost City is the optional shore excursion.