Plan a Yangtze River Cruise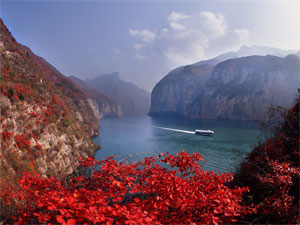 Scenery of the Three Gorges on the Yangtze River
When planning a Yangtze River cruise it is good to know the differences between upstream and downstream cruises. China Highlights travel advisors can help you create unforgettable memories and perfectly fit the cruise in a travel package of your choice.
The Best Time for a Yangtze River Cruise
Spring and autumn are the golden seasons to take a cruise on the Yangtze River, when the weather is comfortable, and the scenery along the Yangtze is stunning and colorful. Specifically speaking, April, May, September, and October are the best months to go. However, the prices during these high seasons are higher. See our Yangtze Cruise calendar for 2013.
Upstream or Downstream
A downstream cruise of the Yangtze River gorges is one day shorter than an upstream cruise (longer cruises are two days shorter downstream). The prices of upstream and downstream cruises are the same for most cruise routes, except for those between Chongqing and Shanghai (where the upstream price is more expensive). On both routes, you can extend your excursion to visit the historic and cultural places along the river.
Choose a Cruise Ship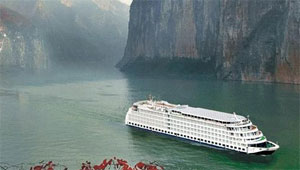 Century Legend
There are more than 20 cruise ships on the Yangtze River, among which the Victoria Cruise and President Cruise ships are the most luxurious and exquisite. President 7, President 8, Century Paragon and Century legend are the newest cruise ships, which made their first voyages in April and May of 2013.
Related Reading
Choose a Yangtze Cruise Cabin
Choosing a suitable cabin is very important for a perfect Yangtze cruise. China Highlights travel advisors can help you choose a cruise cabin to suit your budget and requirements. There are four essential factors: the ship's star rating, the ship's refurbishment history, cabin types, and cabin locations.
Yangtze Cruises with China Highlights
China Highlights has been specializing in tailor-making China tours for 15 years, including Yangtze River cruises. We can arrange the most suitable cruise ship and cabin for your requirements.
A Yangtze Cruise with More
The advantage of a cruise as part of a tour package is that we can tailor-make a personal China experience for you with all tour components fitting perfectly together. You could start by choosing one of our Yangtze Cruise packages and customize it to suit you. Our tour packages allow you to see more of China, such as Beijing, Shanghai, and Hong Kong.
If you book a cruise alone we suggest also booking at least the transfer from your hotel to the ship with us, so that we can guarantee a smooth check-in.
Recommended Yangtze River Tours
Destination: Shanghai, Chongqing, Yangtze, Yichang, Shanghai
Shanghai is an intoxicating blend of historic culture and an ultra-modern mega city. Combine this with some of China's most spectacular scenery, cultural treasures and religious and historical sites on the Yangtze River to see the huge contrast which is China.

Destination: Beijing, Chongqing, Yangtze, Yichang
Beijing has been at heart of China's history, government and culture since ancient times and the Yangtze is known as the cradle of Chinese culture and in many ways is the life blood of China. We combine both to give a great insight to our country in 8 short days.

Destination: Hong Kong, Guilin, Chongqing, Yangtze, Yichang, Shanghai, Beijing
Take a cruise on the spectacular Yangtze River and stay in Hong Kong and Shanghai. This is a truly comprehensive and very popular journey exploring China's greatest treasures at a relaxed pace.

Jan.
Feb.
Mar.
Apr.
May.
Jun.
Jul.
Aug.
Sep.
Oct.
Nov.