Yangtze Gold 6 Cruise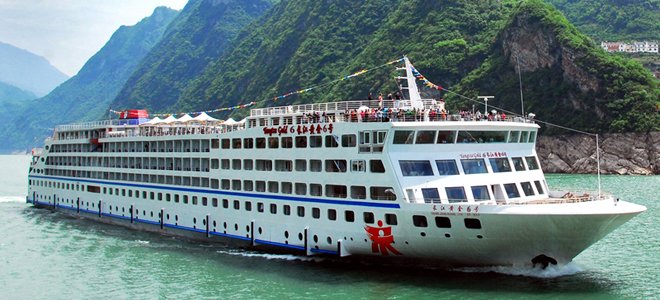 Select your cruise dates
2

Book

3

Expert reply

4

Your cruise is ready!
Select your cruise dates
(price per person, twin sharing basis)
Cruise
Map & Itinerary

Cruise
Introduction

| First Navigation | Latest Renew | Length |
| --- | --- | --- |
| 2012 | - | 149m |
| Width | Passengers | Gross Tonnage |
| 24m | 570 | 17,000T |
The Yangtze Gold 6 is a new luxury 5-star ship, which was launched in June 2012. The ship is 24 meters in width and 150 meters in length, with a capacity of 570 passengers. There are six elevators onboard.
The ship looks like a luxury 5-star hotel, and it is up to the international standard for 5-star cruise ships. Facilities are as much as you would expect from a hotel of the same standard, including a shopping mall, snack shop, cigar bar, Internet cafe, children's playground, outdoor swimming pool, and (mini) golf course. The bar on the 6th floor provides good views of the river scenery.
Reasons to choose it:
Spacious cabins (24 sq. m.)
All cabins are equipped with an en suite bathroom and private balcony.
The only ship with a golf course on the Yangtze River.
The only ship that has landing space for a helicopter.
Noise reduction measures ensure you a quiet and enjoyable cruise holiday.
Cabins
Info
Deluxe Cabin

Area: 24㎡
Bed size: 2.0m*1.1m
Executive Cabin

Area: 36㎡
Bed size: 2.0m*1.1m
Executive Suite

Area: 72㎡
Bed size: 2.0m*1.8m
President Suite

Area: 139㎡
Bed size: 2.0m*2.0m
Deckplans
Info
Sun Deck

Recreation Deck

Bridge Deck

Promenade Deck

Main Deck
Lobby

Executive Suite

Deluxe Suite