Yangtze Gold 8 Cruise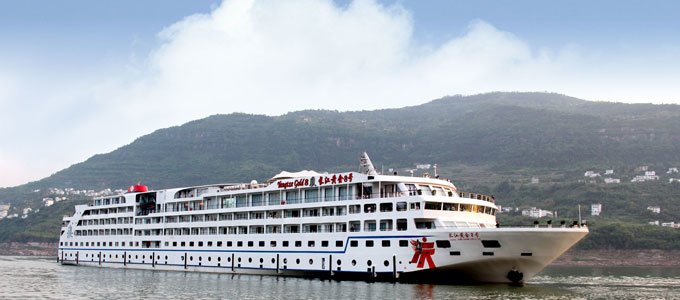 Select your cruise dates
2

Book

3

Expert reply

4

Your cruise is ready!
Select your cruise dates
(price per person, twin sharing basis)
Cruise
Map & Itinerary

Cruise
Introduction

| First Navigation | Latest Renew | Length |
| --- | --- | --- |
| 2013 | - | 136m |
| Width | Passengers | Gross Tonnage |
| 19.6m | 446 | 11,250T |
"Yangtze Gold 8" is the largest, most-spacious, and quietest ship on the Yangtze. It also boasts the best service. Every standard room and every suite has an independent balcony, so that you can enjoy the sights of the Yangtze River without going out.
Enjoying delicious food and beautiful scenery on a cruise is the best way to travel the Three Gorges, and "Yangtze Gold 8" can make your experience an amazing one. It is one of the most comfortable and charismatic inland river cruises in the world.
Stunning!
"Gold 8" had its first voyage on March 15, 2013, taking the title of the most luxurious ultra-five-star cruise boat on the Yangtze River. The prow, hull, and stern of the cruiser are visually stunning, and the balcony lines look very nice. The luxury, comfort, ergonomics, and beauty of the ship make for a wonderful cruise. It is so eye-attracting and soul-stirring!
Built in accordance with five-star standards, "Yangtze Gold 8" looks similar to "Yangtze Gold 7" in appearance, but the interior decoration is European style.
Facilities and Management
"Gold 8" combines the six major elements of travel – eating, accommodation, transport, recreation, shopping, and entertainment. It has a fully-transparent hall and commercial walking street, delectable food, mini golf, a double-story movie theatre, snooker, cigar bar, surfing, and swimming pool, and many other entertainment facilities.
Yangtze Gold cruises are managed by a specialized management company, which makes the service more professional and reliable.
Lobby

VIP Restaurant

Fitness Center