Yangzi Explorer Cruise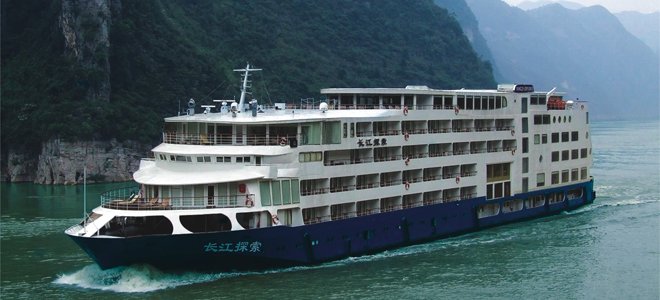 Select your cruise dates
2

Book

3

Expert reply

4

Your cruise is ready!
Select your cruise dates
(price per person, twin sharing basis)
Cruise
Map & Itinerary

Cruise
Introduction

First Navigation
Latest Renew
Length
1994
2008

91.5

m
Width
Passengers


16.4m
124
The Yangtze Explorer boasts the largest standard cabins on the Yangtze River. Each identical deluxe cabin features floor-to-ceiling sliding glass doors that open out onto a private outside balcony.
Features
The Yangtze Explorer is one of the most luxurious ships on the Yangtze River. It was designed by the famous French designer, Anthony Dugdale, and was decorated by a famous British designer, Andrew Sobenko. All onboard facilities are new and advanced, ideally suiting the elegant decor.
Three dining halls on the ship offer Western food, Chinese cuisine, and dishes from other Asian countries. A variety of programs, such as movies and performances are offered each day. The bar on top of the ship allows travelers to enjoy the scenery while sipping a cup of coffee or wine.
The ship boasts 62 cabins that can hold 124 passengers. The area of the standard cabin is about 27 square meters. All cabins have a balcony of around 3.5 square meters.
Note: the "Buy one get one get one free" policy is applicable to deluxe cabin and suite.
Tipping Special Note:The Yangzi Explorer have introduced a $32/RMB200 per person service charge for the passengers who come from Southeast Asia. The service charge is payable at the time of boarding. Passengers from other countries can choose to pay the service fee at the end of the cruise.
Lobby

Restautant

Reading Room


Taiji Class