Dali Travel Guide
Dali Bai Nationality Autonomous Prefecture has one city and 11 counties within its jurisdiction. Its prefectural capital is Dali City ( including Xiaguan city and Dali ancient city ).
There are four scenic areas in the Dali region, including the Cangshan Mountains, Erhai Lake, Butterfly Spring and other historic relics ( in Dali City ), Jizu Mountain ( in Bingchuan County ), Shibao Mountain ( in Jianchuan County ) and Weibao Mountain ( in Weishan County ).
Among those areas, Dali City attracts the largest numbers of Chinese and foreign visitors. Dali Ancient City is widely acknowledged as "Backpackers' Paradise" in China. Foreign visitors like to stay in Dali ancient city.
Some of them live there for months or even years, to observe and study the fascinating culture of Bai nationality.
In the so - called " Yangren Street (foreigner's street) " in the heart of ancient city where is always full of foreign visitors, there are several dozens of cafes, western style restaurants, and clothes shops offering services to foreign guests. And it seems that everyone of local Dali Bai people in the Yangren Street is a multi linguist.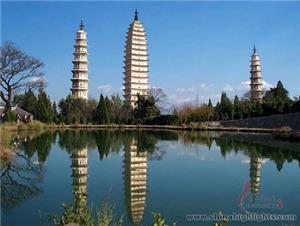 The Three Pagodas
Dali is noted for its fine marble art pieces and craft objects, and the price for the quality is low. You may want to buy souvenirs here. Foreigners' Street is a good place to find bargains on marble objects. Cangshan Mountain marble is beautiful. The marble craft and art objects are noted in China and around the world. The marble often has unusual intricate patterns like flowers or like stripes like the planet Jupiter. The marble has unusual colors such as red, yellow, and jade-green, and some of the marble is striped and spotted in a variety of colors. Cangshan marble is famous in China. For some reason, the Chinese word for marble is "Dalishi" which literally means "Dali stone.
Crafts objects such as dyed cloth, hats, and the local ethnic clothing are for sale also. To get lower prices, you have to bargain. The initial quoted price to foreigners may often be 4 or 8 times more than the product is worth on the market.
Dali Hiking and Biking
The countryside around Dali Ancient Town is a ideal place for a biking or hiking tour. Many travelers to Dali choose to have a day or two day cylcing tour around Erhai Lake or to hike up to the Cangshan Mountain or to the nearby Bai Ehtnic Village in Xizhou. The scenery you will see on the way is farbulous.
Three Cups of Tea
Three Cups of Tea is a traditional tea ceremony conducted by the Bai people to express their best wishes to the tea drinkers. The three cups of tea contain one bitter tea, one sweet tea and one aftertaste tea, and they are all served one after another. This unique tea-drinking convention has its cultural connotation of success and happiness often coming after hardship. Travelers to Dali are often greeted by this ceremony.
Batik of the Bai People
This is a very old way of dying cloth, which is still conducted by the ethnic people in China's remote regions such as Guizhou and Yunnan. In Dali, tourists can witness the ancient and complicated procedure engaging in batik, which is one significant part of the local Bai people's lifestyle.
Questions and Answers About Dali Travel Guide
Bev Watkinson
2013-08-04
Show Answer
How do you get to Dali from Beijing
Dear Bev Watkinson, You could take a flight from Beijing to Dalin. There is only one flight every day, it takes about 5 hours. Or you could take a train to Kunming at first, then take a train or a flight to Dali. Please check the time schedule on our website: http://www.chinahighlights.com/china-trains/ Lussie Lu replied on 2013-08-04
Eric
2012-03-02
Show Answer
Hi I want to go to Da Li and Shangri La from Hong kong. Any suggestions. I want to go in Aug.
ankush nischal
2011-03-01
Show Answer
is dere any indian guide availabel
Hi Ankush Nischal, We don't have Indian guide at prestent. Most of the guides can speak Engish and there are some Spanish-speaking guides, French-speaking guides and Italian-speaking guides. If you need our service, please contact us. We also can arrange a China tour for you. Please send your e-mail to lussie@chinahighlights.com Lussie Lu replied on 2011-03-01
April Offer $25 Coupon
Send your inquiry before Apr. 30, 2014, and we will email you a $25 coupon.
The coupon is valid till Dec. 31, 2014, for paying tour packages worth $250 or up.
The coupon cannot be used for paying flight tickets, train tickets, hotel rooms and day trips.
Travel Advice or Question? Ask us here
Dali Travel Guide
Dali Facts
Chinese Name: 大理
Chinese Pinyin: dà lǐ
Location: Southwest of China
Latitude: 25°43' N
Longitude: 100°10' E
Elevation: 1976 M (6483 FT)
Time Zone: (UTC+8)
Area Code: 0872
Population: 3.48 million