Shangri-La Exploration Tour
From: $1989
Photography
Nature
Culture
This tour takes you to visit remote minority cultures and the legendary Shangri-La. The most magnificent scenery and ancient cultures of Yunnan are waiting to be explored, from ancient towns to snowy mountains, from the world's deepest canyon to notable limestone formations. No shopping, no detours, no factories, and more time to relax at every spot.
Highlights
Lose your way in the maze-like karst landscape of the Stone Forest
Meet the friendly locals at the well-preserved Xizhou Ancient Village
Find out the vanishing Chinese charm in Shaxi Ancient Town
Take a cable car up to the holy Jade Dragon Snow Mountain
Check out how the tiger leaped over the sensational Tiger-Leaping Gorge
Seek enlightenment from a Tibetan Buddhist at the Songzanlin Lamasery
What's Included
Entrance to the attractions listed in the itinerary
Meals mentioned in the itinerary
Private transfers between the airport, attractions, and hotels
Private local English-speaking tour guide and driver service (except for voluntary tips)
Hotel accommodation with breakfast and service fee
Specified boat ride on Er'hai Lake
Specified round-trip cable car at the Jade Dragon Snow Mountain
Specified flights
Price Per Person in US Dollars
Price Per Person in US Dollars
Note:
The price for children is about 60–70% of the adult price, depending on the number of people in the group and the room arrangements.
Suggested Itinerary
After your flight lands at the airport, your tour guide will wait for you with a welcoming smile at the arrival hall. Transfer to your hotel by a private car and driver. The rest of the day is for you to acclimatize and explore the city, or relax and recoup ready for the tour tomorrow.
Good to know:
If you arrive early in the morning and have some time to kill, you may consider enriching your day by visiting Yunnan Minority Village, which gives a very quick view of the various minorities in Yunnan and their cultures, costumes, and customs. If you are interested in the history of the American Flying Tigers during World War II, Kunming Museum is recommended.
Accommodation
Kunming New Era Hotel (superior class)/Green Lake Hotel (deluxe class).
Day 2
Stone Forest and Xishan Dragon Gate Tour
After a 1½-hour drive, visit a fantastic natural phenomenon located 90 kilometers southeast of Kunming — the Stone Forest. The various shapes of limestone were formed due to millions of years' movement of the Earth. The Stone Forest area is the home of the Naxi people, and their folk customs have become a spectacular scene. The colorful embroidery and minority dances combined with the natural scenery will surely leave you with a lasting impression. Enjoy a Chinese lunch in the scenic area.
In the afternoon, transfer back to Kunming and walk pass the Dragon Gate on Xishan (Western Hills) to get prosperity in the future. You will have a bird's-eye view of the Dianchi Lake and appreciate the groups of Taoist sculptures in the grottoes on the cliff in this scenic area.
After the tour, your guide and driver will escort you back to your hotel for a good rest.
Good to know:
As the Stone Forest is a very popular must-see attraction, the countless tourist groups there during the peak season rank among travelers' pet peeves. Due to the gigantic size of the park, your guide will help you find less visited and more remote areas to avoid the crowds, especially in the winter months.

Day 3
Kunming to Dali Flight and Dali Ancient Town Tour
You will be transferred to your morning flight to arrive in Dali within one hour. Upon arrival, your Dali guide will be waiting to start a colorful day with you. The area around Er'hai Lake is blessed with a mild climate and stunning scenery. Taking a boat to cruise on the lake is a popular way of sightseeing. Visit the houses of the Bai minority people in Xizhou Town. Xizhou is not only a famous historic city, but also a typical commercial town of the Bai people. You will see typical Bai traditions and dresses. Some buildings are old and have typical ancient architectures, and are the 'real local' houses. On the outside walls of each house, there are numerous exquisite paintings, displaying the importance of art in this area. Have lunch at a popular local restaurant.
Located at the foot of the Cangshan Mountains is Dali Ancient Town, where clear springs flow and local minority people live. The local people are keen gardeners, showcasing flowers in their gardens around clear streams, with finely decorated traditional houses. Stay overnight in the ancient town and relax.
Good to know:
The Three Pagodas between the Cangshan Mountain and Er'hai Lake are considered the landmark of Dali. Towering aloft in a triangle shape, the Three Pagodas were built more than 1,000 years ago. It's recommended if you have extra time or interested in landmark photography.
Accommodation
Dali Landscape Hotel (superior class)/Gurong Hotel (deluxe class).

Day 4
Dali to Lijiang Transfer and Lijiang Ancient Town Tour
Instead of being transferred directly from Dali to Lijiang, you will stop by a time-warp ancient town, Shaxi Ancient Town, which is listed by the World Monuments Fund as one of the world's 100 most endangered sites. As a place where you can breathe in fresh air around-the-clock, this town was once a crucial node on the tea-horse roads and has not yet been invaded by hordes of tourists. The Xinjiao Temple on Sideng Street is the only Ming Dynasty (1368–1644) Bai Buddhist temple. Enjoy lunch and continue to the tour in Lijiang. Lijiang Ancient Town presents a fusion of beautiful scenery, minority architecture, and culture. Its ingenious network of waterways is supplied by mountain springs, connecting houses, cobbled paths, and bridges. It is very rare in China that such a well-preserved minority ancient city still exists. You can climb up to the Lion Hill to have a bird's-eye view of the whole town.
Then pay a visit to the Black Dragon Pool Park, where the view of the Jade Dragon Snow Mountain is one of the most famous postcard-perfect sceneries in southwest China. Stay overnight in Lijiang Ancient Town.
Good to know:
Lijiang Ancient Town attracts more tourists than the Forbidden City in Beijing during peak season. Here are some tips to escape the hordes of tourists:
1. Stay overnight in Lijiang Ancient Town and start early: 80% of the tourists will be in 20% of the places. Get up early and find the best spots with the help of your guide.
2. Stay overnight in Shuhe Ancient Town: 20-minutes away from Lijiang by car, Shuhe is less touristic and quieter, featuring a nice temple complex.
Accommodation
Lijiang Wangfu Hotel (superior class)/InterContinental Lijiang Ancient Town Resort (deluxe class).
Day 5
Jade Dragon Snow Mountain and Baisha Murals Tour
Welcome to the Jade Dragon Snow Mountain, the holy mountain of the Naxi people. Use the cable car and find yourself in a real paradise as you overlook stunning and variant natural beauty, including spruces, meadows, lakes, glaciers, pines, and clouds.
On your way back to Lijiang, enjoy lunch and see the mysterious Baisha Murals at Baisha Village. Painted over 1,000 years ago, the murals display the life stories of China's main religions, including Confucianism, Taoism, and Tibetan Buddhism. Drop by a local herb clinic of Dr. Ho to see how the old doctor and his apprentices diagnose and treat patients using traditional Chinese medicine. Stay overnight in Lijiang.

Day 6
Tiger Leaping Gorge Tour and Lijiang to Shangri-La Transfer
Your guide and driver will escort you from Lijiang to Shangri-La. Along the way, stop at two legendary spots.
Stone Drum Town stands at the base of the mountain flanking the First Bend of the Yangtze River. This town derives its name from a white marble carved monument in the shape of a drum. It is where three rivers meet and make a sudden 100-degree turn to make a V-shaped bend, which is a magnificent scene.
After lunch, visit one of the world's deepest and most marvelous gorges, the Tiger Leaping Gorge. The dashing water from the magnificent Jinsha River flows into the narrow valley with a stone in the center. There is an ancient saying that the gorge is so narrow that a tiger was able to leap over to the other side of the river, hence the name.
Continue to Shangri-La and stay overnight.
Good to know:
Tiger Leaping Gorge's rainy season comes in June and August. This is when the view is the most magnificent, but the stone steps could be slippery. May and early June are the best times to go there, when the hills are adorned with plants and flowers.
Accommodation
Shangri-La Paradise Hotel (superior class)/Songtsam Shangri-La Hotel (deluxe class).

Day 7
Songzanlin Lamasery and Pudacuo National Park Tour
Immerse yourself in the breathtaking natural beauty and holy religious atmosphere of the unspoiled Shangri-La. Visit the largest Tibetan Buddhist Lamasery in Yunnan Province — Songzanlin Lamasery — which was built in the style of Potala Palace in Lhasa and represents the Tibetan culture, housing Buddhist statues and many precious cultural treasures.
Pudacuo National Park retains a well-preserved ecosystem within the virgin forests. The must-see scenery in this park includes Lake Bita and Lake Shudu. 'Bita' means 'a place with a dense oak forest' in the Tibetan language and 'Bitahai' means 'a quiet lake'. The Bitahai Lake is surrounded by mountains covered with ancient pines, oaks, and rhododendrons, and appears like an emerald in the heart of the mountains. Shudu Lake is surrounded by a forest of fir, spruce, and silver birch, and is home to lots of wild animals, such as bears, golden cats, deer, and pheasants. Stay overnight in Shangri-La.
Good to know:
When entering the Songzanlin Lamasery, please remember to remove your footwear and avoid pointing to any idols in it.

Day 8
Depart Shangri-La for Kunming
As your journey concludes, your tour guide, driver, and car will meet you at your hotel and transfer you to the airport for your flight to Kunming. They will assist you with your luggage and check-in, and accompany you until the security checkpoint to wave goodbye.
Good to know:
Apart from Kunming, you can fly from Shangri-La to Beijing, Shanghai, Chengdu, Chongqing, and Lhasa. If you prefer to end your tour in other cities, please inform your trip advisor and we will check the best price for you.
Trip Notes
1. Tour Map (click to enlarge)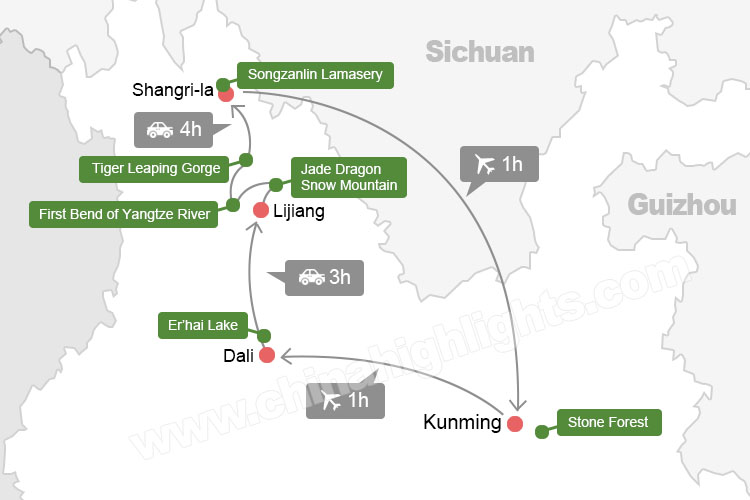 2. Tailoring Your Tour
This tour is very flexible. You can alter the itinerary, and extend or shorten it to suit your price, interest, and schedule. Feel free to tell us your requirements, and we will be happy to help you arrange a tour using our professional knowledge and experience. We promise a "No Shopping Policy".
3. Getting There and Traveling Away
Kunming is a convenient transportation hub. There are domestic flights to most of China's major cities, such as Beijing, Xi'an, Guilin, Chengdu and Shanghai. International routes include flights between Kunming and Hong Kong, Bangkok, Kuala Lumpur, Rangoon and Singapore.
4. Hotel
Standard hotels with a convenient location and good reviews are recommended in the itinerary. If you prefer other hotel options (boutique hotels, economical choices, or Chinese-style hotels) or would like to book the hotels on your own, please feel free to inform us and we will be happy to adjust the details. Here are some alternatives for your reference:
City

Luxury and Special

Boutique

Economical

Kunming

Silver Chest Hotel

Kunming Quanji Hotel

Dali

The One Resort

Linden Center in Xizhou

Fairyland Hotel

Lijiang

Banyan Tree Lijiang

Manxin Hotels and Resorts

Shangri-La

Banyan Tree Ringha

Zincjourney Arro Khampa

Gucheng International Hotel
Note: The boutique hotels in Yunnan offer good value for money: a decent environment, local-style decoration, and a convenient location, but most of them only have 10–20 rooms. Early booking is highly recommended.
5. Optional Extension:
Jiuxiang Cave
If you are interested in seeing the karst caves, Jiuxiang Cave is recommended after your visit to the Stone Forest and it takes about one hour to get there. There are more than 100 karst caves in the Jiuxiang scenic area and it's the largest cave group system in China. Climbing up the 336 steps to reach the Bat Cave could be a challenge for seniors. Please inform your trip advisor about your preferences.
Show and Entertainment
The following shows are recommended to enrich your tour. It is recommended to book with your guide a day before, or on the day, to allow flexibility.
Dynamic Yunnan in Kunming is a large-scale song and dance performance featuring the remarkable and diverse local ethnic culture. It is another masterpiece from the famous Chinese dancer Yangliping who directs and heads the cast.
Lijiang Impressions Show was directed by the world famous director Zhang Yimou, and performed by more than 500 locals of the 10 ethnic groups. Take the enchanting scenery of Jade Dragon Mountain as a natural background, the show aims to provide an insight into the lives of the region's ethnic groups through song and dance.
Dali Er'hai Lake Cycling
If you are athletic enough, cycling is also an exciting way to explore Er'hai Lake. You can spend either one day to encircle the lake with a mountain bike or half a day to cover only the west shore or the east shore.
Loop Riding: 120 kilometers (75 miles), 8 hours.
West Shore: 50 kilometers (31 miles), 3½ hours. Some parts of the biking trail are not very close to the lakeshore, but you can visit several local villages and markets.
East Shore: 70 kilometers (44 miles), 4½ hours. Most of the biking trail is just beside the lakeshore. This trail focuses on beautiful natural scenery.
6. Booking Procedure:
Step 1: Submit your name, email address and traveling dates for the tour. The price may vary according to the location of your hotel.
Step 2: Choose to make payment via PayPal and your request will be listed as our top priority. We guarantee a 100% refund if you are not satisfied.
Step 3: Receive a reply within 24 hours. The tour will be tailor-made to meet your requirements and the booking confirmed.
Step 4: Enjoy the tour!

7. Payment Methods:
We now offer three payment methods: PayPal, credit card authorization via fax, and wire transfer. PayPal is recommended for its safety and efficiency. You can pay with USA dollars, Australian dollars, European dollars, and British pounds directly with your credit card or debit card if you do not have a PayPal account.
8. Cancellation Policy:
In the event of cancellation, we will refund any payment made to China Highlights (unless any cancellation fee is applicable) within 14 days of our receipt of your written cancellation request. Visit here for more details.
9. Travel Insurance:
Travel insurance is not included. We carefully selected some insurance providers from your region that give you the best value for money. Click here to go to the travel insurance page.