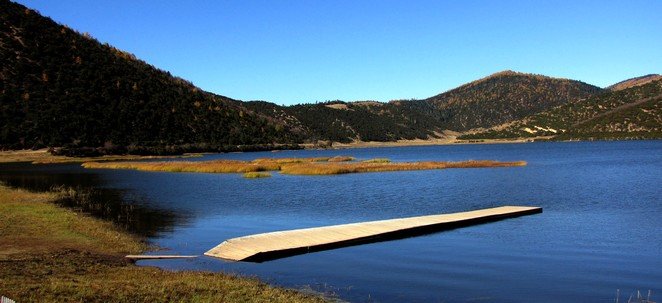 Itinerary
After your flights lands at the airport, your tour guide will wait for you with a welcoming smile at the arrival hall. Transfer to your hotel by private car and driver.
Day 2:
Stone Forest and Jiuxiang Caves Tour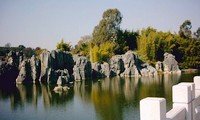 Today visit a fantastic natural phenomena located 90 km southeast of Kunming – The Stone Forest. The various shapes of lime stones were formed due to millions of years' movement of the Earth. The Stone Forest area is the home of the Sani people, their folk customs has become one spectacular scene, the colorful embroidery and minority dances combine with the natural scenery, which will surely leave you with a lasting impression.
Continue to visit the largest group cave system in China at Jiuxiang Caves, whose number count well over 100. Inside the cave there are many well-developed and wonderful stalactites and stalagmites. Use your imagination to match what you see with their names like 'Fairies Welcoming Guests' and 'The Fairy is coming out from bathing'. The final stage is to climb up Bat Cave. This is the most challenging part as there are about 336 steps. Sometimes there are people who offer a sedan chair service.
After the tour, transfer back to Kunming and stay overnight.
Day 3:
Kunming to Dali Flight and Dali Ancient Town Tour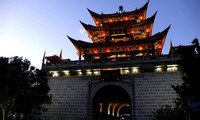 The area around Lake Erhai is blessed with a mild climate and stunning scenery. Taking a boat to cruise on the lake is a popular way of sightseeing. Visit the houses of Bai minority people in Xizhou Town. Xizhou is not only a famous historic city, but also a typical commercial town of Bai people. You will see typical Bai traditions and dresses. Some buildings are old and typical ancient architectures, which are the 'real local' houses. On the outside walls of each house, there are numerous exquisite paintings, displaying the importance of art in this area.
Located at the foot of Cangshan Mountains is Dali Ancient Town, where runs clear springs, and inhabits a local minority people. The local people are keen gardeners, show casing flowers in their gardens around clear streams, with finely decorated traditional houses. Stay overnight in Dali.
Day 4:
Dali to Lijiang Flight and Lijiang Ancient Town Tour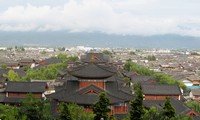 In the morning, take a flight to Lijiang before you start to visit Lijiang Ancient Town and its landmark building Wangu Tower.
Lijiang Ancient Town presents a fusion of beautiful scenery, minority architecture and culture. Its ingenious network of waterways is supplied by mountain springs, connecting houses, cobbled paths and bridges. It is very rare in China that such well-preserved minority ancient city still exists. Wangu Tower standing on the top of Lion Hill is the landmark building and the highest point of Lijiang Ancient Town. The pure wooden structure gives a good view over the town and snow-capped mountains in distance. Stay overnight in Lijiang.
Day 5:
Jade Dragon Snow Mountain and Baisha Murals Tour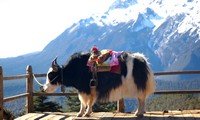 Visit Naxi people's holy mountain by cable way, which will take you to the main peak at over 4000 meters high, welcome to Jade Dragon Snow Mountain. Find yourself in real paradise as you descend overlooking stunning and variant natural beauty, including meadows, lakes, glaciers, pines and clouds.
On your way back to Lijiang, see the mysterious Baisha Murals at Baisha Village. Painted over 1000 years ago, the murals display the life stories of China's main religions, including Confucian, Taoism and Tibetan Buddhism. Drop by a local herb clinic to see how the old doctor and his apprentices diagnose and treat patients using traditional Chinese medicine. Stay overnight in Lijiang.
Day 6:
Tiger Leaping Gorge Tour and Lijiang to Shangri-La Transfer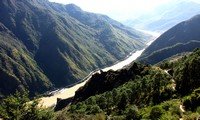 Today visit one of the world's deepest and most marvelous gorges, seeing the First Bend of the Yangtze River at what's called the Stone Drum Town. The Yangtze River flows through rocky cliffs on both sides and at some point it becomes a turbulent white-water rapid, like the roaring of a tiger, hence the name.
Stone Drum Town stands at the base of the mountain flanking the First Bent on the Yangtze River. This town derives its name from a white marble carved monument in the shape of a drum. It is where three rivers gather together and make a sudden 100-degree turn to make a V-shape bend, a magnificent scene. Transfer to Shangri-La and stay overnight.
Day 7:
Songzanlin Lamasery and Pudacuo National Park Tour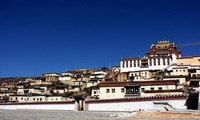 Today immerse yourself in the breathtaking natural beauty and holy religious atmosphere of unspoiled Shangri-La. Visit the largest Tibetan Buddhist Lamasery in Yunnan Province – Songzanlin Lamasery, which was built in the style of Potala Palace in Lhasa and represents the Tibetan culture, housing buddhist statues and many precious cultural treasures.
Pudacuo National Park retains a well-preserved ecosystem within the virgin forests. The must-see scenery in this park includes Lake Bita and Lake Shudu. 'Bita' means 'a place with a dense oak forest' in the Tibetan language and 'Bitahai' means a quiet lake. The Bitahai Lake is surrounded by mountains covered with ancient pines, oaks and rhododendrons, and appears like an emerald in the heart of the mountain. Shudu Lake is surrounded by a forest of fir, spruce and silver birch, and is home to lots of wild animals such as bears, golden cats, deer and pheasants. Stay overnight in Shangri-La.
Day 8:
Depart Shangri-La for Kunming
As your journey concludes, your tour guide, driver and car will meet you at your hotel and transfer to the airport for your flight to Kunming. They will assist you with your luggage and check-in, and accompany you till the point of security check to wave goodbye.