Jiuzhaigou Attractions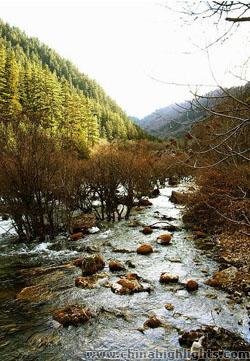 Shuzheng Valley
Jiuzhaigou attractions are in a "fairy world" at an altitude of over 2,000 meters (6,500 feet). Jiuzhaigou is most famous for its waterscapes: springs, waterfalls, rivers, and shoals link Jiuzhaigou's 108 pools with rich colors and various shapes.
As a tourist destination listed on UNESCO's World Heritage List, the marvelous Jiuzhaigou has attracted a great number of visitors because of its clear and colorful lakes, verdant primeval forest, and unique Tibetan customs. You can join one of our Jiuzhaigou tours to appreciate the natural beauty of Jiuzhaigou.
Sightseeing buses are provided in Jiuzhaigou. You can also travel on foot, which is free. Don't worry about where to eat in the scenic area. Little shops and restaurants can meet your requirements. You can find special and characteristic souvenirs in the shops there.
Four Seasons in Jiuzhaigou
Jiuzhaigou's scenery is stunning and breath-taking all the year round.
It is green in spring: mountains capped with verdant trees, together with peaceful and quiet lakes.
Strolling under the pure blue sky embracing the colorful oceans of flowers in summer, Jiuzhaigou is fantastic.
"Gold" can best describe an autumnal Jiuzhaigou, when fallen leaves leave an entirely yellow world.
Don't dismiss the snow-capped Jiuzhaigou of winter either. It is hard to find any words to describe its beauty, which looks like a pure fairy-tale heaven.
Shuzheng Valley
Shuzheng Valley is the key part of Jiuzhaigou, which you shouldn't miss. Near half of the lakes and ponds are situated in Shuzheng valley, including Double-Dragon Lake, Bonsai Beach, Reed Lake, Sparkling Lake, Tiger Lake, Shuzheng Waterfall, Rhinoceros Lake, and Nuorilang Waterfall.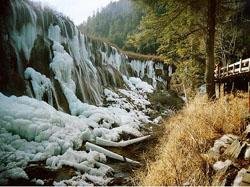 Nuorilang Waterfall
Shuzheng Village
Stepping into the village, you will not only fall in love with the picturesque natural scenery, but also the pure folk culture there, where the ancient wooden buildings are scattered around. Tibetan culture is the major culture of this village. Tibetan souvenirs can be found in the little shops.
Shuzheng Village is one of the major eating places in Jiuzhaigou, where you can have a feast of authentic Tibetan food, like butter tea and glutinous taro cake.
Shuzheng Waterfall
Shuzheng Waterfall is the most typical and important attraction in Shuzheng Valley. At 62 meters wide and 15 meters high, it is the first waterfall after the river enters Shuzheng Valley. The lakes upstream among the step-by-step rocks and shoals make the waterfall more magnificent.
Nuorilang Waterfall
Praised as the most beautiful waterfall in Jiuzhaigou, Nuorilang Waterfall is the widest waterfall in Jiuzhaigou (300 meters wide). It is located in the center of Shuzheng Valley, and regarded as the symbol of Jiuzhaigou. It is more fabulous under the sunshine in the morning, when a colorful rainbow appears above the waterfall. In winter it is a spectacular frozen waterfall that hangs on the rocks.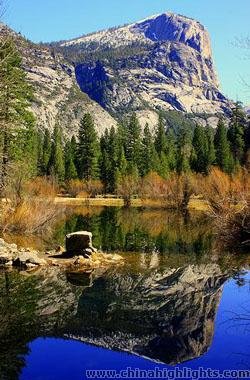 Mirror Lake
Rize Valley
Located in the far right of Jiuzhaigou, Rize Valley is the elite part of Jiuzhaigou, which offers an astonishing diversity of spectacular landscapes. The main attractions in Rize Valley include the virgin forest, Strawberry Lake, Swan Lake, Five Flowers Lake, Pearl Beach Waterfall, Mirror Lake, Panda Lake, Arrow Bamboo Lake, and the Nuorilang Lakes.
Mirror Lake
Mirror Lake is about 1 km long, and surrounded by verdant trees. It is connected with Mirror Valley upstream and the Nuorilang Lakes downstream. The shadows of the sky, clouds, mountains, and plants around the lake on the surface of the lake are a theater of nature.
Five Flowers Lake
Five Flowers Lake is famous and named after the flamboyant algae in the water. Multicolored Five Flowers Lake looks magical and marvelous. It is said that Five Flower Lake is a magical lake and that the plants watered by the lake grow particularly vigorously. And they do!
Panda Lake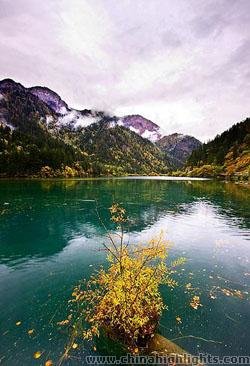 Arrow Bamboo Lake
It is believed that the giant pandas in Jiuzhaigou love to live near Panda Lake, hunting food and drinking water. Fishes can be seen in this clear lake, even some rare species.
Arrow Bamboo Lake
Scores of tall bamboo canes grow around Arrow Bamboo Lake, which are the favorite food of giant pandas strolling around Panda Lake. The mountains around reflect on the lake, alongside the shadows of the bamboo — a wonderful sight! The lake flows through the forest, and is divided into many small branches, finally ending at Arrow Bamboo Waterfall.
Pearl Beach
Pearl Beach is a different attraction compared with other lakes in Jiuzhaigou. It is a wide sandy beach with a bridge over it. Torrential waters from the lakes run through the bridge and hit the rocks, causing waves to break on the beach. After about 200 meters the rapid waters rush out over a steep cliff. Pearl Waterfall is massive and stirring, well worth taking photos of.
Zechawa Valley
Located on the left side of Jiuzhaigou, Zechawa Valley is about 18 km long, with the highest altitude in Jiuzhaigou. The scenery there is also attractive and as good as other attractions in Jiuzhaigou. The Three Seasonal Lakes, Five-Colored Lake, and Long Lake are the main attractions in Zechawa Valley.
Seasonal Lakes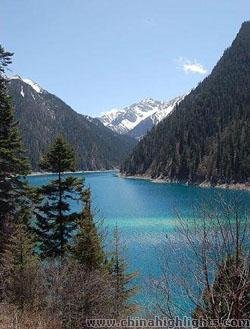 Long Lake
Upper Seasonal Lake, Middle Seasonal Lake, and Lower Seasonal Lake are closely connected to each other. Upper Seasonal Lake is situated next to Five-Colored Lake surrounded by cliffs. The waters in the lakes are blue due to the ample leaves in autumn and green in spring and winter. In the summer, the lakes dry up, and you can see some grasses growing on the riverbed with lots of small rocks.
Long Lake
Long Lake is at the end of Zechawa Valley, facing a giant snow mountain and circled by cedars. Appreciating it from afar, Long Lake looks like a large piece of exceptional jade placed in the mountains. This large lake is a perfect place for skating in Jiuzhaigou when the water is frozen in winter.
Five-Colored Lake
Although it is the smallest lake in Jiuzhaigou, it can amaze you with the spectacular and fancy colors of the water. When the sun comes out, the lake is more fabulous and bright, rippling and shining.
Apart from the most exquisite Jiuzhaigou, there are some attractions near Jiuzhaigou that are worth a trip. Minshan Mountain Area, Songpan Ancient Town, Baoen Temple, and Erdao Lake in Huanglong Country are the most recommended ones.
Create Your Own Tour of Jiuzhaigou
If you want to forget busy urban life, and relax yourself in nature, go to Jiuzhaigou! It is absolutely your first choice if you want to see natural scenery in any of the four seasons in China. China Highlights specializes in tailor-making tours of China to your requirements. Contact us to design your own tour of Jiuzhaigou with our help.
Related Links
Questions and Answers About Jiuzhaigou Attractions
lucy Ng
2014-01-19
Show Answer
Hi. We are a group of 10 and will be in Juijhaizhou from 1st. November for 8 days travelling fro Chengdu to Juijhaizhou. Will it be very cold then and do we need really clothes. Please advise . Thank you. Lucy
Dear Lucy,
November is the beginning of winter. The average temperature in Jiuzhaigou is 7 ° C (44.6 ° F). But the temperature differences fall between 10 ° C (50 ° F) and 15 ° C (59 ° F). So it is suggested that your prepare thick down jackets, especially for the morning and night.
Whitney Liao replied on 2014-01-21
If you need any tour service, we are happy to offer a quotation for your reference.
Whitney Liao replied on 2014-01-21
Hai Mi
2012-12-14
Show Answer
Hi, I will visit Jiuzhaigou at the end of December. How about the weather and pls advise some information!
The average temperature in Jiuzhaigou in Dec. is 2.3 centigrade, please bring enough warm clothes. Most hotels will be closed during winter, so make sure to book hotel before you go. Huanglong area maybe closed due to snow, please double check it if you plan to go there.
Leon Long replied on 2012-12-16
kholood
2012-07-15
Show Answer
i would like to visit jiuzhaigou with my children and spouse in late august. can we have our own car with driver and guide? will this mean we are away from the crowds?
hi Kholood, this is Sammi from China highlights. It is ok to provide a private car with driver and a private english guide for your family. However, it does not mean that you are away from the crowds. You will need to take the public bus within Jiuzhaigou still. And when you are sightseeing in Jiuzhaigou, there will be many other people as well. Sammi Dai replied on 2012-07-15
Harry
2012-07-07
Show Answer
Hallo ,I am planning a trip to jiuzhaigou in the middle 0f august 2012. could you advise me the average temperature in C degree there?Do I need to bring a jacket?
Hi Harry, August is a pleasant time to travel, and you won't feel cold unless it rains. Like the previous several months, the temperature differences are still great—warm during the day and cool during the night. During the day, wear a single layer when it's sunny. You'll need a thick overcoat or jacket during the morning and evening to keep from catching a cold. You can also bring cold medicine just in case you do get sick. Michael Hu replied on 2012-07-08
April Offer $25 Coupon
Send your inquiry before Apr. 30, 2014, and we will email you a $25 coupon.
The coupon is valid till Dec. 31, 2014, for paying tour packages worth $250 or up.
The coupon cannot be used for paying flight tickets, train tickets, hotel rooms and day trips.
Travel Advice or Question? Ask us here

China Highlights