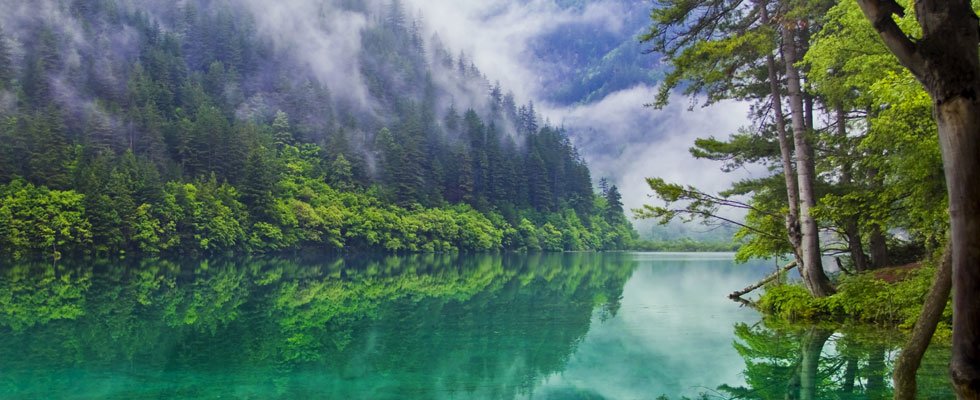 Scenic Tour to Jiuzhaigou and Huanglong
You will visit China's fairyland —Jiuzhaigou — a colorful wonderland with clear water, a verdant virgin forest, and authentic Tibetan customs. The Giant Panda Breeding and Research Center and Jinli Ancient Town in Chengdu are included to enhance the tour experience.
Highlights
Meet the lovely pandas in the Panda Breeding and Research Center
Wander in the old districts of Jinli Street for trinkets and local snacks
Walk alongside the streams, waterfalls, and limestone landscapes in Huanglong Scenic Area
Enjoy the breathtaking views in Jiuzhaigou Scenic Area
What's Included
Entrance to scenic spots listed in the itinerary
Guiding by experienced English-speaking tour guide
Private transfers between the airport, attractions, and hotel
Flight from Chengdu to Jiuzhaigou
Meals mentioned in the itinerary
Public shuttle buses in Jiuzhaigou National Park
Chairlift going up the mountain in Huanglong National Park
Hotel accommodation with breakfast
Price Per Person in US Dollars
| Nov.1 - Mar.31 | 5-star | 4-star |
| --- | --- | --- |
| 2-5 People | $1,786 | $1,470 |
| 6-9 People | $1,502 | $1,144 |
| Apr.1 - Oct.31 | | |
| 2-5 People | $1,830 | $1,508 |
| 6-9 People | $1,502 | $1,173 |
Suggested Itinerary
Your private driver and guide will be ready for you when you arrive in Chengdu. Sit back in a comfortable, non-smoking car, leave the hassles to your guide, and enjoy a trouble-free transfer to your hotel.
Accommodation
Tibet Hotel Chengdu (
4-star
)/Sofitel Chengdu Taihe (
5-star
)
Day 2
The Giant Panda Breeding and Research Center and Jinli Ancient Street Tour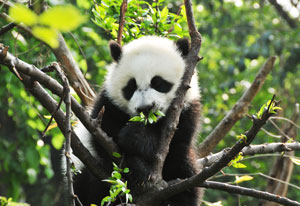 The Panda Breeding and Research Center
In the morning you will first visit the Panda Breeding and Research Center, about 10 kilometers (six miles) north from central Chengdu. You will visit the nursery to see the highly successful breeding program, stroll among the bamboo groves and shady walkways, and view the pandas at rest or play. It is best to go early in the morning to see the pandas feeding at around 9:30am, when they are most active during the day.
Lunch is at a Chinese restaurant serving Sichuan-style dishes. You can ask for less-spicy dishes or no spices at all.
In the afternoon, you will discover attractions in Chengdu urban area: Wangjiang Park and Jinli Ancient Street. Wangjiang Park is situated on the bank of the Jinjiang River, offering graceful bamboo forest scenery and romantic anecdotes. Jinli Ancient Street is one of the most ancient streets in Southwest China. There you can stroll along and discover the stalls selling local arts and crafts, traditional Chinese goods, and local delicacies in front of the rows of the Qing Dynasty style ancient buildings.
GOOD TO KNOW
March to May is the "falling in love period" for pandas. If you visit the Panda Breeding and Research Center between late August and December, you will have a greater chance of seeing tiny newborns in the Sunshine Nursery House.
Accommodation
Tibet Hotel Chengdu (4-star)/Sofitel Chengdu Taihe (5-star)
Day 3
The Huanglong Scenic Area Tour (including flight to Jiuzhaigou)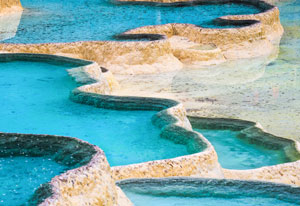 Huanglong Scenic Area
Your private guide and driver in Chengdu will accompany you to the airport this morning. It takes about one hour to fly from Chengdu to Jiuhuang Airport. You will be picked up and transferred to have lunch. After lunch, start your visit in Huanglong Scenic Area.
Huanglong Scenic Area, the best-preserved plateau wetland in China, is neighbored by Jiuzhaigou. Colorful pools, snowcapped mountains, verdant forests, and peaceful valleys are its four highlights. The chairlift going up is included to save you time and strength. You can walk back down through the scenic area to enjoy the view at a relaxing pace.
After the tour, your guide and driver will escort you to a hotel near Jiuzhaigou (about two hours' drive) and enjoy a local dinner.
GOOD TO KNOW
The options of restaurants in Jiuzhaigou are quite limited, so dinners are recommended and included in the hotel you will stay in.
Accommodation
Jiuzhai Resort Hotel (4-star)/Sheraton Jiuzhaigou Resort (5-star)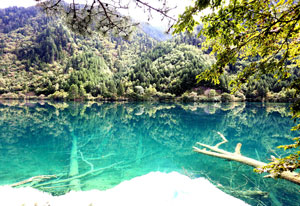 Jiuzhaigou Scenic Area
After breakfast in the hotel, you will spend most of your day exploring the Jiuzhaigou Scenic Area, a wonderland named for its nine Tibetan villages. The valley winds its way across some 80 kilometers and covers an area of 720 square kilometers, and you will visit its main three gullies depending on the schedule: Shuzheng Valley, Rize Valley, and Zechawa Valley. Private vehicles are not allowed inside, so your guide will accompany you to take a public bus in the scenic area and tour around.
There you will appreciate the picturesque natural scenery with clear alpine lakes, overlapping waterfalls, colorful forests, snowcapped mountains, Tibetan customs, and blue ice. Get your camera prepared. A buffet lunch is arranged in the Nuorilang Restaurant, the only restaurant in the Jiuzhaigou area. If you like, we can also arrange a picnic lunch for you.
At the end of the tour, your guide and driver will transfer you back to the hotel for dinner.
GOOD TO KNOW
Tips for visiting Jiuzhaigou:
Go early: The scenic area starts selling tickets at 7am. Get into the park as early as possible so that you will not only have more time, but will also avoid the tour group crowds.
Go up first: The most spectacular scenery is at the higher parts of the scenic area. You will see the highlights first if you take the public shuttle bus to the top and walk or ride down. Head first to either Long Lake or Swan Lake, then go down to the Nuorilang junction, then go up the other fork. Later in the day, you can see the lakes between Nuorilang and the entrance.
Accommodation
Jiuzhai Resort Hotel (superior class)/Sheraton Jiuzhaigou Resort (deluxe class).
Day 5
Jiuzhaigou Departure (Flight Not Included)
Your private guide and driver will wait for you in your hotel lobby after breakfast. They will accompany you to the airport and help you check-in for your next destination.
Trip Notes
1. Tailoring Your Tour
This tour is very flexible. You can alter the itinerary, extend or shorten it to suit your price, interest, and schedule. If you would like to book the hotels on your own, we can remove the hotel cost from quotation. Please inform your travel advisor about your preference.
2. Possible altitude sickness
At Jiuzhaigou, the altitude changes a lot in different areas. For example, the entrance of the valley is at about 2,000 meters, while the airport is at about 3,500 meters. The altitude sickness varies from person to person, so it is suggested that you consult your doctor. Visitors with heart disease and high blood pressure should be careful and take precautions when traveling to Jiuzhaigou. When in Jiuzhaigou, do not do any strenuous exercise, or drink wine. Keep warm and eat more vegetables and fruits. Take some common medicines with you. If you like, our guide can prepare a small oxygen bottle for you, just in case.
3. Get close to pandas
In order to protect the giant pandas from canine distemper infection, The Panda Breeding and Research Center has stopped all the panda interconnect activities since January, 2015.
If you want to get close to the pandas and do something for them, you can visit the Dujiangyan Panda Base (90-minute's drive from Chengdu). The Panda Keeper Program and taking photo with pandas is only available there now. The program can last for one to three days and the activities may include feeding the pandas, making panda cakes and cleaning the panda enclosures. You can visit here to book 1-Day Chengdu to Dujiangyan Panda Keeper Program Tour.
Feel free to tell us your requirements and interests, and we will be happy to help you arrange a trip using our professional knowledge and experience.
4. Payment Methods:
We now offer 3 payment methods: PayPal, credit card authorization via fax and wire transfer. PayPal is recommended for its safety and efficiency. You can pay USA dollars, Australian dollars, European dollars and Great Britain Pound directly with your credit card or debit card, even if you don't have PayPal account.
5. Cancellation Policy:
In the event of cancellation we will refund any payment made to China Highlights (unless any cancellation fee applicable) within 14 days of our receipt of your written cancellation request. Visit here for more details.
6. Gratuities to Guide or Driver
Tips to the guide and driver are not included. If the guide's and driver's service truly satisfy you, our suggestion to the tips would be:
1 person in the group, CNY150-200,
2 people in a group: CNY100/person,
3-5 people in a group: CNY50-70/person,
6-9 people in a group: CNY40-50/person,
≥10 people in a group: CNY20-30/person.
The driver would be half the amount, and separate offer to each is best.
7. Travel Insurance:
Travel insurance is not included. We carefully selected some insurance providers from your region that give you the best value for money. Click here to go to the travel insurance page.