Essence of China Tour
8-Day Beijing, Xi'an and Shanghai Tour

4.8
( reviews)

This average score is generated from the feedback for attractions, hotels, restaurant and guide for each tour.
X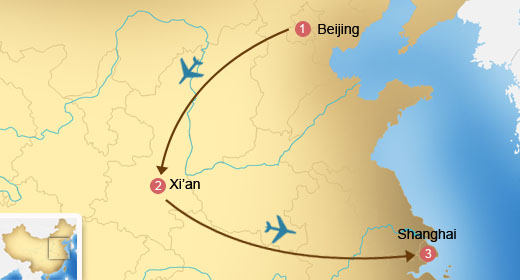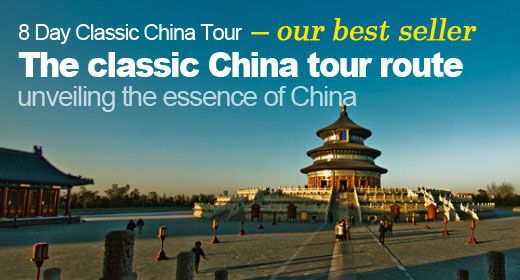 Eight days of ancient culture and modern miracles. The Essence of China are there to be discovered alongside the world phenomenon of "New China".


Can you fly from Chicago? Add just $399+taxes* for round trip Intl flights. Term & Condition Applied
Why 10,000+ Choose Us Per Year:
Centrally Located Hotels
Authentic Chinese Food
Phone Rental / Wifi Package
China Highlights Awarded by TripAdvisor
Highlights
Visit:
The Forbidden City
Temple of Heaven
Great Wall of China
Summer Palace
Hutongs
Terracotta Warriors
Xi'an City Wall
Yuyuan Garden
World Financial Center
The Bund
Experience
Walk on the Great Wall. Cycle along the Xi'an city wall. Rickshaw through the Hutongs.
Watch imperial life at the Forbidden City come to life with the help of your private guide.
Explore Shanghai's colonial history, combining ancient cultures and modern miracles.
Tour Designer - Luffy

"The best seller for over 10 years, offering great value for money and the best use of time. Our local knowledge, customer feedback and 52 years in business have crafted a trip you'll never forget."
Travel Advisor - Nora

"An easy pace yet all the best sites. Experience a rickshaw ride through Beijing's Hutongs and cycle along Xi'an's City Wall. Walk through history, yet experience local life today."
From $1,499 P/P Price detail
Tour Code: CHT-1
Departure Date: You Choose
Tour Type: Private Car, Driver and Guide
Your private guide will be on time and waiting in arrivals. A comfortable private car (non-smoking) & experienced driver will transfer you to the hotel.
Good to Know:
Stay Connected – Our Free cell phone (includes 30 free minutes) or Pocket 3G Wi-Fi. It will be ready and waiting at the hotel desk.
Free-time Ideas: A Nightcap in this former 1920's US Embassy, in the Litigation Quarter.
Hotels – Choose to suit your budget and preference. (3 nights in Beijing)
Days Inn Forbidden City

/ Sunworld Hotel

/ Crowne Plaza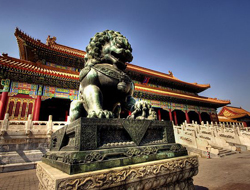 The Forbidden City
A buffet breakfast & real fresh coffee will kick start your day. Your private car, driver and our guide will be on time, prepared with drinks, snacks, and map ready to maximize your time. First stop, Tian'anmen Square. The history and meanings of the Forbidden City (Palace Museum & Imperial Palace) will be unlocked by our guide. Glean the history out of a place where the guidebooks leave you short.
Photograph the old lanes and courtyard houses in the neighboring Hutongs, but first choose dishes with help from our guide at the best Traditional Courtyard Restaurant. Depending on your mood & the weather take a rickshaw or bike to explore this charming world. Visit a local man's pearl workshop & store and learn how to spot a fake. A highlight is a visit to a family who've lived in the Hutongs for generations, offering unique insights from a local perspective.
Good to Know:
Courtyard 7 – Trip Advisor's 'Traveler's Choice of 2012' Rated 4.5/5.
Hutong Family Visit – Highly recommended by customers and travel reviews as 'making the hutongs worth it'.
Free-time Ideas: The Best Acrobatics Show in Beijing. Chaoyang Theatre has breathtaking performances making this Beijing's #1 attraction after the Great Wall. Your guide can help you get tickets.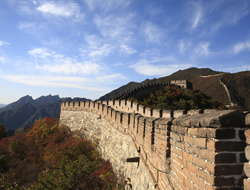 The Great Wall of China
An early start and chance to exercise or stroll with locals among the 60,000 ancient trees in the Temple of Heaven's Grounds. Watch locals exercise, practice martial arts, play traditional instruments.
The Temple of Heaven provided a place for emperors to pray to 'the most high God in heaven' for a good harvest. The Round Altar, Echo Wall and Imperial Vault of Heaven are the rated as key sights; we will cover these and more.
We'll drive into the mountains to a farmhouse garden restaurant, famous for its rainbow trout & salmon. A short drive along the mountain backbones and you'll arrive fresh & ready to climb the Great Wall of China (Mutianyu), less crowded with the most spectacular views.
Beijing Roast Duck is the most famous and must-taste dish of Beijing. We will arrange Roast Duck dinner for you at Fangzhuang Branch of Quanjude Roast Duck Restaurant.
Good to Know:
Ranked #1 Section – The Mutianyu section is ranked #1 of 900+ attractions in Beijing.
"A Guide is Essential" – Beijing's Expat Travel Writer Sara Naumann recommends definitely using a guide, even for an independent traveller. She recommends Mutianyu "the views are awesome and the wall itself is in great shape".
Day 4
Beijing to Xi'an by flight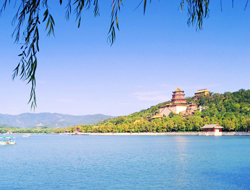 Summer Palace
The Summer Palace is an enormous park with pavilions, vividly painted corridors, temples, among lakes and surrounded by hills. It was originally the imperial courts summer retreat, and still makes a nice place to escape the heat of the summer. Climb the hill or take a scroll in the gardens, this is a charming place to explore before taking a dragon styled boat tour on Kunming lake.
Enjoy a fair well lunch with the guide at a charming traditional restaurant, serving Sichuan food. In two hours, you will meet our Xi'an guide in Xi'an and get to the hotel by private transfer.
Good to Know:
Boat Tour – Most tour companies don't include these things as standard, we do.
+Adventure & Save – Up for adventure, try the sleeper train to Xian and save.
Free-time Ideas: Early Rise – An early walk to watch the dancing, exercise or Tai chi with swords in nearby parks.
Hotels: – Choose your Xi'an hotel to suit you. (2 nights in Xi'an)
Xi'an Skytel Hotel

/ Grand Noble Hotel

/ Sofitel On Renmin Square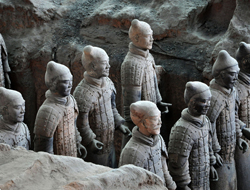 The Terracotta Warriors
One of the most important archaeological discoveries of the 20th century, the Terracotta Warriors. Enjoy lunch a place known nationwide for its Hunan & Sichuan dishes. Big Wild Goose Pagoda is build in AD652. Chinese-style architecture combined with Buddhist historic statues, murals and scriptures topped off by the best panoramic view over Xi'an. Lastly we have arranged a visit to the Xi'an Imperial Arts Centre to see live jade carving, a specialty of the north.
Good to Know:
No Tricks (Big/Little) Pagoda – Look closely at other companies and large group tour operators and you'll see they take you to the free Little Goose Pagoda, - experience + profits.
Adrenaline Boost – Add an extra day and visit Hua Shan. Test your nerves on a crazy cliff hanging path in amazing mountain scenery.
Free-time Ideas:
Tang Dynasty Music and Dance Show is rated in many Top 10's. Your guide can help you buy tickets.
A short walk to see the Bell Tower/Drum Tower. This area has many high end restaurants, but if you're ready for something western, there is a Starbucks, Dairy Queen and Dunkin Donuts.
Day 6
Xi'an to Shanghai by Flight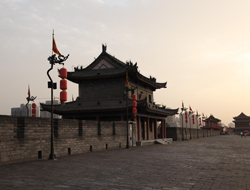 The City Wall
Shaanxi History Museum is a perfect overview of Chinese history and not to be missed. Next cycle around Xi'an on the City Wall. It encircles the city and is perfect for seeing an overview of the city, not to mention fun. Lunch is a literal taste of history; Qianzhou Restaurant famous for its Tang Dynasty ancient dishes. Stroll around and merge into the local atmosphere and discover the local Muslim heritage of Muslim Street dating back to the Silk Road era. Today ends with a flight to Shanghai. Your private car, drive and guide handle all the transfer for you at each end. Sit back and relax.
Good to Know:
Xi'an City Wall & Bike Ride – The city wall and ride are ranked no. 2 and 3 attractions on most websites after the Terracotta army. Rickshaw, ride, or walk, You call the shots.
Bell Tower & Forrest of Steles – Customer feedback on the Steles was low so we do not visit this. Our recommended hotels are close to the Bell Tower so it's easy to see in your own time.
Hotels: – Choose your Shanghai hotel to suit you. (2 nights in Shanghai)
Kingtown Hotel Plaza Shanghai

/ The Bund Hotel

/ Radisson Shanghai New World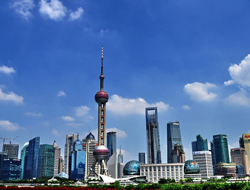 The Bund
Charming Yuyuan Garden, one of the most beautiful Suzhou style gardens in China. Next your walk though old and modern and stop on route at a neat place, a real hit with our customers. The Shanghai Urban Planning Exhibition Hall is an amazing display of the progress and future of Shanghai. We'll have lunch and visit to see a silk workshop as the perfect contrast to the panoramic views from World Financial Center, before a visit to another era, the Bund, which still retains its colonial charm.
Good to Know:
Old Shanghai Restaurant – 130 years old, serving traditional typical Shanghai foods.
We revolve around you! – Customize the trip to suit you. e.g. A history and art fan might like to visit Shanghai Museum, it's rated by many as the best Museum in China.
Free-time Ideas: The Bund Evening Walk & Drink – Great for an evening walk. When the skyline lights go out at 10pm head over to Glamour for a Shanghai Cocktail.
Your private car, driver and guide will be ready and waiting at your hotel lobby to get you to the airport on time. Sit back and relax as they help you check-in and escort you to the correct security gate. Taking the stress and hassle out of travel.
Price Per Person in US Dollars

Currency Converter
Normally hotels allow a maximum of 3 adults per room with an extra bed, at extra charge.
Tour price is indicative only, please inquire for a detailed quotation.
More people more discounts.
X
Nov.1 - Mar. 31
Superior 2013
Deluxe
Economy
Single Room Supplement
1 Person
$3,039
$2,359
$2,279
-
2-5 Persons
$1,899
$1,559
$1,499
$629 / $319 / $279
6-9 Persons
$1,619
$1,299
$1,239
$629 / $319 / $279
Apr.1 - Oct.31
Superior
Deluxe
Economy
Single Room Supplement
1 Person
$3,599
$2,619
$2,419
-
2-5 Persons
$2,199
$1,699
$1,619
$889 / $429 / $329
6-9 Persons
$1,909
$1,419
$1,319
$889 / $429 / $329
Booking Steps - from Inquiry to Arriving Home
Nov.1 - Mar. 31
Superior
Deluxe
Economy
Single Room Supplement
1 Person
$3,299
$2,479
$2,339
-
2-5 Persons
$2,039
$1,619
$1,529
$729 / $359 / $299
6-9 Persons
$1,749
$1,339
$1,299
$729 / $359 / $299
Apr.1 - Oct.31
Superior
Deluxe
Economy
Single Room Supplement
1 Person
$3,729
$2,779
$2,459
-
2-5 Persons
$2,259
$1,769
$1,669
$919 / $469 / $379
6-9 Persons
$1,979
$1,499
$1,359
$919 / $469 / $379
Booking Steps - from Inquiry to Arriving Home
Tour Code: CHT-1 &nbsp Destinations: Beijing, Xian, Shanghai Tour Length: 8 Days Acommodation: Economy
Price Inclusion
Price Exclusion
Centrally Located Hotels
Authentic Chinese Food
Private Cars and Drivers
Private Guides
Flights & Transfers in China
Airport Taxes and Fuel Fees
Entrance Fees
Phone Rental / Wi-Fi Package
Service Charge & Government Taxes
Insurance
Luggage Transfers
International Airfare or Train Tickets to enter or leave China
China Entry Visa Fees
Excess Baggage Charges
Personal Expenses
Single Room Supplement.

Save up to $600 for two people. Only 20 seats! Enquire now to take introductory discounts.*
*5 Star Hainan Airline celebrates new round trips Chicago to Beijing.
Term & Condition for Intl flights: Tour must be confirmed and flight tickets issued 30 days before the departure date. Tickets are non-refundable, non-changeable and non-assignable once issued. Taxes not included and subject to change until the tickets are issued. Prices are valid for travel during the period - Sept 8,2013 to Nov 30, 2013.
China Trip Questions
Common Questions
I want to relax more. Can I have a free day and customize the tour?

Sure, we can add extra days or reduce days, when and where you like!
What is the difference among superior class, deluxe class and economy class?

Usually we use the 5 star hotels for superior class, 4 star hotels for deluxe class and 3 star hotels for economy class. Sometimes we may use 4 star hotels for economy class in order to guarantee the service quality.
What is the most comfortable weather, when is it really hot or cold?

The coldest time is January, Autumn reds are in Nov and July & August are hottest. Click to see more information about Beijing weather, Xi'an weather and Shanghai weather.
How can I get a visa? Do you offer a visa service?

We don't offer the visa service. Our visa application page will help you.
Do you offer an international flights booking service?

Yes, we offer an international flights booking service for many cities around the world with competitive prices. Enter your International flights idea when making your inquiry.
Planning a trip? Ask us here
Feedback About This Tour
Loading...
You May Also Like...