Itinerary
You can relax from the moment you arrive, our guide and driver will meet you at the airport and take you to your hotel.
Day 2:
Chengdu – The Giant Pandas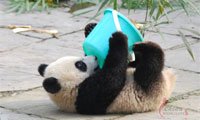 Your day will start with immersion in the history of Chengdu, which was in the heart of ancient dynasties and their power battles. First you'll see Wangjiang Park,on the south bank of the Jinjiang River. The park is renowned as the former residence of a famous Chinese female poet over one thousand years ago. Besides seeing the ancient style buildings and lush bamboo gardens, local people's leisurely life style is another lively scene.
The main part of the day is dedicated to visiting the Giant Pandas in the Panda Breeding and Research Center. It is possible to hold a baby panda, if you book in advance and make a donation. Ask us for more information, if you are interested.
Lunch is arranged at a popular local restaurant for you to taste authentic Sichuan cuisine.
Wu Hou Temple is surrounded by peaceful gardens, and like stepping back in time. It is not very big, but you can visit the Jinli walking street nearby afterwards.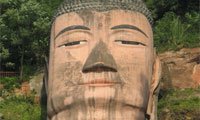 On the way to Emeishan area, you get a chance to see some Buddhist culture. Leshan Giant Buddha is the largest stone Buddha statue in the world; you can see it by climbing the narrow steps along it or from the lake on a short cruise. It's amazing how it's carved into the mountain.
The Baoguo Monastery is still an active temple and beautifully restored, with peaceful gardens to wander, each turn showcasing classic Chinese garden design.
Lunch is in a local restaurant, chosen according to what is in season.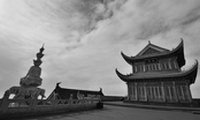 In the morning you will go up on a cable car to Mount Emei for truly amazing views. It is considered one of the most magical mountains in China, on the summit is seated the Monastery of Ten Thousand Years, built in the Ming Dynasty. The architecture is quite unusual for this area, you guide will not only lead the way but unlock the history and legends.
After lunch in a local restaurant your guide and driver will take you back to Chengdu.
Day 5:
Heavenly Huanglong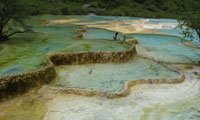 A short flight takes you to Jiuzhaigou, and then our guide and driver will take you to Huanglong Scenic Area. It is lesser known outside China, but a truly magical experience. The minerals in the natural limestone ponds make them glow in hues of green, orange, and yellow.
Good to Know:
On every July 12th to 15th, there is the grand Huanglong Temple Fair. Ask more information from your guide if you are there at this time.
After lunch you are taken to your hotel in Jiuzhaigou.
Day 6:
Jiuzhaigou Valleys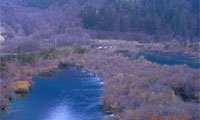 Jiuzhaigou is one of the most unusual and ethereal places in China. The crystal clear lakes allow you to see into the depths, glowing in rainbow colors. The whole day is dedicated to exploring the valleys, each distinct: Shuzheng Valley, Rize Valley, and Zechawa Valley. The nine villages, which give the area its name, are built in colorful Tibetan style. You transfer between valleys on a sight-seeing bus, and then walk among the lakes and waterfalls.
Lunch is fusion of Western and Chinese in the local Sheraton hotel buffet, before you continue on.
Good to Know:
August colors are especially breathtaking on the mountains, and there is a chance of early snow, so it is worthwhile to consider coming then.
After breakfast your guide will take you to the airport for your flight to Chengdu.
Just let us know your travel style!
Guide vs. Free-time ratio / Hotel Style & Interests / Dates / People
We will then adapt this tour and create a unique quote based on your individual needs.

Free Quote