Chinese Kung Fu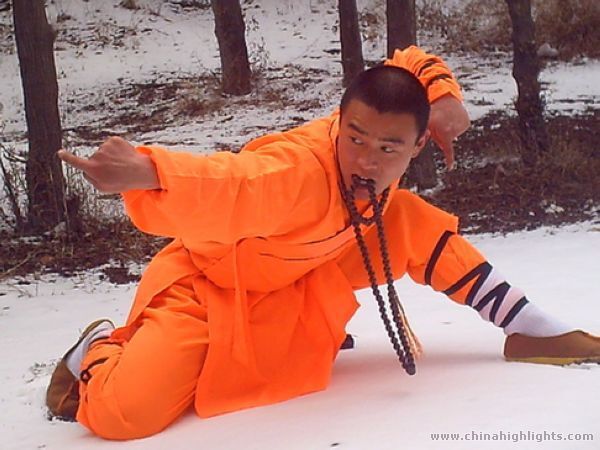 Chinese Kung Fu, (also known as wushu or Chinese martial arts) is one of the most well known examples of traditional Chinese culture. It it is probably one of the earliest and longest lasting sports which utilizes both brawn and brain. The theory of Kung Fu is based upon classical Chinese philosophy. Over its long history it has developed as a unique combination of exercise, practical self-defense, self-discipline and art. In sports like track and field, ball sports, weightlifting, and boxing, an athlete typically has to retire from full participation in his 30s. Injuries sustained during years of active sport participation at a young age can that affect our health in later life. In Chinese Kung fu however, a distinction is made between "external" and "internal" kung Fu. It is said that "In external kung fu, you exercise your tendons, bones, and skin; in internal kung fu, you train your spirit, your qi, and your mind."
One week Kungfu Experience Tour
Duration: 7 Days
Destination:Zhengzhou → Dengfeng
Feature: This is a banquet with gorgeous cultural in China. We will take you to the cradle of Chinese Shaolin Kung fu-Shaolin Temple. Enjoy yourself in our Chan theme sightseeing; refresh yourself from the Kung fu performance team prepare for you; then it's your time to try the legendary human treasure. check the details
Find more Chinese Kungfu tours
Chinese Kung Fu History
Chinese Kung Fu is a large system of theory and practice. It combines techniques of self-defense and health-keeping.
It is estimated that Chinese Kung Fu can be dated back to primeval society. At that time people use cudgels to fight against wild beasts. Gradually they accumulated experience of self defense. When Shang Dynasty began, hunting was considered as an important measure of Kung Fu training. Details on Chinese Kung Fu History

Shaolin Kung Fu
Shaolin Kung Fu is well known at home and abroad. The original purpose of Shaolin shadowboxing is health keeping, treating illness, protecting famous mountains, safeguarding ancient temples, self-defense, and repulsing enemies. It boasts of diversified patterns, plain forms, and rich internal and external work. Details on Shaolin Kung Fu
Taiji Quan
Taiji Quan is a Taoist internal martial art. One account of the history of Taiji Quan credits its development to the Taoist immortal Chang San-feng, who is said to have drawn the inspiration for the art by watching a fight between an snake and an aggressive eagle. Read more on Taijiquan
Chinese Qi Gong
"Qi Gong" (literally "breath exercise"),is an invaluable component of traditional Chinese medicine that has its origin in ancient times. Its primary stimulus was the search for longevity with the ultimate aim of immortality, which has so entranced the Chinese mind for centuries. Read more on Chinese Qi Gong
Shaolin Temple
Because of the Kung Fu TV series of the 1970s and movies about Shaolin Kungfu, this Buddhist temple in Henan Province became known around the world. The temple has a long history. It was destroyed or closed and reopened and rebuilt over and over. Read more on Shaolin Temple
Kung Fu Show
Red Theater, Beijing
The show, the Legend of Kung Fu, tells the story of a young boy, who dreamed of becoming a Kung Fu master, overcome difficulties and temptations on the road to enlightenment. The actors of the show are real and excellent Kung Fu practitioners found from all over China. Read more
Kung Fu Actors
Bruce Lee (1940 - 1973)
Bruce Lee was a Chinese-American martial artist and actor, who is considered by many as the most influential martial artist and an important cultural icon of the 20th century. He used Wing Chun, a branch of Chinese Kung Fu, as his base, learned from the influences of other martial arts, and later created his own martial art philosophy – Jeet Kune Do. His films are the Big Boss, Fist of Fury, Way of the Dragon, Enter the Dragon, and the Game of Death. Read more on Kung Fu Actors
Famous Chinese Kung Fu Schools

Name: Zhonghua Martial Arts School of Shandong Laizhou (山东省莱州中华武校)
Location: Shahe District (North) Laizhou, Yantai City, Shandong Province (山东省烟台市莱州市沙河北区)
Introduction: Zhonghua Martial Arts School of Shandong Laizhou is located in the beautiful Jiaodong Peninsula, in East China's Shandong Province. The famous Mantis and Wu style Taijiquan originated here. The school is a large-scale international civil and military school with world-class facilities and excellent coaches, and it is also one of China's top ten martial arts school. Main courses include: international athletic competition routine, traditional martial arts, kickboxing, self-defense and ancient weapons.

Name: Songjiang Martial Arts School of Shandong Yuncheng 山东郓城宋江武术学校
Location: Yuncheng, Heze City, Shandong Province 山东省菏泽市郓城县
Introduction: Songjiang Martial Arts School of Shandong Yuncheng was founded in 1985. The school has over 3600 students from China, America, Australia and South Korea. From primary school to high school there are 50 arts classes and 60 martial classes. Main courses include: Sanda, boxing, taekwondo, karate, judo, martial arts routine and film & television.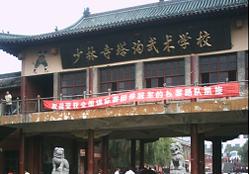 Tagou Shaolin Martial Arts School of Henan Dengfen

Name: Tagou Shaolin Martial Arts School of Henan Dengfeng 河南登封塔沟少林武术学校
Location: East of Dengfeng Songshan Shaolin Temple, Zhengzhou City, Henan Province. 河南省郑州市登封嵩山少林寺东
Introduction: Tagou Shaolin Martial Arts School of Henan Dengfeng was founded in 1978 by Mr. Liu Baoshan, who was born in a martial arts family. It has over 400 classes with main courses as martial arts routine, Sanda, boxing, taekwondo and martial arts performances. In order to develop and disseminate the Shaolin martial arts better, the school martial arts performing group was invited to over 60 countries for martial arts performance and teaching.

Name: Beijing Shaolin Martial Arts School 北京少林武术学校
Location: No.386# Changping Road, Changping District, Beijing 北京德外西三旗回龙观昌平路386号
Introduction: Beijing Shaolin Martial Arts School is a modern martial arts school that approved by the education authorities, with national authorized qualifications of the elementary, middle and high school and secondary school education.Coaches are talent graduates from famous martial arts academies, have both theoretical knowledge and practical experience. The school is also a domestic and international film shooting base.

Name: Zhao Changjun Martial Arts School of Xi'an 西安赵长军武术学校
Location: Middle Yanhuan Road, Southern suburbs of Xian 西安市南郊雁环中路
Introduction: Zhao Changjun Martial Arts School of Xi'an is a full-time (boarding) martial arts school providing both martial arts training and normal education. The school hires a number of martial arts and education experts. Zhao Changjun Martial Arts School of American was set up in New Jersey. The school has established friendly relations with more than ten foreign well-known colleges, and attracted more than 20 friendly groups from countries like Britain, Canada, Germany and France to visit in the past.

Name: Dongling Shaolin Martial Arts School of Shenyang 沈阳东陵武少林术学校
Location: No.88# Dongling Street, Shenyang 沈阳市东陵区陵东街88号
Introduction: Dongling Shaolin Martial Arts School of Shenyang was founded in December 1, 1990. During the past 15 years, 4,500 students graduated here. Now it has 600 students and 62 martial arts coaches. Dongling Shaolin Martial Arts School of Shenyang is also the training base for sports colleges in Beijing, Shenyang, Wuhan, Chengdu, Guangzhou, Shanghai and other cities. It has fostered more than 400 undergraduates including some professional athletes. Dongling Shaolin Martial Arts School of Shenyang combines normal eduction with kung fu training, with half day learning and half day martial arts training.

China Highlights
Planning a trip? Ask us here 800-2682918 (USA & CA)
86-773-2831999 (Int'l)
Q:
Ibrahim
Asked on 2012-12-28
Reply
Hi there,I will be in Guangzhou towards the end of January 2013 for a year. I would like to know if there are any reputable Wing Chun Kung Fu schools that I would be able to join?
Dear Sir or Madam, I am not familiar the policy of the school. I suggest you contact the school directly and get the more information. Here is the official website of one of famous schools in Guangzhou. Please click: http://www.wuxiutang.com/English.asp Lussie Lu Replied on 2012-12-29
Q:
Lina
Asked on 2012-11-30
Reply
Hi there, I would love to go to the Kung Fu school for a month and travel for a week after. My priorities for the sight seing would be River Li in Guilin, Yellow Mountains and the Mid Lake. Do you think it is possible to combine all these into such trip please?Kind regards,Lina.
Hi Lina, the trip could be operated as your request but we must know more information about your idea for the trip. Please check your email where I would like you to answer some questions. I want to give you a best fit for the trip in China. (my email: lilylee@chinahighlights.net) Lily Lee Replied on 2012-12-01
Q:
hefendizon
Asked on 2012-10-30
Reply
I really like martial arts, but I do not know where and how to learn kung fu.
Q:
Dawei
Asked on 2012-10-06
Reply
I want to learn kung fu in Shengyang, I work in there. But I don''t know how many kung fu schools exisist in that city or how to get to any of those. I will only stay for one month in china and i would like to at least see chinese kung fu
Hi Dawei,
It is Christy from China Highlights, a travel advisor. I'm happy to help you.
As I known that the most famous Kongfu school is Shenyang Shaolinmartial arts school. But they don't offer Kongfu learning program for international friends. As for other school, our local supplier told me that they also can not contact the agency who would provide such activity. I don't know if there are any civil group could do that. But if you are planning to visit Beijing or Luoyang when you work in China, I could arrange it for you, since it is very famous in Beijing and Luoyang.
Christy Luo Replied on 2012-10-08
Q:
Pierre
Asked on 2012-09-27
Reply
Perhaps you can help me. I am planning on teaching english in China for a good couple of years and also to further my studies in Shaolin Kung Fu inder a traditional ,aster. I''m having trouble finding a good city with Shaolin academies. Might you have any ideas for me?
Hi Pierre,you can go to Zhengzhou City in Henan Province. It is the birthland of Shaolin Kung Fu. The Shaolin Temple there is very famous. Whitney Liao Replied on 2012-09-28