Jiuzhaigou Weather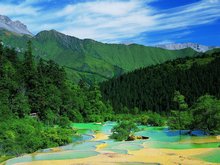 Jiuzhaigou is about 1,900–3,100 meters above sea level, on a plateau with a moist climate. The weather in Jiuzhaigou changes, and it is usually sunny during the day and rainy at night. Don't worry about your journey in Jiuzhaigou, as you can finish your visits during the day. There are distinguishing features of Jiuzhaigou during each season, such as flowers in the spring, greenery during the summer, colorful leaves during the autumn, and a special Jiuzhaigou in the winter, when everything is covered by snow.
The best time to visit Jiuzhaigou is autumn, especially from late September to mid October, as the leaves change colors and the view is outstanding. This is also high season for tourism, so be sure to book your tour one or two months in advance to avoid the shortage of accommodations and to reserve an English-speaking guide.
Spring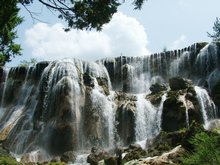 Temperatures in the spring are quite low and changeable, and they average from 9 °C (48 °F) to 18 °C (64 °F). Since Jiuzhaigou is on a plateau, the ultraviolet radiation is strong and we recommend that you bring sunglasses and sunscreen. A jacket and a light sweater are also necessary.
During the spring, you can experience the purest Jiuzhaigou, as everything begins to turn green and the area is filled with different layers of colors. The birds also return from the south and start chirping.
Summer
Summer is a booming season, as the trees turn greener and flowers dot the bushes. There is a big temperature difference between day and night, as the temperature during the day ranges from 19 °C (66 °F) to 22 °C (72 °F) but decreases to 10 °C (50 °F) at night. Long sleeve shirts and jeans are suggested for Jiuzhaigou during the summer, and a light jacket, sunglasses, sunscreen, and an umbrella are necessities since it rains quite often in the summer.
Autumn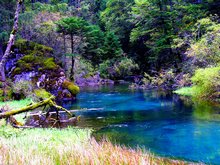 Red and yellow are the main colors in Jiuzhaigou during the autumn. The fiery maple leaves, the yellow leaves of the smoke trees, the green and luxuriant forests covering the hills, and the blue lakes like sapphire lying between them… the views in Jiuzhaigou during the autumn are just like a painting.
Temperature differentials between day and night are larger than in the summer, as it is around 18 °C (64 °F) during the day and falls to below 8 °C (46 °F) at night. We recommend that you bring warm clothing.
Winter
The snow turns Jiuzhaigou into a silver world during the winter, snowballs turn to ice flowers all over the trees, and even the waterfalls freeze. The lakes below sea level are bluer during the winter.
Like other mountain and plateau areas in the world, winter in Jiuzhaigou is very cold, usually 0 °C (32 °F) or below. We recommend warm clothing, such as an anorak, if you travel in the winter. Click here too see our Jiuzhaigou tour packages.
Jiuzhaigou Climate Information by Month

China Highlights
Planning a trip? Ask us here 800-2682918 (USA & CA)
86-773-2831999 (Int'l)
Q:
Derek
Asked on 2013-01-20
Reply
Hi, I''m planning to go to Jiuzhaikou around 12-14 Oct. Can I see the maple leaves ? Is it a good season ?
Hi Derek , yes, that is the perfect time for the maple leaves . If you need any tour service or hotel/ air tickets booking, we are more than happy to assist.
Whitney Liao Replied on 2013-01-20
Q:
Chua
Asked on 2012-12-20
Reply
I''m going jiuzhaigou in Jan 4-11. What is the weather like by then? What types of clothes shall I bring?
Hi Chua, January in Jiuzhaigou is very cold, the average temperature is 0 °C (32 °F) or below. We recommend warm clothes such as anoraks, padded over coats. If you travel in the winter, Click here too see our Jiuzhaigou tour packages.
Whitney Liao Replied on 2012-12-21
Q:
Simon
Asked on 2012-10-26
Reply
We planned to visit Jiuzhaigou around 20th November. Will we be able to see the blue icy lakes and frozen waterfall? Thank you.
Hi Simon, you may see it, but I am not sure.
Whitney Liao Replied on 2012-10-26
Q:
Eileen
Asked on 2012-10-15
Reply
5-day trip confirmed on 9 Nov to Chengdu and Jiuzhaigou. Any difference in the weather? Understood that it snowed a few days ago - is it winter already? Do we have to bring downs? How about the toilets over there? Thank you
Hi Eileen, the temperature in Jiuzhaigou is lower than in Chengdu.
November marks the beginning of winter in Jiuzhaigou, and the month gets quite cold with an average temperature of 7 ° C (44.6 ° F). You may also experience heavy snow, and the temperature falls between 10 ° C (50 ° F) and 15 ° C (59 ° F). It is quite important to wear thick clothes like leather or downclothing, thick woolen sweaters, trousers, and thick shoes.
While in Chengdu, the average highest temperature is around 16 °C (61 °F ) and the lowest temperature is about 10 °C (50 °C ). . You don't need downs there.
The toilets in the hotels of these places are generally western style. But the ones in the scenery spots are Chinese style.

Whitney Liao Replied on 2012-10-16
Q:
Krisdadio
Asked on 2012-10-12
Reply
We are going on next saturday to chengdu and will be taking bus to Jui zhai gou and taking flight back to chengdu.we do visit emeishan too.BTW what weather in chengdu and jui zhai gou,About the jui zhai gou was thinking want to bring winter jacket or spring jacket.May i kow what the scenery by next week?.planning each day for jui zhai gou and huanglong or just 2 days in jui zhai gou heard one day is not enough to see all scenery in jui zhai gou and someone told me huanglong is not nice .
Hi Krisdadio, we are not able to provide the correct information on this. Just give you a general idea from the previous report. from mid October, the weather in Jiuzhaigou and Chengdu cools down and the normal temperature is between 7 ° C (44.6 ° F) and 20 ° C (68 ° F). The soil freezes during the last ten days of the month and the top of some high mountains are covered with snow. You can also check the up to date information via this website: http://www.weather.com.cn/english/
Most of the time, clothing suitable for autumn and an overcoat are sufficient. During the evening or when you climb the mountain, wear another sweater. Down clothing and thick trousers are also indispensable for nights.
October in Jiuzhaigou is famous for the beautiful red maple leaves all over the mountains. Usually it take 3-4days from landing to departing in Jiuzhaigou and Honglong together. 1.5-2days in Jiuzhaigou, 1 day in Huanglong. The scenery in Huanglong is also marvelous.
Whitney Liao Replied on 2012-10-12