Weather in China
China is a huge country, about the same size as the USA or Europe, with the greatest range of weather of any country on the planet. So, before you travel to China, it is recommended that you check the weather conditions. China is vast, and the climate and conditions vary widely from region to region.
Climates range from desert in Xinjiang (the Northwest), to Inner Mongolian grasslands, to temperate and alpine forests and farmlands, to rice paddies and sub-tropical vegetation, to tropical rainforest, to sunny beaches. There is the vast high-altitude plateau of Tibet and archipelagos of tropical islands.
Along with the seasons, latitude and altitude affect the temperature dramatically, with temperatures as low as -40°C in the north and as high as 40°C in the south. Distance from the monsoon rains of the tropics, generally defines the amount of rainfall in China, along with distance from the Pacific Ocean and the presence of mountains.
The rainy season occurs between March and April in southern and eastern China (eg: Guilin, Suzhou, Hangzhou), from June until August in the west (eg Yunnan Province and Tibet), and between May and September for the areas near the Yangtze River (eg, Chongqing and Yichang. During these times severe rainstorms can cause landslides in Shangrila and remote areas in Tibet which may interrupt essential services. Rural areas near the Yangtse River may be subject to flooding. Typhoons can occur during the wet season along the southern and eastern coasts. You should monitor weather reports if travelling in affected areas. If a natural disaster occurs you should follow the advice of the local authorities.
Tourist Destinations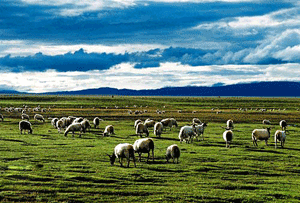 A grassland in Tibet. Tibet weather features clear skies and big temperature changes.
Beijing and Xi'an are dry, hot in summer and cold in winter. Shanghai (along with nearby Hangzhou, Suzhou and the Yellow Mountains), Guilin, and Hong Kong all experience monsoon rains in the spring and summer, with hot summers and milder winters.
Tourists visit Harbin in winter for its ice festival and ski slopes. Tibet has clear skies and big daily temperature differences and is best avoided in the frigid winter. The Silk Road in the Northwest is also best explored in the warmer months, when the deserts and barren vistas are at their best.
Tropical Hainan is a sunny escape for holidaymakers at any time of year. Chengdu is the overcast city, with muggy hot summers and cold dreary winters, and Kunming is the "Spring City" with pleasant mild weather all year round. For other tourist destinations see the list below.
North-Central China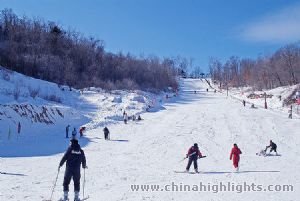 Winter in Yabuli Ski Resort, Northern China. The daytime temperatures would be around -30°C
North-Central China (Beijing, Xi'an) is similar in climate to Nebraska and Kansas, with less snow and rain during the winter. Dry with hot summers and cold winters, late winter and early spring bring regular dust storms and haze.
South-central China
Southern and Central China (Shanghai, Guangzhou) is comparable to the Gulf Coast states, through winter storms do not occur as often. Rainfall is concentrated in the stormy monsoon months from late spring through summer, leaving autumn and winter relatively dry and settled. Summer is hot and humid. Winter is shorter, cool, and often overcast with drizzle.
Northeast China
Northeast China (Shenyang, Harbin) is similar to Minnesota. Dry with a short warm summer, and a long and very cold winter.
Western China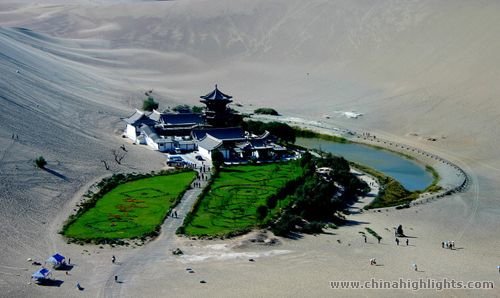 Crescent Lake near Dunhuang, Western China. The annual precipitation is around 23mm here.
Xinjiang (Urumqi, Kashgar) experiences severe desert conditions with dramatic daily temperature swings. Summer can get very hot during the day, but generally cools off at night. Similarly, winter temperatures warm up during the day but plummet at night. In dramatic contrast to the desert are the snowcapped Heavenly Mountains, with their verdant pastures, near Urumqi.
Tibet (Lhasa, Shigatse) also sees marked daily temperature changes. When the sun shines (and Tibet is known for its blue skies), temperatures reach the mid 80s Fahrenheit (around 30°C) in the summer and the mid-60s (around 20°C) in the winter. At night or when it rains or snows, temperatures drop rapidly, maybe by 40 or 50°F (20 or 30°C). Precipitation is minimal in the winter; summer showers are more common, but occur mainly at night.
Best Time to Visit China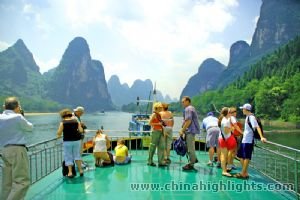 The best time to cruise on the Li River from Guilin to Yangshuo is April to July, when scenery is at its best in the sun or mountain mists, and when the river has plenty of water.
Choosing the best time to visit China depends on which places you wish to visit, and what type of weather you enjoy. May, September and October are the peak tourist months at China's most popular destinations when the weather is most comfortable, but prices are higher, and everywhere is more crowded.
Prices drop a bit in the shoulder season, which runs from late March through April and from June through August. The low season arrives in late November, and continues through the winter when there are fewer crowds and the prices are lower.
The best time to see fall colors in China is from late October to early December, as parts of the country are saturated with fall hues.
You may also interested in: How to plan a first trip to China?
China Weather by Month
China Weather by City


China Highlights
Planning a trip? Ask us here 800-2682918 (USA & CA)
86-773-2831999 (Int'l)
Q:
falah
Asked on 2012-11-08
Reply
where is the nicest hotel in xiamen
Hi Falah, for hotels in Xiamen, please check here: http://www.chinahighlights.com/hotel/xiamen-hotels/
Whitney Liao Replied on 2012-11-11
Q:
fifunmi
Asked on 2012-07-29
Reply
When is the best time to visit china for business and what will the weather looks like? do they welcome customers with English or chinness language?Where is the main china market?
Hi Fifunmi, the best time for business visit to China is April and October when Canton Fair is held in Guangzhou every year. You can find almost all kinds of products there. The weather is comfortable during that time. And they welcome customers all over the world with any language. Hope it helps. Whitney
Whitney Liao Replied on 2012-07-29
Q:
Rudo Hamandishe
Asked on 2012-06-10
Reply
planning to go Guangzhou what is weather like?
If you visit time is in july to Oct.; Guangzhou is always hot, mostly sunny, around 25 degree to 30 degree. Sammi Dai Replied on 2012-06-10
Q:
Ruru Zhou
Asked on 2012-05-27
Reply
when is the best time to travel to China?
Q:
Ruru Zhou
Asked on 2012-05-27
Reply
Hi, i am thinking of a trip to HUangsan this july. I am in Shanghai, can you tell me which is the best means of transportation. Is there a train from Shanghai to Huangshan.