New Century Cruises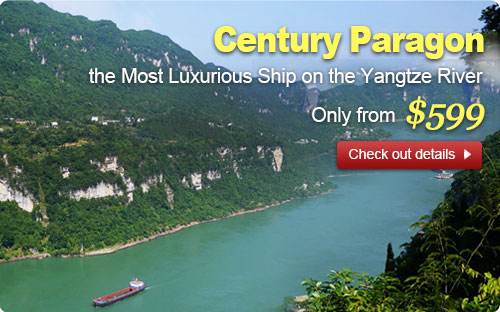 New Century Cruises fleet includes 4 super 5-star deluxe cruise ships, Century Sky and Century Sun ( rented by Viking ), Century Star and Century Diamond ( 2008 service ) which are the largest, newest and most luxurious river cruise vessels in the world.New Century Cruises takes passenger's possible demands well into consideration in cabin design.
Spacious cabins are well equipped with fine classic furniture's. Comfortable and foldable bed, ceiling-to-floor viewing window and private balcony enable your privacy and romance.Equipment and facility in cabins is based on international five star hotel standard, well trained crew and staff are ready to provide top class service onboard. Features of New Century Cruises:
Each cabin has a private balcony with full-length observation window.
European style bathroom is furnished with unique and refined interior decoration.
equipped with two lifts(expect Century Star).
Find a Cruise
New Century Cruises Best Sellers
Other New Century Ship
Ship
Level
Year of Built
Elevators
Decks
Capacity
Cabin Size
Number of Cabins
Century Sun From:

$419

2006
2
6
306
25.9-35.6 ㎡
153
Monday
Tuesday
Wednesday
Thursday
Friday
Saturday
Sunday
Next Month»
Note: If you want to travel on a date when there is no information shown on the calendar, contact us and we will contact the cruise company directly. The price may not be able to be confirmed immediately, but a booking can be made.