Century Diamond Cruise
Select your cruise dates
2

Book

3

Expert reply

4

Your cruise is ready!
Select your cruise dates
(price per person, twin sharing basis)
China Highlights offers instant Yangtze cruise online bookings! Pay now to avoid price rises, get FREE UPGRADE for better views, and enjoy our VIP service. Deck Upgrade: The prices are based on the standard cabin. Customers need to pay an additional fee (RMB 200 to RMB 600) based on the floor of the ship.
Note:
1.Child Price Reductions (Based on Full Prices): babies (0–2) occupying a bed 90% off; children (2–12) NOT occupying a bed 25% off; extra bed 25% off
2.Prices may vary according to your travel time and are higher than above price list during Chinese National Holiday (10.1.-10.7, 2015) and Chinese Spring Festival (2.7.-2.13, 2016). Contact us for the detail price.
3.Tipping - All passengers (not include Yangtze Gold Cruises) sailing between Chongqing and Yichang are required to pay $23/RMB150 per person as service charge. The service charge is payable at the time of boarding.
Cruise
Map & Itinerary

Cruise
Introduction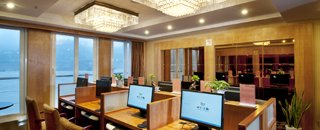 First Navigation: 2008
Length: 110m
Width: 17m
Passengers: 264
We are sorry to inform you that Century Diamond is rented by other company so it is now unavailable.
It is 110 meters in length, 17 meters in width, and holds a passenger load of 264. There are 132 rooms in total (112 deluxe standard rooms, 4 executive suites, 14 deluxe suites, and 2 presidential suites). Meticulously decorated, the whole cruise liner is elegant and fashionable which highlights the noble quality of it. It has big viewing rooms, an executive story, luxury restaurants on the second floor, the A-LA-LATE restaurant on the sixth floor, a cigar bar, a five-story rotary type hall, two panoramic lifts and a multifunctional hall.
The top-class equipment in every guest room, tasty and plentiful Chinese food, Western food, colorful entertainment activities, and complete services and devices, will impress you very much during the tour of the Three Gorges.
The classical restaurant offers a panoramic view of the Three Gorges, a romantic candlelit dinner, mellow Irish coffee, a delicate dessert, Western kitchen devices, an authentic Western meal, classical Chinese food and a Western food ordering service. Other specific performances are also provided at night: Sichuan Face-changing, a Mongolian style opera and tai chi.
Lying on a beach chair on the huge sunshine deck, enjoying the panoramic view of the Three Gorges and Yangtze River, drinking a glass of wine in the breeze, becoming addicted to the beautiful scenery around you; all these things will become simple and wonderful.?
The tour starts at Chongqing, and Yichang especially guest-friendly, taking all of your living habits into consideration.
Upgrade to VIP restaurant: RMB300 per person per voyage (VIP restaurant is more quiet, private and not crowded.)
Note: The staff on the ship can prepare vegetarian food for our customers. Please inform our travel advisor if you want vegetarian food on the ship. Take care of your belongs when you disembark and go upstairs. Your guide will pick you up at the exit.

See Century Diamond video.
Want a stress-free and time-saving way to get to the cruise Port from the airport? China Highlights can provide you with comfortable private transport straight to the Port. Contact us and we can also help you arrange your Yangtze cruise.
Transport Map: Chongqing Jiangbei Airport to Chaotianmen Port, Chongqing North Railway Station to Chaotianmen Port, Yichang New Century Port to Yichang Sanxia Airport
Cabins
Info
Standard Cabin

Number of cabin: 112
Area: 25㎡
Bed size: 2.0m*0.9m
Balcony: 2.8㎡
Floor: 2, 3, 4
Junior Suite

Number of cabin: 4
Area: 28㎡
Bed size: 2.0m*0.9m
Balcony: 4.3㎡
Floor: 3, 4
Deluxe Suite

Number of cabin: 14
Area: 30.4㎡
Bed size: 2.0m*0.9m
Balcony: 3.6㎡
Floor: 5
Presidential Suite

Number of cabin: 2
Area: 78㎡
Bed size: 2.0m*1.8m
Balcony: 30㎡
Floor: 3
Deckplans
Info
6F: Sun Deck (Gym, Beauty Salon, Reading Room, Kitchen, Sauna, A-la-carde Restaurant)
5F: Observation Deck (Shopping Center, Beverage Storeroom, Cigar Bar, Observation Lounge, Guest Room: 501-516)
4F: Bridge Deck (Internet Center, Clinic, Guest Room: 401-444)
3F: Promenade Deck (Guest Room: 301-352)
2F: Upper Deck (Dining Hall, Pantry, Lobby, Broadcast Studio, Reception, Lobby Bar, Business Center, Guest Room: 201-230)
Facilities
Service
Laundry Service
Internet
Photography
Tour Guide
Learning Mahjong
Shopping
Welcome Performance
Spa
Medical Care
Karaoke
Beauty Salon
Broadcast of Itinerary
Carrying Luggage
Shore Excursions