Century Diamond Cruise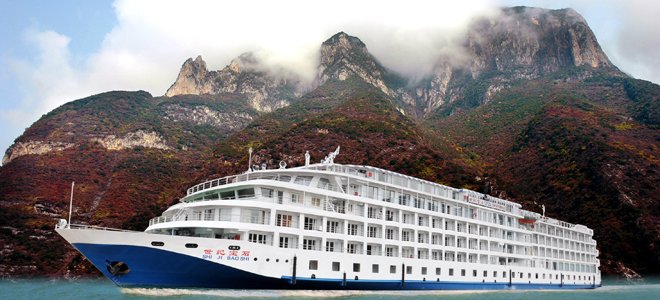 Select your cruise dates
2

Book

3

Expert reply

4

Your cruise is ready!
Select your cruise dates
(price per person, twin sharing basis)
Cruise
Map & Itinerary

Cruise
Introduction

First Navigation
Latest Renew
Length
2008
-

110

m
Width
Passengers


17m
264
It is 110 meters in length, 17 meters in width, and holds a passenger load of 264. There are 132 rooms in total (112 deluxe standard rooms, 4 executive suites, 14 deluxe suites, and 2 presidential suites). Meticulously decorated, the whole cruise liner is elegant and fashionable which highlights the noble quality of it. It has big viewing rooms, an executive story, luxury restaurants on the second floor, the A-LA-LATE restaurant on the sixth floor, a cigar bar, a five-story rotary type hall, two panoramic lifts and a multifunctional hall.
The top-class equipment in every guest room, tasty and plentiful Chinese food, Western food, colorful entertainment activities, and complete services and devices, will impress you very much during the tour of the Three Gorges.
The classical restaurant offers a panoramic view of the Three Gorges, a romantic candlelit dinner, mellow Irish coffee, a delicate dessert, Western kitchen devices, an authentic Western meal, classical Chinese food and a Western food ordering service. Other specific performances are also provided at night: Sichuan Face-changing, a Mongolian style opera and tai chi.
Lying on a beach chair on the huge sunshine deck, enjoying the panoramic view of the Three Gorges and Yangtze River, drinking a glass of wine in the breeze, becoming addicted to the beautiful scenery around you; all these things will become simple and wonderful.?
The tour starts at Chongqing, and Yichang especially guest-friendly, taking all of your living habits into consideration.

See Century Diamond video.
Cabins
Info
Deluxe Cabin

Number of cabin: 112
Area: 25㎡
Bed size: 2.0m*0.9m
Balcony: 2.8㎡
Junior Suite

Number of cabin: 4
Area: 28㎡
Bed size: 2.0m*0.9m
Balcony: 4.3㎡
Deluxe Suite

Number of cabin: 14
Area: 30.4㎡
Bed size: 2.0m*0.9m
Balcony: 3.6㎡
Presidential Suite

Number of cabin: 2
Area: 78㎡
Bed size: 2.0m*1.8m
Balcony: 30㎡
Deckplans
Info
Sun Deck

Observation Deck

Bridge Deck

Promenade Deck

Upper Deck
Lobby

Multifunctional Bar

Restaurant

Fitness Center