Century Sky Cruise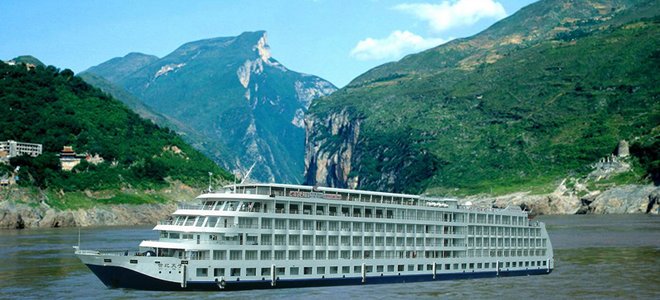 Select your cruise dates
2

Book

3

Expert reply

4

Your cruise is ready!
Select your cruise dates
(price per person, twin sharing basis)
Cruise
Map & Itinerary

Cruise
Introduction

First Navigation
Latest Renew
Length
2005
-

126.8

m
Width
Passengers
Gross Tonnage
18m
306
8040T
It is also a five-star deluxe cruise, being one of the biggest, newest and the most luxury cruises on the Yangtze River. Starting at Chongqing and ending at Yichang tour route is a classical one. The Century Sky Cruise is 126.80 meters in length, 17.20 meters in width, with a passenger load of 306, containing 153 rooms in total. The brilliant main dining areas and well-decorated private rooms will meet your different needs of taste and entertainment.
The whole ship has elegant fitments and a delicate design: a five-story grand rotating style hall, pure quality tableware and kitchen wares which have been imported from Europe, convenient bathing facilities, comfortable guest rooms in a European style, a private balcony with a panoramic view, advanced Internet bar, great cigar bar, beer bar, multifunctional entertainment room, classical music concert hall, library, spacious sunshine deck, satellite digital TV receiver system, full-service sauna and a massage center.
The meals on the cruise are mainly of a Western buffet style, supplemented by "American style" Chinese food, which not only meets the tastes of Western guests, but also provides some classical flavors of Chinese food. Morning coffee and late-night eating options are offered.
Cabins
Info
Deluxe Cabin

Number of Cabin: 143
Area: 25.9㎡
Bed size:2.0m*0.9m
Balcony: 2.8㎡
Junior Suite

Number of Cabin: 4
Area: 30㎡
Bed size:2.0m*1.8m
Balcony: 4.8㎡
Deluxe Suite

Number of Cabin: 6
Area: 35.6㎡
Bed size:2.0m*1.8m
Balcony: 4.8㎡
Deckplans
Info
Sun Deck

Observation Deck

Promenade Deck

Bridge Deck

Upper Deck
Lobby

Restaurant

Salon