Century Paragon Cruise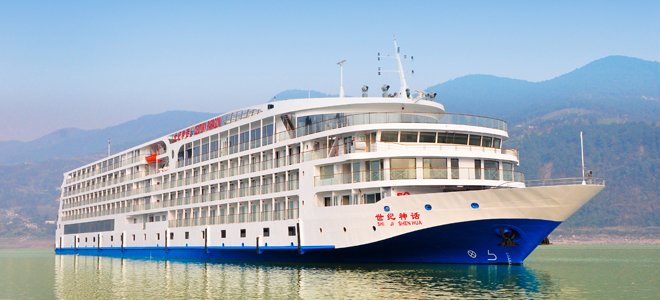 Select your cruise dates
2

Book

3

Expert reply

4

Your cruise is ready!
Select your cruise dates
(price per person, twin sharing basis)
Cruise
Map & Itinerary

Cruise
Introduction

First Navigation
Latest Renew
Length
2013
-

141.8

m
Width
Passengers


19.8m
398
Launched in March, 2013, Century Paragon is one of the most luxurious ships on the Yangtze River. The ship has the largest and most luxurious spa on the Yangtze River, and the largest indoor constant-temperature pool among inland cruise ships.
Executive floor suites on both deck 5 and deck 6 offer broad views.
Wi-Fi is provided for travelers to get in touch with their friends and families whiling traveling.
Tipping Special Note: All passengers on New Century Cruises are required to pay $23/RMB150 per person as service charge. The service charge is payable when they check out for disembarkation.Customer request a specific deck need an additional fee (RMB150-RMB450) based on the floor of ship.
Cabins
Info
Deluxe Cabin

Number of cabin: 156
Area: 28㎡
Bed Size: 2.0m*0.9
Balcony: 2.8㎡
Junior Suite

Number of cabin: 4
Area: 30㎡
Bed Size: 2.0m*0.9
Balcony: 4.3㎡
Executive Suite

Number of cabin: 38
Area: 35.6㎡
Bed Size: 2.0m*1.0
Balcony: 3.6㎡
Presidential Suite

Number of cabin: 2
Area: 106㎡
Bed Size: 2.0m*1.8
Balcony: 30㎡
Deckplans
Info
6F: Sun Deck

5F: Observation Deck

4F: Bridge Deck

3F: Promenade Deck

2F: Upper Deck

1F: Main Deck

-1F: Bottom Deck
Cheers Bar & Lounge

A La Carte Dining Hall

Swimming Pool