Century Sun Cruise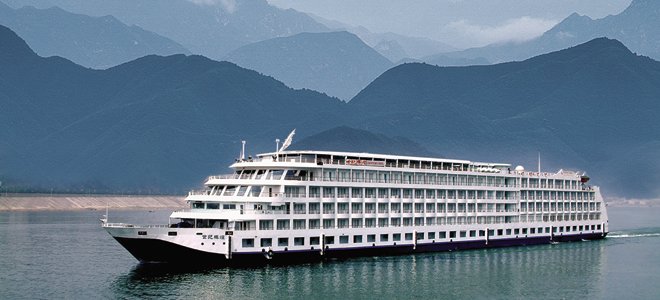 Select your cruise dates
2

Book

3

Expert reply

4

Your cruise is ready!
Select your cruise dates
(price per person, twin sharing basis)
Note:
1.Child Price Reductions (Based on Full Prices): babies (0–2) occupying a bed 90% off; children (2–12) NOT occupying a bed 25% off; extra bed 25% off
2.Pricing - Yangtze River cruise operators have different pricing structure based on nationality. Please contact us for the detailed pricesnot specified in our table above.
3.Prices may vary according to your travel time and are higher than above price list during Chinese National Holiday (9.29-10.7, 2014) and Chinese Spring Festival (2.18-2.25, 2015). Contact us for the detail price.
4.Tipping - All passengers (not include Yangtze Gold Cruises) sailing between Chongqing and Yichang are required to pay $23/RMB150 per person as service charge. The service charge is payable at the time of boarding. Customer request a specific cabin need an additional fee (RMB150-RMB300) based on the floor of ship.
Cruise
Map & Itinerary

Cruise
Introduction

First Navigation
Latest Renew
Length
2006
-

126.8 

m
Width
Passengers


18m
305
 
The repair style, devices and services of the Century Sun Cruise are very similar to the other cruises mentioned above. On the cruise, professional hotel management staff from Europe offer a personalized and flexible service, which provides you with customization services. In order to realize the harmony and unity of nature and humans, a private viewing balcony is in every single room with floor-to-ceiling windows; this is called a "water-friendly" design. The whole cruise is named "The Luxury Moving Home" on the Yangtze River.
Want a stress-free and time-saving way to get to the cruise Port from the airport? China Highlights can provide you with comfortable private transport straight to the Port. Contact us and we can also help you arrange your Yangtze cruise.
Cabins
Info
Deluxe Cabin

Number of cabin: 143
Area: 25.9㎡
Bed size: 2.0m*0.9m
Balcony: 2.8㎡
Junior Suite

Number of cabin: 4
Area: 30㎡
Bed size: 2.0m*1.8m
Balcony: 4.8㎡
Deluxe Suite

Number of cabin: 6
Area: 35.6㎡
Bed size: 2.0m*1.8m
Balcony: 4.8㎡
Deckplans
Info
Sun Deck

Observation Deck

Promenade Deck

Bridge Deck

Upper Deck
Lobby

Restaurant

Multifunctional Bar


​Fengdu Ghost City and White Emperpor City are the optional shore excursions.