Yangtze Gold Cruises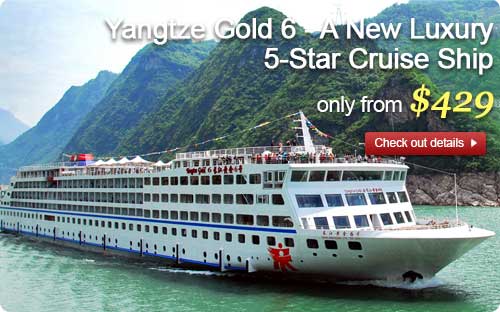 Yangtze Gold Cruise is one of the newest and most luxurious cruise series sailing on the Yangtze River. There are seven super 5-star cruise ships, including Yangtze Gold 6, Yangtze Gold 7, and the newest Yangtze Gold 8, which had its first navigation in 2011. Featuring modern designs, professional service, and technological facilities, Yangtze River cruises can bring you to the stunning and breathtaking Yangtze River scenery.
Why Take Yangtze Gold Cruises?
It is the largest and most luxurious cruise series.
Functional and complete facilities onboard: Pedestrian Street, helipad, mini golf course, open-air surfing swimming pool, double-layer theatre, and children's playground.
Each cabin is equipped with a private balcony, offering majesty Yangtze River scenery.
Passengers can have fun and appreciate the scenery along the Yangtze River in large public area.
You can have a quiet cruise due to the top level noise reduction system and anti vibration engines.
Find a Cruise
Yangtze Gold Cruises Best Sellers
Other Yangtze Gold Ships
Ship
Level
Year of Built
Elevators
Decks
Capacity
Cabin Size
Number of Cabins
Yangtze Gold 3 From:

$429

2012
2
6
570
16-139 ㎡
216
Yangtze Gold 2 From:

$429

2012
2
6
570
16-151 ㎡
216
Yangtze Gold 1 From:

$429

2011
2
6
350
26.5-73.2 ㎡
148
Note: If you want to travel on a date when there is no information shown on the calendar, contact us and we will contact the cruise company directly. The price may not be able to be confirmed immediately, but a booking can be made.