Easter In China
Celebrated: Apr.&nbsp20,&nbsp2014 to Apr.&nbsp20,&nbsp2014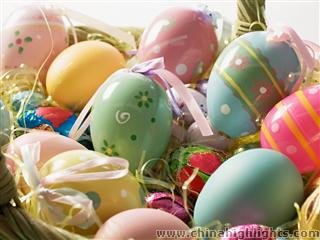 Easter traditionally is the first Sunday that follows the first full moon after the vernal equinox. So the date varies a lot. Easter fall between March 22 and April 25. The observance of Easter as a holiday started almost two thousand years ago after Constantine became the Emperor of Rome. Under his rule and afterwards, a lot of "Christian" religious holidays and traditions were started that are still followed by most nominal Christians around the world. The point of Easter is to commemorate Christ's resurrection from the dead three days after crucifixion.
In Europe where Christians are a lot more traditional than in other countries, many people often hold consecration before dinner during Easter since they usually observe a fast for the Lent that is the period of time forty days before Easter. Catholics practice doing special things for Lent. Among American Evangelicals and Evangelicals around the rest of the world, the celebration of Easter is generally very simple, or the holiday may not even be known or remembered.
History
Jesus said that three days after he died, he'd rise again. When he was crucified, he was buried in a tomb by some of his followers. His followers were distraught and didn't know what to do, but they hid themselves away. They had expected big things about him and for their own future. But they saw him tortured and killed and they felt lost and extremely sad. However, Jesus resurrected and started to appear to people. At first, people could hardly believe he was alive. But when they realized he was alive, they started spreading the news about it.
When Constantine became the Roman Emperor in the first decades of the 4th century, under his leadership, the organized church in the Roman Empire instituted holidays to take the place of pagan holidays as Christianity became a cultural religion for the empire, and not a simple faith in God as it was earlier. In the year of 325, an official gathering of hundreds of theologians and bishops took place, and they established the rule that they would celebrate Easter on the same day. But, a significant disparity continues to exist today. Protestants and Catholics observe Easter on the same day, but Orthodox Christians celebrate it on another day.
His resurrection is extremely important to Christians. According to the Bible, Jesus Christ, the son of God, was born in a manger. When he was about 30 years old, he chose 12 men to be his disciples, and he began his journey of preaching. During the three and half years, he helped the needy and healed the sick people and preached to the public the word of heaven. When the moment that God arranged for Jesus arrived, Christ was betrayed by Judas and arrested, questioned, and crucified by a Roman army. He made a prophecy that he would return to life three days later. The prophecy was fulfilled. And the Bible explains that Christ, the son of God, was born to make expiation for our sins. This is why the Easter is so important in Christianity.
Although crucified like a criminal, Jesus did not die of his own sins but for the atonement of all human transgression according to God's will. His resurrection demonstrates the success of the atonement. Through the atonement of Christ, all mankind may be saved through simple belief in the Gospel and trust in Jesus as savior and Lord. This is because they trust that Jesus paid for their sins. Anyone who believes in him and confesses him as Lord will be pardoned by God. His resurrection also stands for his victory against death; anyone who believes in him would have eternal life. Jesus Christ is still alive and will be alive for ever; and he is able to hear what human beings pray for, talk to us, care for our daily lives and give us strength.
Customs
Actually, many of the customs on Easter Sunday originate from paganism. The officials under Constantine's rule followed a lot of the earlier Roman customs, and customs of other lands and times were added in. For example, there is a costume parade on Easter every year in Britain. The Scottish Bagpipe Band holds a performance, and children garb themselves like the royal guards of the Victorian era. Dressing up like historical figures of Christianity, the marchers in the parade walk barefoot along the street with crosses in their hands while singing carols to celebrate the resurrection of Jesus. Nowadays, the original strong religious fervor is faded, but the traditional customs and festivities last. In Britain, one of the main aims of the Easter parades is to instruct on British history and customs.
People around the world have various customs. In the US, stilt-walking clowns in jeans and the lovely cartoon character of Mickey Mouse are the most favored figures in Easter parade. Since Easter falls on a Sunday, more people go to church on Easter. In Catholic churches in America, the ritual is more elaborate, and in Protestant and Evangelical churches, the preachers will usually talk about the resurrection of Jesus and its significance. Since many people consider the day to be a special holiday, people tend to dress up better in new clothes. Around the world, many people do a spring cleaning. In China and other countries, new Catholics are traditionally baptized. In recent years, there has been a big jump in Catholic baptisms in Catholic churches on Easter. Chinese Catholic Churches have no official connection to the Pope. In some parts of Greece, symbolic burials of Jesus are staged.
For many people, especially children, eating and painting Easter eggs (复活节彩色蛋) is the most important and fun custom on Easter Sunday. In ancient paganism, eggs are a symbol of new life. To pray for a happy life, the ancient Scandinavians before they became Christianized dyed eggs red to symbolize the sun. On Easter Sunday, other pagan people often painted boiled eggs red to symbolize the bleeding swan and the advent of the Goddess of Life. The egg was regarded by people in various ancient nations as a symbol of fertility and resurrection because new life emerges from eggs. Later, Christians began to associate the hard shell of the egg with the sealed rock cave tomb of Christ in which the new life started. Easter eggs were dyed red to represent the blood of Christ shed on the Cross and to express the great joy of rebirth.
Nowadays in Eastern Europe, especially in the Ukraine and Hungary, a lot of time and effort is
put into making wonderfully colored Easter eggs that look like jewels and works of art. But in America, Easter eggs are rarely elaborately decorated. Usually, they are simply dyed by using inexpensive food coloring. Then adults hide the eggs, and when the children get up out of bed or arrive at an Easter egg hunt at school or in a park, they delight in searching for the eggs which they then eat. The custom is rather simple, but for many children it is great fun. People may also hide egg-shaped chocolate confections or even bigger chocolate Easter Bunnies. These are a great treat. The Easter Bunnies are often made from milk chocolate, and they are delicious.
Festivities and Food
There are many ways to celebrate Easter. In some ways, it is like the Chinese Spring Festival though the holiday happens in the middle of spring and the Chinese Spring Festival happens in winter. People get out to enjoy the spring and be glad about the end of winter. Many families have special meals after church. In America, there are Easter parades in the big cities, and some church groups organize public festivities or marches. So around the world, along with the adult festivities, kids have Easter Egg hunts, and special food is served.
At the White House where President Obama lives, there is a special Easter egg hunt for kids on the Monday after Easter. Some kids roll Easter eggs down slopes in a type of gambling game. The one who wins gets eggs as a reward. The Easter Bunny is another symbol of Easter. Since rabbits give birth to large litters every spring, it has become an emblem of new life. Adults will tell some kids a beautiful story of how the Easter Bunny lays painted eggs and hides them in the garden, and then they'll let the children play in the Easter Egg Hunt.
Along with festivities, there are holiday foods. A favorite food during the Easter holiday is chocolate. Chocolate eggs and bunnies are sold in every candy shop in the US during the Easter season. The size of the chocolate egg varies from the size of a small bird's egg to that of a melon. They are favored particularly by children.
Traditionally lamb and ham are eaten on Easter day. There are stories behind them. In the Bible, God tests Abraham by commanding him to offer his only son Isaac as a sacrifice. Abraham is obedient to God and unwilling to keep anything from God. He was willing to sacrifice his beloved son because he believed that God can resurrect the dead and that God promised him Isaac as a son. When he stretched out his hand and took the knife to slay his son, the Angel of the Lord stopped him. Abraham found a ram and killed it as a burnt offering instead of his son. Offering a ram as a sacrifice is an old tradition to celebrate festivals. Jesus is the Lamb of God which means he is the the perfect and ultimate sacrifice for sin. So eating lamb on Easter points back to how Christians "eat" or use Jesus for their atonement.
As for eating ham for Easter, it is believed that this is a British custom. It is thought that British people started to eat ham on Easter Sunday to show their contempt for the rule of not eating ham or pork that was followed by the Jews. Later, this custom was brought to the US by British immigrants.
Easter is one of the most important festivals for Russian Orthodox. As early as the 19th century, artistically decorated Easter eggs were widespread in Russia. Russians still keep up the artistic custom today. They paint their hopes, dreams and expectations on those eggs which are considered to be at the core of Russian culture. To Russians, the Easter egg can bring them health, wealth, beauty and strength, and therefore they are preserved safely in the house. It is also believed in Russia that Easter eggs bring new life.