Shangri-la Travel Guide
Diqing Tibetan Autonomous Prefecture is situated in the northwest of Yunnan Province, with Tibet to its west and Sichuan to its east. Shangri-La, formerly known as Zhongdian County, is the capital of Diqing Autonomous Prefecture. Shangri-La is 315 kilometers north of Dali and 659 kilometers away from Kunming. Shangri-la is a Tibetan word meaning land of sacredness and peace. It is located at the southeast edge of the Qinghai-Tibet Plateau, from where the Three Parallel Rivers of Yunnan Province originate.
Many snow-capped mountains surround Shangri-la. Of these, the three well known ones are Meili, Balang, and Haba mountains. The Tibetans consider these mountains sacred. Meili Mountain is famous for its highest peak: Kang Karpo, towering over Yunnan at 6740 meters above sea level. Thirteen lesser peaks, each more than 6000 meters above sea level, surround it. Kang Karpo peak is shrouded in mists and clouds most of the time. Meili is one of the eight sacred mountains the Tibetans worship. Beneath Kang Karpo, the Mingyong and Sinong glaciers stretch down to a level of 2700 meters. Because of its changeable climate, Meili Mountain is fraught with danger and remains unconquered until today.
Baimang Snow Mountain, also called Baima Snow Mountain, is a nature reserve in China. It is home to the endangered golden monkey. Haba Snow Mountain is located in the southern part of Shangri-la County. It has the largest variety of animals and plants anywhere in China, and is known as the world's "gene bank" for plants.
Diqing is a glorious place, with dense forests, alpine lakes, grasslands, and gorges distributed among the meadows and plains. Among the lakes, Bitahai, Napahai, Hehai and Shouduhai are the most beautiful. Jinsha Tiger Leaping Gorge and Lianchajiang Gorge are the most famous. Every spring, fields of flowers blanket this region. There are over 200 kinds of azaleas, about 100 kinds of gentian and a variety of primroses and lilies.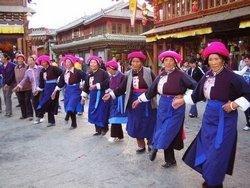 National Minorities in Shangri-la
More than 13 minorities such as Zhuang, Lisu, Han, Naxi, Bai, Hui and Yi live here in harmony in spite of their different life styles and customs.
Lamaseries dot the area. The Gadan Songzanlin Monastery is 5 Km from Shangri-la. A 2-year face-lift has been completed and the monastery has reopened to the public recently. It is the largest of 24 lamaseries in Diqing Prefecture. Dongzhulin Monastery was built seven years before Songzanlin. A grand religious ceremony is held here every October. These are both important places of worship and are well worth visiting.
Nightlife
Shangri-La is a county in Yunnan Province, located about 200 kilometers from Lijiang City. Shangri-La is the capital city of Diqing Tibetan Autonomous Prefecture. The Diqing Music and Dance Troupe regularly show in Heijinghe Song and Dance Hall, Worker's Club, Shangri-La (香格里拉县工人俱乐部黑颈鹤歌舞厅). Visitors there can appreciate the performance of Tibetan folk dance. Besides, many other entertainment programs are also held in Heijinghe Song and Dance Hall, including watching films, karaoke activities and roller skating activities.
Shangri-La Worker's Club
Address: Wenming Street, Jiantang Town (建塘镇文明街)
Tel:0887-8222310
Every evening from 19:00 to 21:00, a large member of local people perform a Tibetan dance: Guozhuang, together in Sifanglou Square (四方楼广场). They join hands, form several big circles, and follow the leading dancers. Visitors also can joint them, and enjoy the cheerful happiness with local people.
Old Shangri-La (Gucheng District) has been developed into an area mainly for hotels, bars and other services. If travelers want to visit a bar, a café or a teahouse, it will be a nice destination.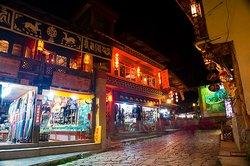 Shopping Streets at Night in Shangri-la
Travel Tips
Compared with Kunming and Lijiang, Zhongdian is a remote county. The hotel rooms meet normal Chinese standards but the general service standard may be lower than other cities. For example, the hotel may usually serve more Chinese food and less Western food for the breakfast, and less hotel employees speak English. This sometimes causes some misunderstanding between the hotel employees and the clients. However, people in Zhongdian are generally very nice and all the hotel employees will try there best despite the language barrier.
Note
The road from Zhongdian (Shangri-La) to Deqin County is now under construction, and won't be open till early 2013. It is not recommended to visit Deqin County for the whole year of 2012.
Shangri La is one of the best places to travel in early summer, due to the gorgeous landscapes there. Click here to know more best places to travel in early summer in China.
Planning a trip? Ask us here 800-2682918 (USA & CA)
86-773-2831999 (Int'l)
Q:
Bernard
Asked on 2012-07-15
Reply
Hi , I am going form kunming to shangri-la,is there a direct flight, instead of taking train or buses due to time constraint ?I will be there on 5th August and need to be back in shenzhen by 9th August to fly back to singapore the next day.thanks
Hi Bernard, there are several flights from Kunming to Shangri la everyday. You could visit our website below to check and book the flight directly. Please note Shangri la is also called Zhongdian, so you could search Zhongdian as destination:
http://www.chinahighlights.com/china-flights/
Wish you a nice journey!
Nora Ou Replied on 2012-07-16
Q:
Amelia
Asked on 2011-12-05
Reply
We are thinking of having chinese new year in Shangari-la. Would you think it is a good time in terms of weather and how the festival season affect the tourism
Hi Amelia, Festival season has no big affect on the tourism in Shangri-la, but that time is not the good time for Shangri-la tour. It will be very cold, and the landscape is not that beautiful. Summer and autumn are the best periods to visit there. regards, Coco Coco Yang Replied on 2011-12-06
Shangri-la Travel Guide
Shangri-la Facts
Chinese Name: 中甸(香格里拉)
Chinese Pinyin: zuong dian
Location: Southwest of China
Latitude: 27°78' N
Longitude: 99°72' E
Elevation: 3280 M (142.7 FT)
Time Zone: (UTC+8)
Area Code: 0887
Population: 13million