Most Beautiful Ancient Towns in China
A comprehensive collection of famous ancient towns and villages in China.
Southwest China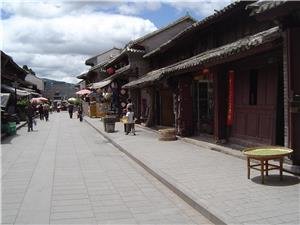 Weishan Old Town in Dali
Pingle Ancient Town: Pingle was built over 2,000 years ago to serve as a vibrant trade bezaar on the South Silk Road. The town at the mountain base is cladded with refreshing natural scenery and monuments of its thriving past.
Dali: Dali is one of the most beautiful and relaxing places in China. Historically Dali was the political and cultural center of Yunnan and is therefore endowed with cultural sites and historical heritage.
Lijiang: Lijiang may spoil you. The aged wooden buildings decked with hanging red lanterns and local musicians playing the centuries old Naxi instruments in the time worn streets, display a lifestyle and culture that seems lost in time.
Ciqikou Ancient Town: Porched on a hill and overlooking the Jialingjiang River, Ciqikou is an Ming Dynasty town.
North China
Pingyao: Pingyao in Shanxi Province is a well-preserved Ming Dynasty town. The town features ancient buildings, flagstone streets and the living traditional lifestyle.
Northeast China
Arctic Village: This small village at the northmost point of China seems a place in another world. It's famous for the premiere vantage point to view the arctic lights.
East China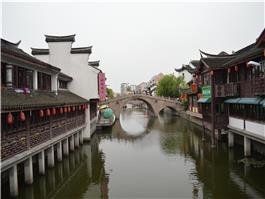 Qibao Ancient Town
Qibao Ancient Town: This town is a depiction of old Shanghai.
Zhujiajiao Ancient Town: Zhujiajiao is charateristic of the many water towns in the upper reach of the Yangtze River.
Tongli Ancient Town: A short drive from Suzhou, Tongli offers a step back in time. Crisscrossed by rivers and canals, Tongli has 49 stone bridges and many gardens, temples.
Zhouzhuang Ancient Town : Zhouzhuang is a enchanting place. This village features crisscrossing water lanes, ancient bridges and buildings built on and over the rivers.
Luzhi Ancient Town: Luzhi is a town of historical air. Generations of shcolars, officials have visited this town and left their immortal traces here.
Xidi Ancient Village: At the south foot of the Yellow Mountain, the old trading town of Xidi is gem of the glorious Hui culture.
Hongcun Village: Hongcun has a elaborate web of gravel lanes and a complex watering system through which water from the outside pool can be directed to every family.
Tunxi Village: Tunxi was an old commercial village, which was flooded with merchants throughout the country.
Wuzheng: Wuzheng is notable as " home to celebraties" It has nurtured generations of predominant scholars, government officials, brilliant politicians,etc.
Shaoxing: Intricating webs of canals, multi-shaped stone bridges, ancient buildings lining along the canals and small boats rowed on the river, that's the scene of Shaoxing.
South China
Yongding: Yongding in Fujian Province is known for its unusual architecture called Tulou( earth buildings). These large, circular edifices were built by the Hakka, one ethnic group in China. The architectural art of Tulou enjoys great admiration among architects worldwide.
Continue to read most beautiful ancient villages in China

China Highlights
Questions and Answers About Most Beautiful Ancient Towns in China
April Offer $25 Coupon
Send your inquiry before Apr. 30, 2014, and we will email you a $25 coupon.
The coupon is valid till Dec. 31, 2014, for paying tour packages worth $250 or up.
The coupon cannot be used for paying flight tickets, train tickets, hotel rooms and day trips.
Travel Advice or Question? Ask us here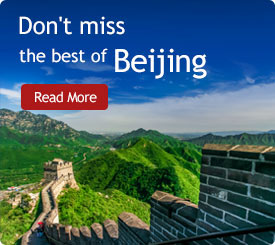 The Most Popular Articles
The Latest Travel Articles