Shanghai Post Office Museum
Features
The Shanghai Post Office Museum is a large landmark building that was built in 1924 with an interesting mix of European styles of architecture. It is now a historical landmark under protection as the Shanghai Postal Museum.
Summary
At the time before mass communication and international phone service, mail delivery was the main method that people communicated internationally. Shanghai needed a new post office building in the early 1920s, and a Western architectural firm designed a huge building for the time in European Classical and Baroque styles. It is a strange eclectic mix with three-story Corinthian columns and big statues of Greek gods. There is Hermes the messenger god, Eros the god of love and Aphrodite the goddess of love. Along with them is an anachronistic Baroque clock tower. The building has built of steel and concrete, and it is an interesting reminder of the time when Shanghai had a big international settlement.
Overview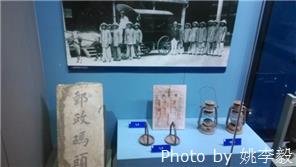 Shanghai was China's most advanced city before the Japanese invaded, and it was the center of reception for international mail for the country. In the 1920s, there was a big international settlement controlled by the British. It was originally a British treaty port, but by the early 1900s, there were people from dozens of countries living there. Shanghai needed a new post office building, and the architectural firm Stewardson & Spence was hired to design the building. The Shanghai Post Office was a masterpiece of eclectic architecture. It was quite big for its time, and it is now a museum where you can see exhibits and interesting stamps.
The building is 51.16 meters tall and covers and area of about 7,000 square meters or about 75,000 square feet. The second floor of the building was special for its time. It is a 1,200 square meeting hall. It was called the "First Hall of the Far East."
Introduction to the Exhibits
Inside the museum, there is a statue of Mr. Zhu Xuefan who was the first minister of the postal department. There is also a display of oracle bones that records military correspondence. There is also a stamp collection of early Chinese postal stamps and stamps from other countries. There are Qing Dynasty stamps. You can also see the Baroque clock from the garden on the roof. On the roof garden, you can also see sculptures of then modern means of travel and communication. You can also see the Su Zhou River and the Huang Pu River from the garden.
Nearby Attractions
Along with the Huang Pu River and the Su Zhou River, another nearby attraction is the Shanghai Museum that is only about 2 kilometers away across the Su Zhou River.
China Highlights can help you customize a tour to visit Shanghai Post Office Museum and other highlights in Shanghai.
Transportation
Address: 250 North Suzhou Road, Hong Kou District 上海市虹口区北苏州路250号
You can show a taxi driver the above address. To go by bus, take Sightseeing Bus 10.
Other Information
Hours: Wednesdays, Thursdays, Saturdays, Sundays, from 9:00 to 17:00 or 9 am to 5 pm. You can't get in after 4 pm.
Questions and Answers About Shanghai Post Office Museum
April Offer $25 Coupon
Send your inquiry before Apr. 30, 2014, and we will email you a $25 coupon.
The coupon is valid till Dec. 31, 2014, for paying tour packages worth $250 or up.
The coupon cannot be used for paying flight tickets, train tickets, hotel rooms and day trips.
Travel Advice or Question? Ask us here

China Highlights
Shanghai Travel Guide