Shanghai Travel Guide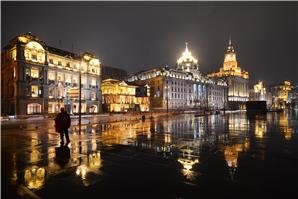 Night views of the Bund
Shanghai has a long history as a gateway to China and the Yangtze River delta. It is also the largest economic and trade center in China, and one of China's cultural centers.
Top Reasons to Visit Shanghai
Shanghai is China's largest and richest city: China's biggest and most prosperous city oozes an atmosphere of vitality and rival New York and Paris in terms of modernity.
A Blend of Eastern and Western Cultures: Shanghai's colonial legacy combined with Chinese culture has created a unique fusion of East and West.
Ease of Onward Trips: From Shanghai it is easy to travel to Xian to see the Terracotta Army or up to Beijing to see the Forbidden City and the Great Wall of China, or to Guilin to see the beautiful karst landscape.
Shanghai's gorgeous night scene: One of the main highlights that will linger in visitors' mind. As night descends the entire city is lit up by colorful lights.
Shanghai has emerged as one of the most popular travel destinations worldwide. Shanghai is constantly improving the travel infrastructure and facilities to ensure tourists exceptional and memorable experience, and many choose to return.
Want a VISA-FREE trip to Shanghai? It's available now!!!
A Blend of Eastern and Western Cultures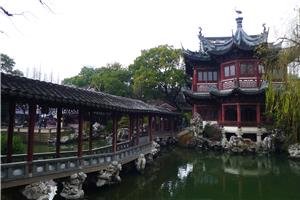 The typical Chinese architecture in Shanghai, Yuyuan Garden
Shanghai retains China's last vestige of its unusual colonial past. The architecture along the Bund area is a living museum of the colonial history of the 1800s, and visitors find themselves immersed in thoughts of a bygone era.
Shanghai stands in the front line of China's economic development and has undergone unimaginable changes in the last two decades. The new Pudong area with its prosperous cosmopolitan features is guaranteed to wow visitors.
Shanghai is a renowned green city. Lush green covers all the open space of the city.
Christmas in Shanghai is a classic East meets West scenario. See our information for what's happening in this year's festive season in Shanghai.
Shanghai Walking and Biking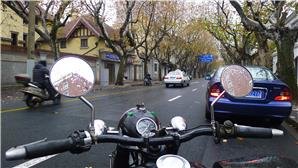 Sidecar tour in Shanghai
Shanghai is also a good place to have walking tours, as there are many ancient streets in the city. See China Highlights' Shanghai Walking Routes.
Although Shanghai is a very busy city with heavy traffic, the old part of the city has a lot of quiet streets which you may bike around to have a look at old Shanghai. See our Shanghai biking guide.
Weather
Best time to travel Shanghai is autumn and spring when the weather is pleasant. Hot summer and cold winter are also good seasons to travel in terms of cost.

Questions and Answers About Shanghai Travel Guide
Ghanshyam
2014-02-12
Show Answer
Please advice me for a good hotel in Shanghai having inside good Indian food availability. You may suggest a list of 4 to 5 hotel with accommodation room rent in Indian Rupees for ease of taking decision.
Hi Ghanshyam, sorry, we don't have those hotels recommended to you. Whitney Liao replied on 2014-02-13
Kim
2013-10-10
Show Answer
After visiting Shanghai, I would like to visit either Hong Kong, Beijing, Bangkok or Manila .. being an idiot on the subject of geography .. which one would be my next ideal destination?
Dear Kim,
Transportation is very developed and convenient now. You can take high speed train or flight from Shanghai to Beijing, then fly to Hongkong and from Hongkong to Bangkok or Manila. It would be cheaper. Do you need some tours in Beijing, Shanghai or Hongkong? Could you please tell me how many people are you and when are you planning to visit there? We can make a tour package based on your needs. You can contact with me at christyluo@chinahighlights.net.
Christy Luo replied on 2013-10-11
Ling
2013-08-11
Show Answer
Hi, i will have a trip to shanghai on sept soon for 6 days, can recommend some place for me that nice and will have a good memories? Tqvm
For 6 days in Shanghai, you may spend 2 days for city sight, such as Yuyuan Garden, Museums and walk in French Concession. Suzhou, Hangzhou are idea place and very closed to Shanghai with the high speed trains. You may consider spending 3-4 days here. We are happy to design a tour plan for you if you like. Please contact us service@chinahighlights.com and tell us when, how many people and other related requirements you have pertaining to your travel so that we can quote you itinerary. Carol Wang replied on 2013-08-12
Alister McAleese
2013-03-24
Show Answer
Dear Whitney Liao, Just returned from my first visit to China and I just have to tell you that everyone in our party loved Shanghai! What a fabulous place to visit, beautifully clean, very friendly and very welcoming. The only problem we did encounter was our own deficiency in not being able to speak at least a few words of the local language. The spectacular light show every night will be remembered for a very long time, actually we all enjoyed Shanghai much more than Hong Kong. Thank you very much indeed for your help and advice.
Hi Alister, glad to hear that. Next time, our tour guide will teach you some words of the local language. Welcome to China again.
Whitney Liao replied on 2013-03-27
Vanna
2013-03-09
Show Answer
I will arrive Pudong Int''l Airport in March 27th. Please tell me what is the best way to Pullman Shanghai Skyway Hotel. Thanks
Dear Vanna, The convenient way is to take a taxi to the hotel directly, it is about 45 minutes and it costs about CNY200/US$32 per car. You also could take line 2 subway to People square where is about 4 km from the hotel, then take a taxi to the hotel, it can save your money. Lussie Lu replied on 2013-03-09
April Offer $25 Coupon
Send your inquiry before Apr. 30, 2014, and we will email you a $25 coupon.
The coupon is valid till Dec. 31, 2014, for paying tour packages worth $250 or up.
The coupon cannot be used for paying flight tickets, train tickets, hotel rooms and day trips.
Travel Advice or Question? Ask us here
Shanghai Facts
Chinese Name: 上海
Chinese Pinyin: Shang hai
Location: East of China
Latitude: 31° 14' N
Longitude: 121° 29' E
Elevation: 4.5 M (15 FT)
Area Code: 021
Population: 19.2 million
Time Zone: (UTC+8)