Shanghai Travel Guide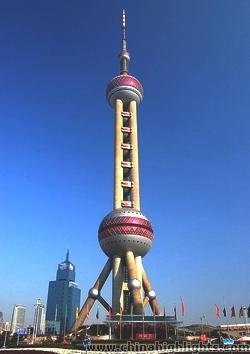 The Oriental Pearl Tower
Shanghai has a long history as a gateway to China and the Yangtze River delta. It is also the largest economic and trade center in China, and one of China's cultural centers.
Top Reasons to Visit Shanghai
Shanghai is China's largest and richest city: China's biggest and most prosperous city oozes an atmosphere of vitality and rival New York and Paris in terms of modernity.
A Blend of Eastern and Western Cultures: Shanghai's colonial legacy combined with Chinese culture has created a unique fusion of East and West.
Ease of Onward Trips: From Shanghai it is easy to travel to Xian to see the Terracotta Army or up to Beijing to see the Forbidden City and the Great Wall of China, or to Guilin to see the beautiful karst landscape.
Shanghai's gorgeous night scene: One of the main highlights that will linger in visitors' mind. As night descends the entire city is lit up by colorful lights.
Shanghai has emerged as one of the most popular travel destinations worldwide. Shanghai is constantly improving the travel infrastructure and facilities to ensure tourists exceptional and memorable experience, and many choose to return.
Want a VISA-FREE travel in Shanghai? It's available now!!!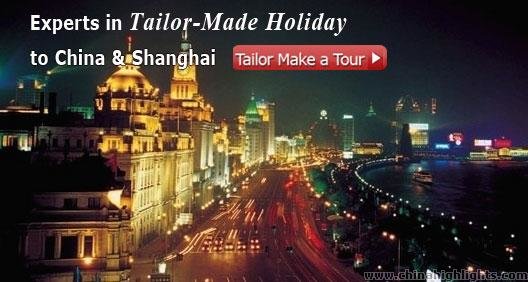 The Bund of Shanghai
A Blend of Eastern and Western Cultures
Shanghai retains China's last vestige of its unusual colonial past. The architecture along the Bund area is a living museum of the colonial history of the 1800s, and visitors find themselves immersed in thoughts of a bygone era.
Shanghai stands in the front line of China's economic development and has undergone unimaginable changes in the last two decades. The new Pudong area with its prosperous cosmopolitan features is guaranteed to wow visitors.
Shanghai is a renowned green city. Lush green covers all the open space of the city.
Shanghai Walking and Biking
Biking across Wukang Road
Shanghai is also a good place to have walking tours, as there are many ancient streets in the city. See China Highlights' Shanghai Walking Routes.
Although Shanghai is a very busy city with heavy traffic, the old part of the city has a lot of quiet streets which you may bike around to have a look at old Shanghai. See our Shanghai biking guide.
Weather
Best time to travel Shanghai is autumn and spring when the weather is pleasant. Hot summer and cold winter are also good seasons to travel in terms of cost.

Planning a trip? Ask us here 800-2682918 (USA & CA)
86-773-2831999 (Int'l)
Q:
Alister McAleese
Asked on 2013-03-24
Reply
Dear Whitney Liao, Just returned from my first visit to China and I just have to tell you that everyone in our party loved Shanghai! What a fabulous place to visit, beautifully clean, very friendly and very welcoming. The only problem we did encounter was our own deficiency in not being able to speak at least a few words of the local language. The spectacular light show every night will be remembered for a very long time, actually we all enjoyed Shanghai much more than Hong Kong. Thank you very much indeed for your help and advice.
Hi Alister, glad to hear that. Next time, our tour guide will teach you some words of the local language. Welcome to China again.
Whitney Liao Replied on 2013-03-27
Q:
Vanna
Asked on 2013-03-09
Reply
I will arrive Pudong Int''l Airport in March 27th. Please tell me what is the best way to Pullman Shanghai Skyway Hotel. Thanks
Dear Vanna, The convenient way is to take a taxi to the hotel directly, it is about 45 minutes and it costs about CNY200/US$32 per car. You also could take line 2 subway to People square where is about 4 km from the hotel, then take a taxi to the hotel, it can save your money. Lussie Lu Replied on 2013-03-09
Q:
Mark
Asked on 2013-03-07
Reply
We are planning to visit a manufacturing facility in Cheng Hong and possibly He Wei. Planned on flying into Shanghai in mid-April. Is Shanghai within driving distance of both cities and what will the weather be like in mid-April? Could you recommend a 4 star hotel? There are two people in my party including myself and we plan on staying for 3 days.We may also need a guide for the 3 days.
Hi Mark, sorry, I don't know the cities you mentioned above.
Whitney Liao Replied on 2013-03-08
Q:
Kelly
Asked on 2013-02-27
Reply
I am traveling with my husband for a 10 day trip to Shanghai and am curious if there are any information booklets that can be mailed so I can have visual information to look at and plan our trip?
Hi Kelly, we have 11-Day Beijing, Xian, Chongqing, Yangtze, Yichang and Shanghai Tour here: http://www.chinahighlights.com/tour/cht-62/ Hope you like it.
As an online travel agency, we don't have booklets, but we have a huge website, you can check almost all the travel information here: http://www.chinahighlights.com/tour/
If you are interested in any of them, or need tour tailor made, we are very glad to offer our utmost assistance.
Whitney Liao Replied on 2013-02-28
Q:
zola
Asked on 2013-01-01
Reply
hi I''m Mongolian. I need full information about Happy Valley. What can I see and If i visit with children have there any special site for children? Hot spas and restaurants?
Dear Sir or Madam, Happy Valley is an amusement park,contains seven themed areas including Sunshine Beach, Happy Times, Typhoon Bay, Gold Mine Town, Ant Kingdom, Shanghai Beach and Shangri-la Woods. There are more than 100 attractions in the park. Here is their official website, you could get more information on it, please click: http://sh.happyvalley.cn/English/jianjie/index.shtml Lussie Lu Replied on 2013-01-02
Shanghai Facts
Chinese Name: 上海
Chinese Pinyin: Shang hai
Location: East of China
Latitude: 31° 14' N
Longitude: 121° 29' E
Elevation: 4.5 M (15 FT)
Area Code: 021
Population: 19.2 million
Time Zone: (UTC+8)