Macau Shopping
Duty-free shopping is Macau's new draw. The territory now has very large malls such as the one in the Venetian Macao called the Grand Canal that has a million square feet (more than 9 hectares) of mall space and 350 shops. It's just one of many other shopping areas that have been built on the Cotai Strip, and more big ones are planned. The best buys in the area are luxury and investment goods such as jewelry, gold, and antiques. Macau also has a large clothing manufacturing industry, so you can get relatively cheaper prices on clothing. The casino/hotel developers are aiming to sell to the huge tourist market that they expect for the coming years, and are investing heavily in making entertaining shopping areas where people can get good prices. The prices of luxury or world brand name goods are higher in the major cities of China than in Macau, and the numbers of Chinese visitors is expected to rapidly increase. Since products are duty free, taxes are low, and Macau has a busy port in a central location, people can find products that are cheaper than at other places.
There are many stores for buying jewelry and gold on the Avenida Horta e Costa, Avenida do Infante D. Henrique, and Avenida de Almeida Ribeiro. Many Chinese and other Asians buy gold as an investment. Market prices per tael (1.2 oz.) of gold are set daily. When buying gold or jewelry, always request a certificate of guarantee.
After gold, Portuguese bottled wines, and Chinese antiques and leather garments or leather goods are generally good buys. You can find Chinese-made jackets here cheaper than at markets in Hong Kong. In Colane Village, Asian Artefacts at9 Rua dos Negociantes sells restored antique furniture from China such as chests, tables, and chairs, and handicrafts from Thailand, India, and other Asian countries.
The Macau shopping boom started in this decade. Fisherman's Wharf near the Ferry Terminal is a theme park that officially opened in 2006. The area complex has 150 stores and restaurants in buildings built in the style of different world seaports such as Cape Town, Amsterdam and Venice. There are six rides, a slot machine area, and a hotel and casino. The Wynn casino/resort corporation built Wynn Macau on the Rua Cidade de Sintra. This shopping center has luxury designer clothing or products such as Chanel, Dior, Armani, Gucci, Vuitton and Prada. The main shopping centers of Macau are scattered around Av. Almeida Ribeiro (New Road), Av. Infante D. Henrique, Rua Pedro Nolasco da Silva and Av. de Horta e Costa. The central square along Av. Almerida Riberio gathers numerous world top brands like Emporio, Armani, Escada and St. Laurent.
Antiques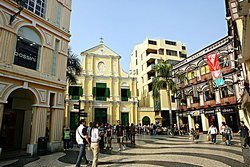 Hong Kong Shopping Square
Along with authentic antiques, there are reproductions of Chinese rosewood furniture, porcelain, lacquer ware, bronze ware, carvings, paintings and traditional calligraphy. There are many stores and shops near Monte Fort and the Ruins of St. Paul.
Places to buy: the area around Rua de S. Pauli
Duty Free Products
Thanks to its duty-free policies and low taxes, Macau attracts a great number of world-famous fashion brands to establish stores and outlets in the city. They provide the latest styles of clothing, perfumes, cosmetics and jewelry. You can also get good prices on Chinese-made electronics, clothing, and manufactured articles.
Macau Style Dim Sum (Deserts and Snacks)
Dim sum is abundant in Macau and it is well-known all over the world. You can have a taste of Macau-style dim sum in the pastry shops and dim sum bakeries in the Senado Square Area and Rua de Cunha and Rua da Felicidade. There are also good pastry shops at the Av. Infante D. Henrique, Av. D. Joo IV, Travessa de S. Domingos, and Rua de S. Paulo, near St. Paul's.
Venetian Macau Grand Canal
The shopping plaza is decorated by a fake sky in the ceiling with coordinated lighting effects. Simulating the clouds and colors of the real sky, the lighting effects are able to imitate sunrise and sunsets. Together with the water in the canal pools and the gondolas, tourists get the feel of Venice. Most stores and restaurants in the Grand Canal have world famous names.

China Highlights
Planning a trip? Ask us here 800-2682918 (USA & CA)
86-773-2831999 (Int'l)
Q:
scott bixby
Asked on 2013-11-28
Reply
Looking for authentic Macanese items for souvineers
Dear Scott,
There is a souvenir shop near Ruins of St Paul Cathedral, you can find lots of authentic Macanese items for souvenirs in it. Good luck.
Nancy
Nancy Deng Replied on 2013-11-29
Q:
Hassan Al jamal
Asked on 2013-09-22
Reply
Hi please I am going with my family to Guangzhou and I would like to go to Macau.can we go visit this city and come back to Guangzhou? How far is it from Guangzhou city center and how long will the trip last? How much does the visa cost ?
Hi Hassan, yes, you can visit Macao from Guangzhou and many foreign visitor don't need visa to Macao. So you may check if your country is in the list. We don't apply Visa for clients. But you will need double entry visa to China if you still want to return to Guangzhou after your visit to Macao.
Simon Huang Replied on 2013-09-22
Q:
Cameron Llanes
Asked on 2013-05-14
Reply
Hi just want to ask where to buy signature clothes with a great discounts or cheapest price? And also buying the gold or jewelry? HK$4000.00 budget are enough for shopping?
Hi Cameron, sorry, we are a travel agency. We don't have the accurate information on this. If you need any tour service, please feel free to contact me.
Whitney Liao Replied on 2013-05-15
Q:
Cameron Llanes
Asked on 2013-05-14
Reply
Hi just want to ask if HK$4000.00 budget is enough for shopping in macau? Thanks
Hi Cameron, it depends on what you would like to purchase.
Whitney Liao Replied on 2013-05-15
Q:
richard tan
Asked on 2012-09-15
Reply
greetings. cld u kindly suggest macau''s top-notch individual outlet stores, as well as hubs where a cluster of outlet stores are located, where men''s wear and accessories are available at great discounts? also, what are the deals or discounts like at these individual outlet stores or outlet hubs?
Hi Richard, thank you for your inquiry. As a travel agency, sorry we don't have the best information you required. Below is some information we collect online:
1. Shuishang Street Market:
2. Red Street Market (No. 110 Tidu Road)
Nora Ou Replied on 2012-09-17
Macau Travel Guide