Chinese Architecture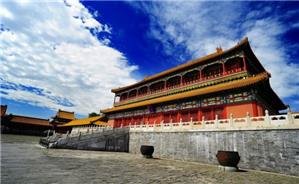 Beautiful ancient architecture of the Forbidden City
Ancient Chinese Architecture
Ancient Chinese architecture is a miniature of the long-standing history and culture of China. It is obviously characterized by the region, nationality and times. Ancient Chinese architecture, which has distinctive features in single building, building complex and architectural art, is an outstanding example of the ancient oriental architectures. Read more
History of Ancient Chinese Architecture
From Primitive Society to the Han Dynasty, the technique on timber structure buildings were gradually improved and perfected. Builders had mastered earth ramming skills. They also knew how to fire tiles and build with stones. Architecture technology developped significantly during the Wei, Jin, Southern and Northern Dynasties. The output and quality of the bricks and tiles are improved, as well as the techniques on timber structure. Many Buddhist architectures are built then. Read more
Features of Ancient Chinese Architecture
Ancient Chinese architecture feasures flexible structure, wonderful and elegant appearance, regular layout and gorgeous ornaments. Read more
Examples of Famous Ancient Buildings
Ancient Chinese built many mausoleums, temples, pagodas, city walls and magnificent imperial palaces and residences, which are considered rich heritages. Read more examples of famous ancient Chinese buildings.
Modern Chinese Architecture
During the period from the broke out of Opium War in 1840 to establishment of People's Republic of China in 1949, Chinese architecture witnessed a blend in Chinese style and western style. Although the traditional Chinese architectural system still took the dominant role, buildings serving for entertainment industry, such as theaters, restaurants, and hotels, as well as the business buildings, such as department stores, food market and so on, all made breakthrough in the traditional architecture style and succeeded in building up business sites in a combination of Chinese and Western elements. Read more
Examples of Famous Modern Architecture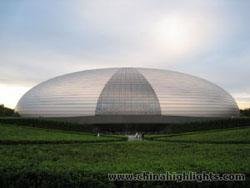 National Center for the Performaing Arts
With the rapid development of China's economy, many skyscapers were built. Some of them are regarded as masterpieces and became landmarks of the city. Read more exmaples of modern Chinese architecture.
National Center for the Performaing Arts, Beijing
The main construction is the unique shell shape with 46.68 meters high and the only one of its shape in Asia. The exterior of the theater is a titanium accented glass dome that is completely surrounded by a man-made lake, it consists of 18398 pieces of titanium plates and 1226 pieces of super white glass. It looks like an egg floating on water from the air. It was designed as an iconic feature, something that would be immediately recognizable, like the Sydney Opera House. Read more
Shanghai World Financial Center, Shanghai
Shanghai World Financial Center is the highest building in Shanghai, it creates Shanghai new landmark with Oriental Pearl TV Tower and Jinmao Tower. It takes about 1 minute from first floor to 95th by the elevator with a speed of 10 meters per second. In the 100th viewing pavilion, visitors can see the peak of Oriental Pearl TV Tower and Jinmao Tower. In the 55 meters long viewing gallery, visitors can see the moving cars and passerby clearly through 3 transparent glass floors. The observation bridge atop the building will be the highest outdoor observation deck in the world. Read more
Chinese Landscape Gardens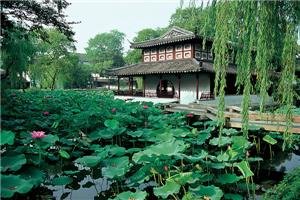 Humble Administrator's Garden
Chinese Gardens are a special aspect of traditional Chinese culture and art. It is not an expanse of green with accompanying buildings, but more of an area harmoniously mixing man-made landscape with natural scenery, architecture, painting, calligraphy and horticulture. The entire compound is enclosed by walls, which mark the property off as a special place for the owner's private enjoyment. Read more
History of Chinese Gardens
The ancient Chinese gardens, also known as traditional Chinese gardens or classical Chinese gardens have centuries-old history, rich culture and unique features. Rich in various types and full of artistic charm, ancient Chinese gardens are considered to be the best among three systems of garden building in the world. In the history of nearly 5,000 years, the gardens found their places and also add a lustrous and brilliant oriental pearl to the world heritage treasure-house. Read more
Features of Chinese Gardens
Following the principle of integrating buildings with nature, a typical Chinese garden consists of rockery, water, plants and buildings. Read more
Famous Chinese Gardens
Ancient Chinese gardens can be categorized into royal gardens and private gardens. Landscape gardens in south China, especially around the Yangtze River Delta are considered to be the most beautiful and typical of Chinese landscape gardens. Gardens in Suzhou were listed as one of the World Cultural heritages by UNESCO. Read more
See also China's Top Historical Cities.

China Highlights
Questions and Answers About Chinese Architecture
bob
2012-05-29
Show Answer
what does yin mean and what does yang mean?
here is detail information for Yin and Yang. http://en.wikipedia.org/wiki/Yin_and_yang Sammi Dai replied on 2012-05-29
Raquel Vert
2010-09-06
Show Answer
can you send info. onevents at the national center for the performing arts in Beijing for the months October Novenber 2010
Hi, The National center for the performing arts in Beijing has their own website(English version). You could see the performance schedule in the webpage. Here is the address: http://www.chncpa.org/n457779/index.html Thanks for visiting our website. Feel free to ask me and have a nice day. KevinMa@chinahighlights.com Kevin Ma replied on 2010-09-06
Jamie
2010-05-24
Show Answer
what is ancient chinese architecture?
Hello Jamie, Ancient Chinese architecture is a miniature of the long-standing history and culture of China. It is obviously characterized by the region, nationality and times. Ancient Chinese architecture, which has distinctive features in single building, building complex and architectural art, is an outstanding example of the ancient oriental architectures. Please refer to (http://www.chinahighlights.com/travelguide/architecture/ancient-chinese-architecture.htm) for a very detailed introduction of ancient Chinese architecture. phoebe replied on 2010-05-25
April Offer $25 Coupon
Send your inquiry before Apr. 30, 2014, and we will email you a $25 coupon.
The coupon is valid till Dec. 31, 2014, for paying tour packages worth $250 or up.
The coupon cannot be used for paying flight tickets, train tickets, hotel rooms and day trips.
Travel Advice or Question? Ask us here