Chinese Ethnic Groups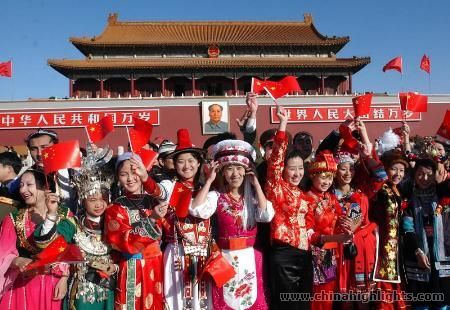 China is a multi-nationalities nation. Besides Han, which takes up over 90% of China's population, there are 55 ethinic groups living together harmoniously in this big landmass. Their costumes, festivals and customs are unique and colorful. It is very worthwhile to explore China's ethnic villages. See our China's Minority Discovery Tours, China's Festival Tours, or simply contact us for a tailor-made tour.
Marriage customs of ethnic groups are various and unique. Guizhou Museum of Marriage Customs of Ethnic Minorities is the only museum in China that features marriage customs of ethnic minorities. See also China's Top Minority Cities and Southern Minority Food.
Zhuang Minority
Zhuang ethnic group has the largest population (almost 18 million) among all the 55 ethnic groups in China. Most of them inhabit in Guangxi Zhuang Autonomous Region and Yunnan Province. In South China's Guangdong, Hunan, Guizhou and Sichuan provinces, there are also some distributions of Zhuang People. Read more
Mongolian Minority
Mongolian ethnic group has a population of around 5.81 million, mostly living in the Inner Mongolia Autonomous Region in North China, and the rest residing in provinces of Jilin, Heilongjiang, Liaoning, Xinjiang, Hebei, and Qinghai Provinces. Mongolians are known as a nationality on the horseback, and animal husbandry is their leading industry. They boast good horsemanship, and like archery and wresting. Read more
Hui Minority
Hui ethnic group is China's most widely distributed ethnic minority, with a sizeable population of 9.8 million. Most of them inhabit in Ningxia Hui Autonomous Region in Northwest China, and there are concentrated Hui communities in many cities in Gansu, Xinjiang, Qinghai, Hebei, Henan, Yunnan and Shandong Provinces. Read more
Miao Minority
Miao ethnic group is one of the few minority nationalities that have an extensive population existing in and out of Mainland China. Scattered worldwide, the Miao diaspora exists on five continents and many countries, including Thailand, Laos, Vietnam, France, Britain, Canada, Australia, and the United States, among others. In China, they inhabit a wide range of land in South-Central China, including settlements in Guizhou, Hunan, Yunnan, Sichuan, Guangxi, Hubei, and Hainan Provinces. Approximately four million Miao reside in present-day Guizhou, a population that accounts for over half of the Miao in China. Census reports have the Miao situated in rural and urban environments across the prefectures and counties of Guizhou. Read more
Dong Minority
Dong people, a Chinese ethnic minority which numbers about 2,514,000 according to the 1990 Chinese state census, are found mainly in the provinces of Guizhou and Hunan, as well as in the Guangxi Zhuang Autonomous Region. Read more
Uygur Minority
Uygur, signifying unity or union, is the nickname used for members of The Uygur ethnic group. With a population of 9.9 million, the Uygur people mainly live in the Xinjiang Uygur Autonomous Region. Others are scattered in Hunan and Henan Provinces. Their religion is Islamism. Read more
Manchu Minority
Manchu ethnic group has a population of more than 10 million, mostly living in three provinces in Northeast China (provinces of Liaoning, Heilongjiang and Jilin), with Liaoning Province having over half of the Manchu population. Since the founding of the Qing Dynasty (1616–1912), because of the intermarriage and mingling between the Han nationality and the Manchu nationality, the difference between the two had gradually reduced. The Manchu people believe in Shamanism, later they also believe in Buddhism. Read more
Tibetan Minority
With a population of more than 5 million, Tibetan nationality mainly live in Tibet Autonomous Region in Southeast China, and neighboring provinces of Qinghai, Gansu, Sichuan and Yunnan. Tibetan people have their own spoken and written language. Tibetan language belongs to Cambodian branch, Sino-Tibetan language system. Read more
Yao Minority
Yao ethnic group has a population of over 2.6 million, and mainly inhabit in Guangxi, Hunan, Yunnan, Guangdong, Guizhou and Jiangxi Provinces. Most of the Yao people are farmers living together in small groups distributed widely throughout the mountainous areas. Read more
Some Other Ethnic Groups in China

China Highlights
Planning a trip? Ask us here 800-2682918 (USA & CA)
86-773-2831999 (Int'l)
Q:
jane
Asked on 2011-05-17
Reply
ur private sincere tour guide in china: jane-smalllovely@live.cn make ur tour/holiday/travel in china more effectively and convieniently!!! have a wonderful time here!!!!all of u. thx
Hi Jane Thank you for choosing China Highlights. Hope you enjoy the trip. If you have any questions please do not hesitate to contact us. Thanks for you support Nero Hou Replied on 2011-05-24
Q:
Cathy Zhou
Asked on 2011-05-10
Reply
Hi, I would like to visit Guizhou and see ethnic villages there. Is december a good time to visit?
Dear Cathy Zhou, Based on the former data, the temperature is about 4-11°C in December. It will be a little cold. If you don't mind the cold weather, it's suitable for travelling. Generally speaking, the best time is from May to October. There are some tour packages on our website for reference. Click here:http://www.chinahighlights.com/guiyang/tours.htm If you would like to book a tour with us or have any other questions, please feel free to contact me. My e-mail address is lussie@chinahighlights.com Lussie Lu Replied on 2011-05-11
Q:
tuti
Asked on 2011-03-10
Reply
what is the rates of death and birth in china per year?
What is the meaning? losonlam Replied on 2011-03-10
I can't understand what the meaning... losonlam Replied on 2011-03-10
Q:
kmj
Asked on 2011-03-02
Reply
which of this ethinc groups were from the african rain over china in the eary years of china. and which province do they livein now?
Hi Kmj I googled your question, and I not quite sure about the answer. There are probably three sources. 1. Wa Ethnic, which most people is black skin, but there is no evidence showed that they came from African, and most probably the indigenous people in Yunnan province 2. Kunlun nu, which is widely known as the slave of the nobles of Tang Dynasty. They are bought from Malaysia, and was abducted from African. And they stayed in China gradually, but there is no ethnic combined by them. 3.There are lots of African people come to resident in China today, most of them live along the coast like Shanghai, Guangzhou! If you have any query about China tour, please feel free to contact me: william@chinahighlights.net William Travel advisor William Replied on 2011-03-03
Q:
Butterfly 19953
Asked on 2010-11-14
Reply
What are the gender roles in China? This is a question that is presented to our arts and humanities class. What are their standards for women regarding their beauty and behavior? What is expected for the males and their limitations culturally?
Hello. This is a very broad and demanding question, maybe you can try contacting a university professor of this subject :) As a common Chinese, I think I can answer as follows. With the development of economy and globalization, cultures in different countries are becoming similar. In China, the standards for beauty and behavior of women, as in other countries, also change - the criteria for beauty has become much broader. The beauty is also appreciated from the people's personality, classic taste and so on. As for behavior, nowadays there are many professional working women, as in other countries, taking care of the family and at the same time, work, so there is no big difference in the US or UK. As for the expectation and cultural limitations for male, nowadays lots of people expect a man to be rich (basically being able to afford to buy a house before or for marriage), it seems this has become a priority in judging a male. That's all I can answer, hope it is of use for you. Mia Yang Replied on 2010-11-15