Taiyuan Railway Station
Where the Trains Going to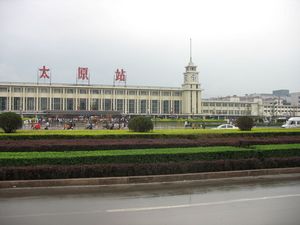 Taiyuan railway station, as the terminal of both Beijing-Taiyuan railway line and Shijiazhuang-Taiyuan railway line and the starting point of Taiyuan-Jiaozuo railway line, is an important transport hub of Shanxi Province. More than 20 trains are available every day heading to Beijing, Shanghai, Xi'an, Chengdu, Baotou, and other large cities.
There are several bullet trains every day heading to Beijing, such as D192/D193, D2002, D2012, D2010, D2006, D2004, and D2014. A single trip takes about three and a half hours.
Travelers can take train K7802 from Taiyuan to Datong, and it takes about 6 hours.
Transportation to Taiyuan Railway Station
Transportation:travelers can take public busesNo. 1, 5 and 21 from the downtown to get to the station.
Planning a trip? Ask us here

800-2682918 (USA & CA)

86-773-2831999

1800-764678 (AU)

0800-0327753 (UK)

800-8793-007 (China)
Q:
suzanne winckler
Asked on 06:18 AM Jun. 05 2012
Reply
Is there somewhere where we can put our luggages in safety ? Because we''ll spend only the day and leave in the evening. thanks
Dear, Winckler, thank you for your question. I am Cecilia, a trip advisor of China Highlights.
For your convenience, the place you can put your luggage in safety depends on where you will go on that day. You can put the luggage in the hotel you stayed last day, or you can put it in the luggage storage in Taiyuan train station where you may departure. Just tell the personnel the time you'd deposit and pay them corresponding fee.
Feel free to contact me at Cecilia@chinahighlights.net if you need any tour package in China.
Kind regards,
Cecilia
Cecilia Peng Replied on 04:15 AM Jun. 06 2012
Q:
babey
Asked on 8:38 PM Apr. 14 2012
Reply
yes I plan to go from Beijing to Taiyuan , and then to Pingyao ; and then back to Taiyuan to take flight back to beijingand I need to know the schudule of the buses from Taiyuan to Pingyao and reverse !!!! and the time of the travel ! thanks !

Hi!
Taiyuan—Pingyao: 7:30— 19:00, every 20 minutes, about 2 hours
Pingyao— Taiyuan: 6:40— 18:30, every 20 minutes, about 2 hours
I am not sure is there any change now.
Taiyuan Jiannan Bus Station phone: (0351)7071191
Pingyao Bus Station phone: (0354)5691899
Peter Replied on 05:13 AM Apr. 16 2012