Xining Railway Station
Xining Railway Station Taxi Directions
Chinese Name: 西宁

Address: Jiangguo Road, Chengdong District, Xining City. (near Xining Long-distance Bus Station)

Chinese Address: 青海省西宁市城东区建国路(靠近西宁长途汽车站)

Telephone: 0971-7192222

Number of platforms:9
Where the Trains Going to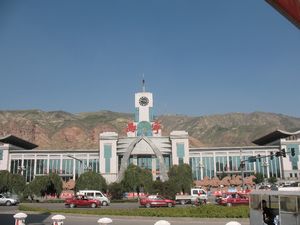 Xining Railway Station, at the crossway of Lanzhou-Qinghai and Qinghai-Tibet railway lines, was built in 1959. It serves as an important railway hub, with trains heading to to Lhasa, Golmud, Beijing, Shanghai, Xian and Qingdao.
With the completion of Qinghai-Tibet Railway line, Xining Railway Station becomes an important hub on the line. Most trains heading to Lhasa from all around the county stop over at Xining railway station and it takes 24 hours or so from Xining to Lhasa. All trains depart in the afternoon. Train K9801 is the only train with starting point in Xining and arrives in Lhasa, and the train departs at 2:55 pm every other day. 
Transportation to Xining Railway Station
Transportation: Travelers can take public buses No. 11, 16, 1, 20, 22, 27, 28, 29, 35, 40, 5, 31, 101, 32, 9, 17, 33 and 7 to get to the railway station.
Planning a trip? Ask us here

800-2682918 (USA & CA)

86-773-2831999

1800-764678 (AU)

0800-0327753 (UK)

800-8793-007 (China)
Q:
Wouter Couprie
Asked on 06:08 AM Jan. 07 2012
Reply
Is it easy to take a bus from the airport to the station? Is it possible to leave our luggage somewere safe for a couple of hours on the station so we can visit the mosque nearby?
Yes, there is not direct bus from airport to train station. You can take airport shuttle bus to city center then take bus NO.28 to train station. You can deposit your train station, it is safe.Please keep the valuables yourself . Leon Long Replied on 02:23 AM Jan. 09 2012