Yichang Railway Station
Yichang Railway Station Taxi Directions
Chinese Name: 宜昌

Address: No.107, Dongshan Avenue, Yichang City

Chinese Address: 宜昌市东山大道107号

Telephone: 0717-6445242,0717-6461228
Where the Trains Going to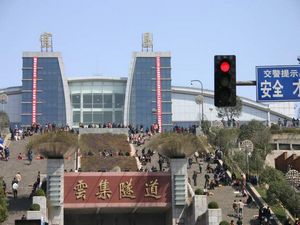 Trains from Yichang Railway Station can reach Guangzhou, Wuhan, Xian, Beijing, Shanghai, Wuxi, Taiyuan, Kunming, Luoyang and Zhengzhou.
Transportation to Yichang Railway Station
Passengers can take public buses No. 4, 6, 12, 19, 22, 23, 26, 28 and 31 to the station. Travelers heading for the Three Gorges Dam can take bus No. 4, 100 or 10 and get off at Yemingzhu station.
Travel Advice or Question? Ask us here

800-2682918 (USA & CA)

86-773-2831999

1800-764678 (AU)

0800-0327753 (UK)

800-8793-007 (China)
Q:
bfkoon
Asked on 01:11 AM Jul. 19 2012
Reply
What is the best way to travel from xian to yichang ? By train or by bus ? I want to reach yichang during day time . ( not late at night ).
Hi Bfkoon, the best way to travel from Xi'an to Yichang is by flight. The train is available as well, it take about 15 hrs. Will you take the Yangtze River Cruise? Have you booked your ship? I would like to recommend our ships to you. See here for details:http://www.chinahighlights.com/yangtzecruise/ship.htm. Please let me know if you are interested in any ships. Michael Hu Replied on 03:21 AM Jul. 19 2012
Q:
Rusli
Asked on 02:40 AM Jun. 05 2012
Reply
Hi there, I am from Indonesia, Rusli, I am planning to spending a day in cruise in Yichang area, expecially Three Gorges Dam, would mind telling me, which cruise sailing a day ? and how much for it ? Thanks for yr reply.
Hi Rusli, sorry but we do not have one day cruise in Yichang. We have one day land tour to see the Dam in Yichang. How many people in your group? Could you please let me know your travel date? I would like to tailor make one day Yichang tour for you. You also can click here to our Yangtze River Cruise Calendar:http://www.chinahighlights.com/yangtzecruise/cruisedate.asp Michael Hu Replied on 04:47 AM Jun. 06 2012
Q:
David Tan
Asked on 9:34 PM May. 22 2012
Reply
Please advice how to travel from Yichang to Shanghai
Trains and flights are both available for traveling from Yichang to Shanghai.
It is much cheaper for getting to Shanghai from Yichang by train: K254/K251(the cheapest ticket for a hard seat is 215 yuan, 23.5-hour journey, and departing at 13:54 every day) and K698/K695 (149 yuan for a hard seat, 18 -hour journey, and departing at 01:17 every night).
The price for a flight ticket recent is about 500 yuan. Lynn Ye Replied on 04:20 AM May. 24 2012
Q:
Jim
Asked on 02:22 AM May. 09 2012
Reply
We are planning to take a cruise from Chongqing to Yichang. The boat gets in around noon. We want to take the 15:32 train to Xi''an. Is that allowing enough time?
Hello Jim, yes, you will have enought time to catch your train. Have your booked your Yangtze Cruise Ship? You may find one from our website at http://www.chinahighlights.com/yangtzecruise/. Simon Huang Replied on 02:27 AM May. 10 2012