Guangzhou Opera House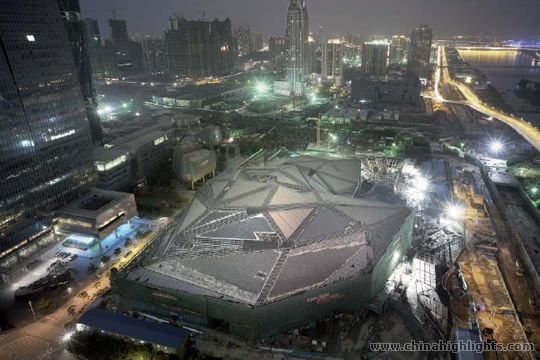 Feature
Adopting futuristic design and state-of-the-art technology, it is one of the three biggest theaters in China, along with National Theather in Beijing and Grand Theater in Shanghai.
Overview
Guangzhou Opera House was designed by Pritzker-Prize-winning architect Zaha Hadid. Located downstream of Pearl River, the building with bold designs covers an area of 42000 square meters, and the investment is over 10 billion yuan (15 million USD).
Guangzhou Opera House has 1800 seats with all sorts of equipment. It looks like two pebbles, one larger while the other smaller. The larger pebble serves as the theather, while the smaller one is the multi-function hall. It is said that the construction is even more difficult and complicated than that of Bird's Nest in Beijing, because no beam or column connection is the same as any other.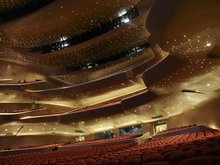 Inside the opera house the stone walls of the halls form an array of mountains, while the transparent glass walls give people a beautiful view of Pearl River. The stage and even the audience's seats are movable.
Guangzhou Opera House is one of the venues of the 9th China Art Festival (May 10 - 25, 2010). Many high-level art and culture shows at home and abroad will be staged in the opera house, including Italian opera Turandot.
Related Links

China Highlights
Planning a trip? Ask us here 800-2682918 (USA & CA)
86-773-2831999 (Int'l)
Q:
cris Weer
Asked on 2010-10-30
Reply
The design of the structure is amazing but why is the engineering so sloppy? The tiles don't seem to fit and look scrappy.
Hi, Cris Weer, You have asked a very professional question. Probably only the designers of the building know the answer. Probably you can contact the designers and ask them why.
Ruru Zhou Replied on 2010-11-01
Q:
Claudia
Asked on 2010-08-22
Reply
Dear all, I agree on you, I cannot find any English information about the event program, it's a pity, a modern building with a top architect and no information about what's happening ... at least for non-Chinese speakers ;-(
Hi Claudia, I can not agree with you more. The English website is in the course of construction. There is no English website at present. Hopefuly it will be finished soon. Grace Wang Replied on 2010-08-23
Q:
tim bennett
Asked on 2010-07-09
Reply
did michael wong get any replies as I have the same issue about its lack of e-accessibility
Tim, Is Michael Wong working for China Highlights? Do you have the tracking code, like Y1007*****? (If you have got a reply from his for China travel, such no should be written in the email subject). Or you can send your question to me (karen@chinahighlights.com, tel:86-773-2810927) to check whether i can be helpful. Karen Karen Yang Replied on 2010-07-11
Q:
tim bennett
Asked on 2010-07-09
Reply
did michael wong get any replies as I have the same issue about its lakk of e-accessibility
Hello. Can you specify who Michael Wong is? Mia Yang Replied on 2010-07-11
Q:
Michael Wong
Asked on 2010-06-28
Reply
Is there an official website for the Guangzhou Opera House? Where can we gather information on the performance schedule and ticketing? Thanks.
I found out a Chinese website list some schedule of performance, hopefully it works for you: http://www.228.com.cn/gz/theater/020theater-1583p1.html Eva Wang Replied on 2010-06-28
Guangzhou Travel Guide
Guangzhou Top Attractions