Qinghefang Pedestrian Street
Summary
Hangzhou is now regarded as China's richest small city. Marco Polo said it was the richest city in the world when he visited 800 years ago. Visiting Hangzhou and its Qinghefang Ancient Street that is a tourist-oriented shopping and dining street will allow for shopping and dining catered to tourist tastes.
Overview
Hanzhou is an old city, and the modern street sits where there were once rich Southern Song Empire residences and teahouses frequented by the politically powerful and wealthy in the city. During the end of the Southern Song Dynasty and Yuan Empire eras, Hangzhou was one of the biggest and perhaps the richest city in the world. Hanzhou is now once again probably the richest city in China in terms of per-capita wealth. The Hanzhou Museum of History and the West Lake Park area are places you can go during a visit to shop and dine on Qinghefang Ancient Street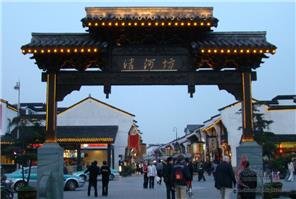 Qinghefang Pedestrian Street, Hnagzhou
The shops are mainly oriented for tourists, and they sell curios, paintings, souvenirs, crafts products, and works of art. There are also restaurants where you can try the cuisine of Hangzhou and Zhejiang Province. You can also find spicy Sichuan-style restaurants and northern-style restaurants. There are also restaurants featuring foreign food for the tourists. There are some teahouses and shops with long histories. There is a Chinese medicine shop there called Bao He with a very long history that you can have a look at. You might want to experiment with taking Chinese remedies. Many actually work. You can describe what ails you to the shopkeepers in the medicine shops. Traditional Chinese medicines are mainly herbal remedies. See shopping in Hangzhou
History
Hangzhou was a refuge for the Song Dynasty clan when they fled the Jin Empire who conquered much area north of the Yangtze River. They made it their capital, and for a while, the city flourished and developed. Hangzhou became a center for technical innovation and scientific research. Song technicians made world-leading advances in several fields including chemicals and mechanical engineering. Luxurious residences and teahouses for the rich were built on the place where Qinghefang Ancient Street is now.
When the Mongols finally conquered the rest of the Song Empire, the city became opulently rich under the Mongol rule of the Yuan Empire. They inherited the extensive imperial architecture and Song urban planning, and the Mongols encouraged foreign trade in the city. It become a center for foreign trade in the Yuan Empire. The city prospered even more. It was so rich that the city astounded the widely traveled Marco Polo who described the city as the richest, most beautiful, finest, and noblest city in the world. Merchant ships traveled from the rest of Asia to dock in the harbor. There were a lot of foreign merchants living there.
After the end of the Qing Empire (1864-1912), there was warfare that razed whole sections of the city, and hundreds of thousands of people left the city or died. After Hangzhou became a Special Economic Zone open to foreign investment and foreign companies in the 1990s, there was very heavy foreign investment in the area, and a lot of factories and business opened. In the past 6 years, rapid growth of high-tech industries and tourism has more than doubled the little city's GDP. Though it is much smaller than many other cities in China, it is China's third-largest market for luxury goods and trails only the super-huge cities of Beijing and Shanghai in GDP. It also became well-known in China as the most livable city in the country for its wealth, relatively clean environment, and large parklands.
Nearby Attractions
Instead of shopping for tourist goods, if you want to experience some opulent shopping in China, Hangzhou has major luxury shopping malls at Hangzhou Tower and Hubin International Boutique where you can buy the best of foreign or Chinese products. The Hubin International Boutique Compound is the top fashion clothing mall with many famous international brand-name stores.
There is a museum called the Hangzhou History of Museum at the east end of Pedestrian Street next to Wu Mountain. You can learn about Hangzhou and Qinghefang's history there. The Wu Mountain area is a park. If you want to go to a much bigger park, the West Lake region is famous in the area, and it is only a kilometer to the west of Qinghefang Ancient Street. The West Lake is big. You can walk there.
China Highlights can help you customize a tour to see the best of Hangzhou, or just see our Hangzhou Tours.
Questions and Answers About Qinghefang Pedestrian Street
David
2013-07-25
Show Answer
Any hotel close to the Silk City.
He suggested hotel nearby Silk City are Zhejiang International Hotel (5-star) and Holiday Inn City Central Hotel (4-star). Please tell us your check in & check out date so that we can check rate for you? To recommend hotels to you, may we know what class of hotel you would like? Or would you mind telling us your accommodation budget? Carol Wang replied on 2013-07-26
MH
2012-09-07
Show Answer
I need a driver and van to take 4 adults 2 kids around hangzhou, suzhou and Suzhou in early nov 2012 for 3 days. Can you quote the fees?
It is US$143 per day(max 8 hrs) for Hangzhou and Suzhou city tour. I recommend bullet train between suzhou and Hangzhou. If you want a private transfer between Hangzhou and suzhou, it is US$357 for your group. Leon Long replied on 2012-09-10
Tai
2012-05-25
Show Answer
i''mplanningafamily tripto Hangzhou in early December. Which would be the best hotel to stay in closest to shopping attractions and local restaurants?Also, where would be the best place to rent a van (to seat 6) with driver for the day (may go as far as Shanghai)and how much does it cost?
Hi. Tai. Thank you for your enquiry.Here i offer you 3 hotel optoins in different levels.all of them have good locations and close by shopping area.you can book though me if you interested in one of them. 1.The Sofitel Westlake Hangzhou 5stars Adress:No.333 Westlake Avenue, Hangzhou, China The Sofitel Westlake Hangzhou is located on the bank of the famous West Lake, closed to the central business district of Hangzhou. www.chinahighlights.com/hotel/hangzhou-hotels/sofitel-westlake-hangzhou.htm 2.Merchant Macro Hotel Hangzhou 4 Stars Adress:38, Pinghai Rd. Hangzhou 310006, Chian It is situated next to the charming West Lake and locates on the most flourishing street—Pinghai Road, which is adjacent to the shopping http://www.chinahighlights.com/hotel/hangzhou-hotels/merchant-macro-hotel.htm 3.Lily Hotel Hangzhou 3Stars Adress:45 Shuguang Road, Hangzhou,Zhejiang 310013,China Near: West Lake Area http://www.chinahighlights.com/hotel/hangzhou-hotels/lily-hotel-hangzhou.htm It is only 45miu transfer from Hangzhou to Shanghai by bullet train.it can save you a lot of time compare with the van transfer. I can arrange a private van with driver for the Hangzhou city tour.please check your email to see the car rental price in Hangzhou.China Highlights offer hotel,ticket booking and private tour service in China.just let me know if you need anything else. wish you have a good day Lily Guo replied on 2012-05-28
April Offer $25 Coupon
Send your inquiry before Apr. 30, 2014, and we will email you a $25 coupon.
The coupon is valid till Dec. 31, 2014, for paying tour packages worth $250 or up.
The coupon cannot be used for paying flight tickets, train tickets, hotel rooms and day trips.
Travel Advice or Question? Ask us here
You might like

Free Things to Do in and around Hangzhou

China Highlights
Hangzhou Travel Guide