The Pick of Shanghai's Street Food
Ask anyone who lives in Shanghai about street food and you can be guaranteed one of two responses. Locals and expats alike, you either love it, or won't go near it. I decided to gather a group of the former, rug up, and experience a night of eating from the mobile carts dotted around the South Bund Fabric Market.
Cōng yóu shao bing (onion oil pancake)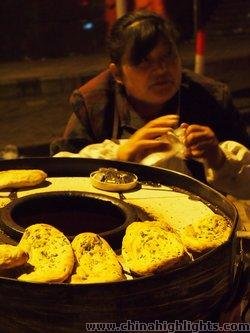 hand grab cake
It is…an oval shaped crusty flat bread, served either sweet or salty.
The Verdict: a safe start to the evening and a good way to line your belly.
5/10
Shou zhuo bing (hand grab cake)
It is…a Taiwanese delight, which the vendor has been selling since 2008. He stretches what looks like pizza dough and spreads the disc onto the hotplate and it bubbles and browns. We choose toppings of cheese, egg, lettuce and chili sauce.
The Verdict: a great snack with a peppery aftertaste. Warms the belly and the fillings create a substantial snack.
7/10
Chili tofu
It is…domino-sized pieces of spongy tofu with visible chili toppings.
The Verdict: too much msg in this one for our liking and unfortunately it can't be served without. The chili does its job to keep us warm though.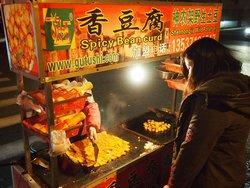 Chili tofu
4/10
Wild Potato from Shennongjia
It is…baby potatoes which have been roasting on the hotplate for hours and are served with mixed spring onion, black sesame seeds and a dash of salt.
The Verdict: it sure humbles the traditional western roast potato and we fight with our skewers to get more.
8/10
Shanghai Street Noodles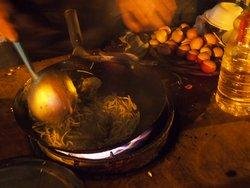 Shanghai Street Noodles
It is…a mobile cart featuring a selection of noodles, vegetables, meats, sauces and condiments. We opt for flat rice noodles with egg, bean shoots, bok choy, soy sauce with a sprinkling of unknown seasonings from old congee tins.
The Verdict: This one came with atmosphere. The expert cook was clanking his wok over the blue flames while we waited at a tiny table with our knees around our ears. The noodles were fresh, perfectly seasoned and substantial. This one did, however, come with a warning… "It's OK to eat it once per month," said my Chinese friend, "but not too often, as the oil is no good." If she's eating it, I'm good to go.
7/10
Liu Shi Roasts the Pear
It is…a one of a kind cube-shaped contraption with eight round drawers. Slide these out and you have pears that have been roasting for 2-3 hours. "My brother made it," the vendor says as we inspect the device that looks like it belongs in Willy Wonka's chocolate factory. She checks a thermometer, twists a knob, pulls a lever and out comes the delicious juice. "It's good for a sore throat," she promises.
The Verdict: Being the only one of its kind in Shanghai (and I'm guessing the world), talk moves to how we could take one home. The sweet, soft, mouth-watering pears are a delicious winter warmer.
9/10
Wok Prepared Fish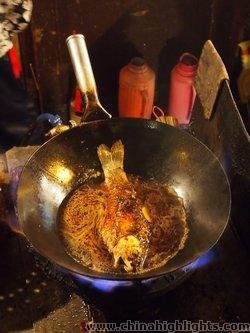 Wok Prepared Fish
It is…an non-descript fish prepared with Chinese red wine, ginger, red and green peppers, chili and spring onion. But don't "flip it" to scrape the fish from the other side. Apparently, the phrase can be mistaken for flipping a boat and it's extremely bad luck to those out at sea.
The Verdict: The sauce tastes as good as it smells but the fish makes me uneasy. I think it's straight from the Huangpu.
5/10
Street food rules vary from district to district. Often you won't see any out until after 9pm. Ordinary streets are transformed into bustling al fresco dining spaces, complete with tiny tables, plastic seats and colourful characters.
Street food. It is...just as much about the atmosphere as it is about each daring mouthful. As we stroll further and further into Old Town, we're swept away by a street cleaner's bamboo broom, dazzled by the colours of the fruit stalls, puzzled by the number of pyjama wearers and lured this way and that by the interesting smells. We see blankets, DVDs, shoes, gloves and brooms for sale, as well as fur hats, lanterns, wool, curtains and anything else that doesn't fit into a category.
The Verdict: Definitely a budget night out with some good friends and good laughs.
Let us help you plan a personalized Shanghai tour for you or tailor make the travel arrangements for you.

China Highlights
Shanghai Travel Guide