Shanghai Food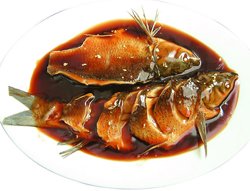 Shanghai boasts one of China's best and most distinctive cuisines. Influenced by its position just south of the Yangtze and at the mouth of the Huangpu, the region abounds in a selection of freshwater fish and shellfish. Dishes from this area are lightly and delicately seasoned.
Shanghai's people have a 'sweet tooth', and more sugar is used in Shanghai than in any other part of China. Shanghai's neighbors also contribute to the diversity of the area's cuisine: Hangzhou, known for its West Lake carp; Zhejiang to the west, for its vinegar; and Shaoxing, for its warmed rice wine.
Steamed Crab: Da Zha Xie
Da Zha Xie is a special type of crab found in rivers, and is normally consumed in the winter. The crabs are tied with ropes or strings, placed in bamboo containers, steamed and served. There few other artificial ingredients added to the dish yet it tastes fantastically good. Da Zha Xie is usually consumed with vinegar. Locals are also quite fussy about when to consume male crabs and when to consume female crabs.
Smoked Fish Slices
An ideal menu for those who like highly spiced food, the Smoked Fish Slices (fresh fish marinated and spiced to taste like smoked fish) make a tasty dish.
Soup Bun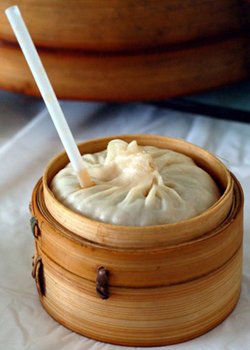 Soup Bun, with bigger size than Xiaolongbao, refers to a kind of buns within soup. And it especially pays more attention on the taste of soup. Soup Bun in Shanghai tends to have Chrysanthemum-like shape, thinner dough skins, and much stuffing which come into wide range of choices. And they can offer you the first-class flavor no matter which type you choose.
The buns are served hot in the bamboo basket in which they were steamed. The shape and attempting fragrance really stimulate your appetite. Bitten off the top, some soup will be seen inside the buns, that's why the name of soup bun comes into being. See must-taste Chinese foods.
Tips:
1.In case of your tongue being scalded by the hot soup, you should not eat in a hurry but to wait until the soup inside cooling down.
2.Jiaji Bun Shop, located in Fengyang road, specializes in Soup Bun. And many super stars are frequent visitors.
Fried Mantou
Fried Mantou, a local dim sum in shanghai, owns a history of over 100 years. The semi-fermented paste is fried on the saucepan with spraying water several times during cooking.
You'd better taste it in hot, for the bottom of the hot Fried Mantou is golden-colored and crispy while the rest part is white and soft. The wonderful stuffing, mixing fresh meat with sesame or scallion, is especially delicious. With its tempting color, crispy skin, tender meat and the gorgeous appearance, Fried Mantou can be regarded as a top snack.
Tips:
1. Xiaoyang Mantou Shop supplies Fried Mantou with larger shape and richer soup inside.
2. Hot Fried Mantou has the best taste.
Pepper Duck
Pepper duck is a famous dish in Shanghai. Charlie Chaplin, World-renowned master of comedy, praised this dish as"a lifelong unforgettable gourmet".
The dish calls for half or a whole marinated duck,lightly fried and served with plum sauce and steamed bread. With bright red color, crispy skin and gender meat, Shanghai pepper duck will reward you a pleasant experience. Autumn is the best season to enjoy this dish.
Yangchun Noodles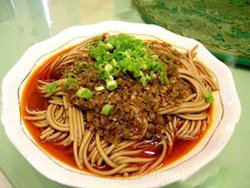 Noodles are a delicious and famous food in China, and have a very long history. Noodles mean longevity in Chinese culture, which makes them very popular in China. They have becomes many Chinese people's staple food.
The story of the name: The tenth Chinese lunar month is called little yangchun, and it is a local custom to call the number "ten" yangchun. When these noodles first appeared in Shanghai, their price was ten fen, so people called them yangchun noodles and that name is still used.
Yangchun noodles are also called clear soup noodles (清汤面), as they are thin noodles in a clear soup. Scented scallion oil is added to the noodles to make them smooth and tasty. They are highly nutritious, containing protein and various vitamins. Tasting yangchun noodles is recommended during your Shanghai tour.
Tips:
Shanghai Yangchun White Snow Noodles Restaurant (上海阳春白雪面馆), located at 80 Yuqing Road, Xuhui District (徐汇区余庆路80号), can serve you delicious yangchun noodles.
Beggar's Chicken
According to the legend, beggar's chicken originated in the Qing Dynasty. Beggar's Chicken calls for a stuffed and marinated chicken, sealed tight with layers of lotus leaf and then wrapped in parchment paper/wax paper along with mud.
This unique cooking technique produces the tender, juicy, and aromatic chicken. And the original taste of the chicken is perfectly retained and trapped. The bones just fall off the chicken after hours of baking, and the meat is bursting with intense fragrance. In a word, Beggar's Chicken is a real Chinese delicacy that cannot be missed.
Tips:
Zhiweiguan,established in 1920 with location in Changsou Road Putuo District, can offer you this dish.
Continues to read Shanghai Famous Snacks

China Highlights
Planning a trip? Ask us here 800-2682918 (USA & CA)
86-773-2831999 (Int'l)
Q:
Jade
Asked on 2013-01-01
Reply
Oh~sorry, it is "YangChun Noodles"...O(∩_∩)O
Hi Jade, thanks again for your patience and continuous correction. We will revise it soon. Whitney Liao Replied on 2013-01-05
Q:
Jade
Asked on 2013-01-01
Reply
I am afraid that there is a mistake on the aboved passage---as I was just expecting to read something about YangChun Mian; however, under the title, it follows an introduction about "Pepper Duck" again.
Hi Jade, yes, it is a mistake. Thanks for your correction. We will revise it soon. Whitney Liao Replied on 2013-01-04
Q:
Patrick
Asked on 2012-11-04
Reply
Hi, my friends and i are visiting Shanghai next week and i would like to ask for your recommended buffet restaurant. Furthermore how much is the taxi cost from Pudong Airport to Intercontinental Hotel Pudong
Q:
Anis
Asked on 2012-10-31
Reply
Hi, I''ll be in Shanghai on 10th November 2012 for a week. Can you please recommend me any pork free restaurant or muslim restaurant as we are muslim. We would like to try out shanghai famous food but must be pork free.Thank you.
Hi Anis, I recommend the Pearl Hotel (Mingzhu dafandian)上海明珠大饭店 to you. They have both Muslim and Chinese foods, with pork free.
Add: No. 212 Zhaojiabang Road, Luwan District, Shanghai (entrance of Shannxi Nan Road) 上海市卢湾区肇嘉浜路212号(陕西南路口)
Whitney Liao Replied on 2012-11-01
Q:
Mei Fong Law
Asked on 2012-09-05
Reply
Hi,I''m going to Shanghai on this coming Nov, but my flight will touch down in Hang Zhou and i plan to take a bullet train to shanghai, could you please advice I should go to which train station in Hang Zhou in order to get a train to Shang Hai and I should stop in which station in Shang Hai? which station is near to Huang Pu(Nanjing area)? Can we just buy the train ticket in the counter or need to book advance?
Hi Mei,
You can take bullet train from Hangzhou Railway Station to Shanghai Hongqiao Railway Station(only to this station).
From Hangzhou Airport, you can take airport shuttle at North of Entrance 5 to the Arrival Hall, First Level of Terminal Building to Hangzhou Railway Station(Chengzhan Railway Station). It takes about 1hr and costs CNY20.
Hongqiao Railway Station is about 20km to to Nanjing Road, Huang Pu District. You can buy the train ticket in the counter , no need to book advance.
Whitney Liao Replied on 2012-09-06
Shanghai Travel Guide