Pudong
If you love experiencing shiny new things, Pudong, Shanghai is the ideal place to visit. As a new and bustling district, Pudong offers visitors some of the most modern attractions, businesses, skyscrapers and shopping malls, all featuring the latest in entertainment, technology and fashion.
Location and Description
Located east of the Huangpu River, Pudong is a booming area of Shanghai, China. Formerly acres of farmland, Pudong today is a brand new district, created by the Chinese government in the 1990s in an effort to develop a Special Economic Zone. In a mere twenty years, Pudong has boomed into one of the busiest and prosperous areas of the world, flourishing in the business of world trade and finance, prevailing in world technology and boasting some of the world's highest skyscrapers.
Skyscrapers and Attractions
Shanghai World Financial Center
Opened in 2008 as one of the highest skyscrapers in the world, the Shanghai World Financial Center is a shining symbol of Pudong's modern, amazing progress. Rising over 1,600 feet high on Century Avenue, the high tower houses observation decks, conference rooms, offices, hotels and shopping malls.
The Oriental Pearl TV Tower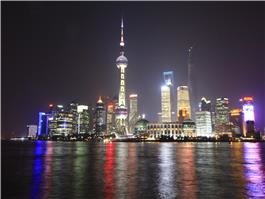 The Oriental Pearl TV Tower
Drawing over three million visitors every year, the Oriental Pearl TV Tower is a magnificent work of architecture constructed with eleven spheres of varying sizes, all connected by three huge columns. Situated on Century Avenue, the tower contains fifteen observatory levels, exhibition facilities, a hotel, a shopping mall and a revolving restaurant.
Century Park
Covering over 140 hectares, or over 346 acres, Century Park is Shanghai's largest park, located on Jinxiu Road. Featuring scenic landscapes of grassland, beautiful gardens, woodlands and lakes, the park offers visitors a children's play area as well as many leisure activities such as walking, picnicking, kite flying, fishing and paddle boating. The park is also within walking distance of the popular Science and Technology Museum.
Century Boulevard
Stretching five kilometers from the Oriental Pearl TV Tower to Century Park, Century Boulevard is a beautifully landscaped avenue featuring magnificent sculptures depicting the theme of time and eight botanical gardens all named after Chinese trees such as Cherry, Chinese Redbud, Camellia, Willow and others.
Jinmao Tower
Another of Pudong's great skyscrapers and symbols of success is Jinmao Tower. Located on Century Boulevard, the tower is China's second tallest building, rising 88 stories high and housing financial and trade businesses as well as a five star hotel.
Shanghai Ocean Aquarium
Receiving over a million visitors each year, the Shanghai Ocean Aquarium features over 221,000 square feet of exhibitions displayed in various themed areas from Asia's rainforest to the South American Amazon to the Australian mangroves. The aquarium boasts one of the world's longest underwater tunnels through which visitors can experience the open ocean, a shark cove, coral reef and more. The aquarium can be visited on Lujiazui Ring Rd.
Shanghai Natural Wild Insect Kingdom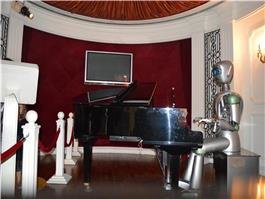 A robot in Shanghai Science and Technology Museum.
Situated on Fenghe Road, this natural history museum offers visitors the opportunity to see many galleries and exhibits of various live insects, reptiles and other animals. There are also several interactive exhibits including a pond where visitors can catch and keep fish.
Shanghai Science and Technology Museum
Located at Century Boulevard, the Shanghai Science and Technology Museum is one of the most visited museums in China. The museum is both an educational and fun-filled attraction offering four science theaters, two temporary exhibition halls and thirteen permanent exhibitions such Human and Health, Earth Exploration, World of Robots and Space Navigation just to name a few.
Restaurants
Pudong offers a wide selection of food choices to suit every taste and budget. Mentioned below are a few popular restaurants.
The Canton, located in the Intercontinental Hotel, offers authentic Cantonese cuisine.
For fine wine and Italian fare, diners will enjoy Danieli's on Dong Fang Road.
Situated on the 56th floor of the Grand Hyatt, The Grill features a splendid panoramic view and serves fresh seafood and American steaks.
Jatujak serves excellent Thai dishes in a fabulous atmosphere located at the Xinmei Union Towers.
Julie's Bistro on Century Avenue at the World Financial Center offers delicious Canadian cuisine and a large selection of wines.
Lodging
Though many of Pudong's hotels cater to business guests, visitors of all walks of life can find many choices for lodging from budget to luxury. Recommendations for a budget are the Eton Hotel Shanghai on Pudong Road or Rhea Lakeview Hotel on Luoshan Road. For luxury options, guests can check out the Grand Hyatt on Century Boulevard, Park Hyatt at the World Financial Center or the Parkyard Hotel on Bibo Road.
Shopping
Pudong offers visitors an exciting and diverse shopping scene. Some of the top places to shop include Times Square, the New Xiang Yang Market and the Super Brand Mall, one the largest malls in Asia.
Getting Around
Like the rest of Shanghai, Pudong offers plenty of transportation choices from the subway to buses to taxis and ferries. Many areas offer good walking options as well. Visitors can obtain maps with subway and bus routes in convenience shops and most hotels.
Useful Information
For planning the best time to visit and what to wear, travelers are advised that the Pudong area is chilly and damp during winter with only occasional snowfall. Summers are hot and humid with the seldom thunderstorm or typhoon. Spring offers a pleasant time to visit while autumn provides the best occasion with its sunny and dry weather.
Pudong is overall a safe city although travelers are advised to be aware of their surroundings and to be mindful of pickpocketing. Also beware of individuals suddenly approaching and offering services like massages, tour guiding and others as these situations could possibly prove to be scams.
When walking in Pudong, visitors should be aware that rainy weather can make public walking areas slippery and motorists don't always stop for pedestrians.
Questions and Answers About Pudong
Sam
2012-12-19
Show Answer
i would like to take a tour from shanghai to hangshou (for 1 day). how much is the price? and is it oick you up from hotel and delivered bcak to hotel?
Hi Sam, yes, we have those tours. There is no problem for us to pick you up from the hotel and deliver back to hotel. Our English speaking tour guide and private car with driver will escort you all the way along. If you would like to experience the bullet train between Shanghai and Hangzhou, we can also arrange it. Please kindly advice the number of people in your group and the exact date for taking the tour. Then we will send you a detailed quotation.
Whitney Liao replied on 2012-12-20
hi whitney, i would like to take the bullet train from shanghai to hangzhou and it's only 1 person. how much is it? thks guest replied on 2012-12-26
Hi Sam, thanks for your information. My colleague in charge of this will send you the quotation soon. Kind regards, Whitney Whitney Liao replied on 2012-12-26
donna s
2012-09-17
Show Answer
What is the best way to get To the Pudong International airport from the Shanghai Hotel 505 Wulumuqi Road North & how much should it cost?
Dear Donna S, The easy way is to take a taxi to get to Pudong airport, but it is too expensive. It costs about CNY150-200/US$24-32 per car and it takes about 2 hours. You also could take a taxi to Jingan temple subway station(静安寺站), it costs about CNY10/US$1.5 per car, it takes about 5 minutes. Then take Line 2 subway to Pudong airport directly. It takes about 2 hours and it costs about CNY8/US$1.3 per person. Lussie Lu replied on 2012-09-18
Jimmy
2012-01-22
Show Answer
Hi my name is Jimmy,i will stop by pudong airport in shanghai for couples of day. I would like to visit the Bunds and surround areas . Should i stay in the hotel near the bund or pudong for the most convenience?
Hi Jimmy, if you wuld like to stay near the Bund, the Bund Hotel Shanghai is recommended to you. Please kinly click the link below to see more details about the hotel and you could also book directly online: http://www.chinahighlights.com/hotel/shanghai-hotels/the-bund-hotel.htm Nora Ou replied on 2012-01-23
April Offer $25 Coupon
Send your inquiry before Apr. 30, 2014, and we will email you a $25 coupon.
The coupon is valid till Dec. 31, 2014, for paying tour packages worth $250 or up.
The coupon cannot be used for paying flight tickets, train tickets, hotel rooms and day trips.
Travel Advice or Question? Ask us here

China Highlights
Shanghai Travel Guide