Enter Tibet From Nepal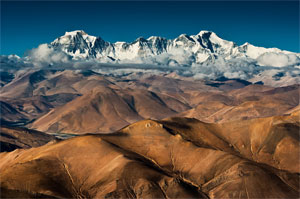 All tourists entering Tibet from Nepal have to apply for their China Visa in Nepal, through the consulate of People's Republic of China in Kathmandu. Keep in mind that this visa application is compulsory, despite that you have already had a China visa issued in other countries. This policy is regulated by the border treaty signed between Nepal and China. The China visa you get in Kathmandu is a group visa, which is valid for 15 or 20 days. A group may be any number of travelers, and may be just one traveler. This visa is usually not placed in your passport, but is a sheet of paper that lists all of the names of the people in your group along with their nationalities, birth dates and passport numbers. This group visa is usually not able to extend. With the group Chinese visa, members in your travel groups need to enter and exit at the same time and the same place.
To obtain a China Visa in Nepal, you will need to allow about 4 days in Nepal for the visa application and Tibet permit to be processed. It takes at least 2 working days to obtain a visa from the Chinese Embassy in Nepal and the Embassy only works on Monday, Wednesday and Friday. You will need to use an authorized travel agency in Nepal to help with your application.
China Highlights can help arrange their Tibet permit for travelers who book their Tibet tours with us.
If you do not have a travel agency in Nepal, our partner travel agent - Explore Nepal Richa Tours will be happy to help you. Just tell them that you are a client of China Highlights and they will give you the special discount price that we have negotiated for our customers.
Explore Nepal Richa Tours
Fax number 009771 4374658
Contact person: Major Ram (direct line)
Fax number 009771 4411746
Tel: 009771 4422007/ 4411746 Mobile 00977 9851052550
Contact information for Chinese Embassy in Nepal:
Tel: 009771 4419053, 4415383, 4411740
Fax no. 009771 4414045
Visa Section Tel: 009771 4425520

China Highlights
Planning a trip? Ask us here 800-2682918 (USA & CA)
86-773-2831999 (Int'l)
Q:
Oscar
Asked on 2012-08-06
Reply
Hi i want to travel to nepal and tibet in late october of 2012. We are a party of 5 or 4 people, what do you recommend? Is there a tour you recommend or something? Tks and ill wait for your answer. We would be flying towards tibet from Chengdu. Cheers.
Hi Oscar,
Tibet is a special zone in China, there are lots of attractions worth visiting, such as Potala Palace, Jokhang Temple, Sera Monastery, Barkhor Street, etc. However, foreigners need apply Tibet Permit besides China visa. The Tibet Permit application requires at least 5 people in a group, and they must from the same country.
China Highlights will take care of the additional document application once visitors confirm their journey with visitors' China visa and passport' scan 15 days in advance. Meanwhile, we I highly recommend visitors apply "L" type visa (for tourism) and skip Tibet destination at Chinese Embassy, otherwise Tibet permit application will become complicated.
Regards, Whitney
Whitney Liao Replied on 2012-08-07
Q:
swati shukla
Asked on 2012-07-27
Reply
hi i want to join the 5 day lhasa tour on 8 augusti am canadian national