Shanghai Tianzifang
The Bell at Tianzifang
Tianzifang is a tourist shopping and cafe area in Shanghai in the Old French Quarter. Unlike the better known Xintiandi area nearby, the area retains an "organic and original" feel because the area hasn't been markedly reconstructed in recent years. Instead you'll see buildings, alleys and streets of the old French Quarter with later Chinese additions piled on.
In an effort to stave off redevelopment, in the middle of the last decade, artists, business owners, and residents in the area banded together and preserved the original architecture. Though it is still a Chinese residential area, it has become famous as a "rabbit warren" of arts and crafts shops,and less-expensive less-expensive restaurants, bars, and cafes. Thousands of Chinese still live in the apartments above the shops.
For many tourists and expats in Shanghai it is a favorite place to go. Prices are high compared to other places in Shanghai since it has become a tourist attraction, but they find the Chinese residential atmosphere and the old-style buildings, narrow alleys, and less touristy atmosphere fascinating.
Features
Tourist and young people area
Arts and crafts shops
Cafes, lower price restaurants, and bars
Many international shops and restaurants
About a mile (1.5 km) southwest of Xintiandi
1930's architecture
Cited as favorite Shanghai attraction by the New York Times.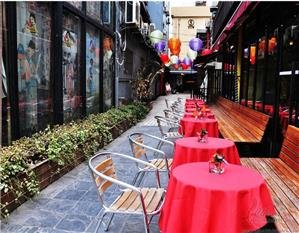 A cafe in Tianzifang
It is an artsy area with hundreds of bars, cafes, crafts shops, design studios, art galleries and boutiques. You might find crowds of Chinese young people and foreign expats and tourists.
Art: Talented craftsmen, designers, and artists live and work there, and sell their art. The artist Cheng Yifei's studios are on Lane 210. Other well known Chinese and foreign artists have set up studios on the 40 or so other lanes.
Architecture: You'll see Chinese-style Shikumen (stone gate) buildings along with French colonial buildings. You'll also find converted Chinese factory buildings from later times.
Food: You can wander around the lanes and enjoy a great variety of local food and various international foods in foreign<-owned restaurants. See our Shanghai food page for suggestions on Shanghai's special dishes.
Nearby Attractions
Xintiandi: Is a better-known and classier French-Quarter redevelopment for shopping, gourmet restaurants, and luxury stores. It is a few minutes northeast by taxi.
Travel Essentials
Location: Lane 210, Taikang Road, Luwan District, Shanghai (for taxi: 上海市上海卢湾区泰康路田子坊, 210弄)
Hours: Most shops and restaurants close around 10 pm, but some bars close later.
Subway: It is about a half kilometer (8<-minute walk) north of Dapuqiao Station. Take subway Line 9 to the station and take Exit 1.
Buses: 17, 24, 304, or 864 to Middle Jianguo Road or Ruijin 2nd Road Station.
If you are interested in this attraction, we at China Highlights can tailor-make a Shanghai tour including Tianzifang for you.
Questions and Answers About Shanghai Tianzifang
Elena
2013-12-26
Show Answer
I was very disappointed today to find out that the tour organizer to Wuzhen Water village was not going to come to pick us from the hotel. We booked the tour and were told to be ready waiting in the lobby of the hotel at 6:30 am. We were there but the bus did not come. Our consierge called and he was told that we needed to get a taxi and catch up with the bus somewhere in a different place. What a disappointment!!! Is this the way Travel agencies do business here, in Shanghai?
Dear Elena, I am sorry to hear that. I think you might join in a sit-in-coach tour. To join in this kind of tour, you need to go to the designated place to meet the guide. Your travel advisor and your travel agency might not give you the details. I suggest you'd better consult with them again. By the way, we are a travel agency in Guilin, specializing in designing a private tour to China. Our travel advisor will construct a tour package based on your need. If you have any other travel plan, please feel free to contact us, we are glad to serve you. You can submit your inquiry on line or e-mail us. Our e-mail address is service@chinahighlights.com. Lussie Lu replied on 2013-12-27
April Offer $25 Coupon
Send your inquiry before Apr. 30, 2014, and we will email you a $25 coupon.
The coupon is valid till Dec. 31, 2014, for paying tour packages worth $250 or up.
The coupon cannot be used for paying flight tickets, train tickets, hotel rooms and day trips.
Travel Advice or Question? Ask us here

China Highlights
Shanghai Travel Guide