China's National Day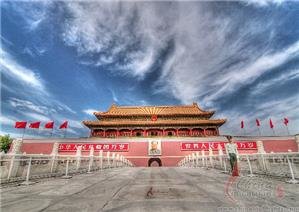 Tian'an men Square
October 1st is the anniversary of the founding of the People's Republic of China in 1949, and is celebrated as the National Holiday all over China.
On this day back in 1949, the Chinese people, under the leadership of Communist Party of China, declared victory in War of Liberation. A grand ceremony was held at Tian'anmen Square. At the ceremony, Mao Zedong, Chairman of the Central People's Government, solemnly declared the founding of P.R.C. and raised the first national flag of China in person. 300,000 soldiers and people gathered at the square for the grand parade and celebration procession.
In recent years, the Chinese Government has extended the National Day Holiday to one week, which was called the Golden Week. It is intended to help expand the domestic tourism market and allow people time to make long-distance family visits. This is one of three particular periods of greatly heightened travel activity.
When Mid-Autumn Festival occurs at the very end of September or early October it is combined usually combined with National Day holiday for a week-long holiday.
Related Reading

China Highlights
Questions and Answers About China's National Day
sammi
2010-10-03
Show Answer
Pls advise how many days will banks and government departments close for china national day.
Hi, This is Coco, from China Highlights. China National Days holiday is from Oct 1th to Oct.7th, so during these days the government departments do not work as often, just only some one on duty in the office. However, the banks work normal. You can do your bank things as usual. best wishes, Coco Coco Yang replied on 2010-10-04