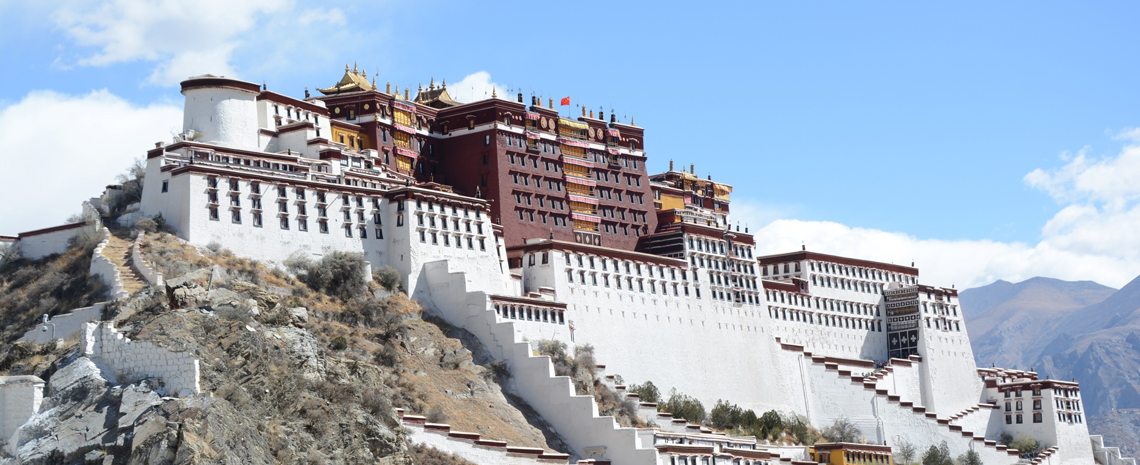 5-Day Lhasa Classics and Lake Yamdrok Tour
This 5-day tour offers a chance to see Lhasa's highlights and a lakeside picnic nearby Tibetan holy Lake-Lake Yomdrok. Get closer to local life in the old area.
Highlights
Count the steps up to Potala Palace – the holy palace of Tibetan Buddhism
Follow in the footsteps of pilgrims at Jokhang Temple and Barkhor Street
Watch monks debate at Sera Monastery
Enjoy a picnic at Lake Yamdrok
Stay at a heritage hotel in Lhasa's old town
What's Included
Entrance to scenic spots in itinerary
Lunch mentioned in itinerary
Private transfer between the airport, attractions and hotels
Private English-speaking tour guide and driver service
Best value heritage hotels
Price Per Person in US Dollars
| Nov.1 - Mar.31 | Price |
| --- | --- |
| 2-5 People | $919 |
| 6-9 People | $669 |
| Apr.1 - Oct.31 |   |
| 2-5 People | $949 |
| 6-9 People | $699 |
Suggested Itinerary
Hotel: Shambhala Palace
Your private driver and guide will be ready for you when you arrive in Lhasa. Sit back in a comfortable van, leave the hassles to your guide, and enjoy a trouble-free transfer to your Shambhala Palace hotel.
Good to know:
It's better to arrive in Lhasa in the morning. Then you will have more time to acclimatize to the altitude and preempt altitude sickness.
If you prefer to stay in a hotel with special oxygen supplies, Shangri-La Hotel Lhasa (with a luxury oxygen spa) or InterContinental Lhasa Paradise (with oxygen supplied directly to the rooms each day from 22:00-6:00 hrs) is recommended.

Day 2
Visit Norbulingka, Sera Monastery and Drepung Monastery
Meals: breakfast & lunch
Hotel: Shambhala Palace
Enjoy an unhurried western breakfast like bread, hot coffee, and salad.
This morning you will visit Norbulingka, the former summer palace of the Dalai Lamas, but now a public park where locals get together in summer to camp and picnic. It's a good place for seeing more of the local people's lives; and a beautiful park not to be missed.
In the afternoon, you'll watch monks debating age-old scripts in a courtyard of Sera Monastery. Such debates are held every day (except Sunday) at 15:00 hrs and are necessary for learning sutras and scriptures.
Visit Drepung Monastery, one of the biggest of the six principle monasteries of the Gelu Sect in China. The popular and large-scale Shoton Festival is convened every year at Drepung. If you come around the beginning of August, you'll have a chance to observe this grandest of Tibetan festivals.
General rules for visiting temples in Tibet:
Cameras are not allowed in the temples or in the debate field, but taking photos with a cell phone is ok.
When visiting a temple, your shoulders should be covered, and you should not wear shorts. Walk clockwise when visiting Barkhor Street.

Day 3
Visit Potala Palace and Jokhang Temple
Meals: breakfast & lunch
Hotel: Shambhala Palace
Today you will visit Potala Palace – the most iconic sight in Lhasa. Your guide will unravel the palace's history to you in a vivid way. Climb past the White Palace into the Red Palace to learn more about Buddhist culture.
Jokhang Temple is considered the heart of a rich and living Tibetan Buddhism. You can join pilgrims who circle around the temple in a clockwise direction, and watch devoted pilgrims prostrate themselves near the front gate.
Walk along Barkhor Street, and visit a local Thangka workshop. Meet local nuns in Ani Tsankhung Nunnery, where females learn about Buddhism.
Good to know:
There are 1,080 steps up to the entrance of the palace. Climbing these steps on the plateau is not easy, and typically takes about an hour. Your tour guide will adapt to your pace, and introduce local history on the way.

Day 4
Picnic by Lake Yamdrok
Meals: breakfast & lunch
Hotel: Shigatse Palace
After breakfast, drive about 2 hours to the holy lake, Lake Yamdrok. On the way enjoy the marvelous scenery around Karuola Glacier, one of three continental glaciers in Tibet.
Have a picnic of sandwiches, vegetables and fruit by the beautiful Lake Yamdrok. The lake is decorated by many islands and natural resources. As a major water-bird habitat in Tibet, it's also a great place to see hundreds of swans and gulls in summer.
Good to know
If the weather is not good for a picnic, we'll arrange a local restaurant for you.

Meals: breakfast
After breakfast, your private guide and driver will take you to the airport for your departure.
Trip Notes
1. Tibet Travel Permit
You will need a Tibet Entry Permit. Its cost is included in the tour quotation. Send your passport and China visa copies to us 20 days in advance, and we will apply for your permit once you book a Tibetan tour with us. In our experience, we can virtually guarantee to get your permit during times when Tibet is open to foreign travelers.
2. Accommodation
We've selected heritage hotels in the more traditional area of Lhasa, near Jokhang Temple and Barkhor Street, so that travelers can experience more of the local life and culture. If you prefer to stay in a hotel with special oxygen supplies, other hotels in Lhasa are recommended (as above).
3. Guiding
Our English-speaking guides are natives of Tibet with good knowledge of Tibetan culture, history, and Buddhism. Most are trained to offer Western-standard service.
4. Food
Enjoy local Tibetan, Western Chinese and Nepalese food on the tour.
You will have standard western hotel breakfast in Lhasa, and specially prepared breakfasts outside of Lhasa: including butter, bread, coffee, tea, etc.
After the first day, lunch is included every day. Your guide can recommend some good local restaurants for dinner. Outside Lhasa, we suggest you have dinner in the hotels where you are staying.
5. Altitude Sickness
Before your trip, ask your doctor for any suggestions in relation to altitude sickness and bring some medicine just in case. The most popular altitude medicine among foreigners is Acetazolamide/Diamox.
We recommend that during the first two days after arriving in Tibet, visitors should keep warm, not take a bath, not smoke or drink alcohol. Drink plenty of water (>4 litres per day) before going and at altitude, and eat lots of vegetables and carbohydrates. Slow down, even if you feel energetic. Moving slowly is the best way to avoid altitude sickness.
If you don't feel well after entering Tibet, go and see a doctor as soon as possible. There are doctors in major hotels in Lhasa, and you can call your tour guide for help at any time. We offer a free oxygen bag in the car.
6. What to Pack
Seek medical advice about altitude effects and pack any medicine you might need. Sunglasses, snow glasses, hats, lip balm, sun block, walking boots, and down jackets are all recommended.
7. Transport
Comfortable private cars/vans with experienced drivers will be arranged for you. All our vehicles meet the requirements of the Tibet Tourist Bureau, and are equipped with GPS and speed-limiting equipment.
8. Booking
Take into consideration the time you need to apply for your Tibet Entry Permit. It's best to book a tour with us at least 30 days before your tour starts.
Deposit: If you book a Tibet tour 30 days or more before departure, you are required to pay 10% deposit in advance; if you book within 30 days of departure, you are required to pay in full at the time of booking.
Cancellation: If you cancel the tour up to 14 days before departure, you will be refunded, minus a booking fee.