Chinese Lanterns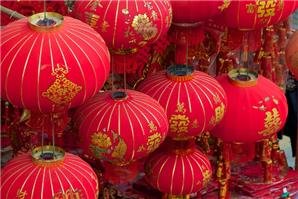 Red lanterns, a famous chinese symbol
Chinese red lanterns have a long history, and they have become a well-known symbol of China Towns worldwide. They started out as a practicality and evolved into elaborate status symbols, literally riddled with mystery.
Features
The most common Chinese lanterns are red, oval shape, and decorated with red or golden tassels, but they come in many forms; another usual style is a square lantern.
The materials for making a lantern vary: bamboo, wood, rattan, or steel wire for the frame; paper or silk for the shade; and for decoration Chinese calligraphy, painting, paper cutting, and embroidery.
For a more unusual material, check out our instructions for how to make your own Chinese lantern from the left over hong bao after Chinese New Year.
History
Development in Ancient China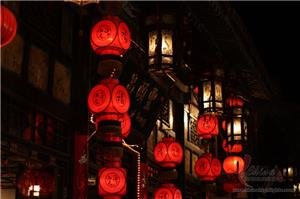 Originally, lanterns are used to protect the flame from sindy weather.
The Chinese lantern originated as an improvement for the open flame. The shade not only protects the flame inside from being extinguished in windy weather, but also provides a more diffuse form of lighting.
It was inevitable that the lantern shade would become the object of artistic expression, given the Chinese penchant for embellishment. It also underwent extensive design experimentation: lamp-shade artisans competed amongst themselves to produce lamp shades of exquisite beauty, functionality, design, and artistic decoration.
Just as in the Carnival of Rio de Janeiro, where contestants compete each year to create the most impressive costume, participants in the ancient Lantern Festivals competed each year in producing the most impressive lantern.
The difference is that the best lantern designs in China – except for those reserved for the Imperial Palace – became public property: they were copied by every lamp-shade artisan throughout the country.
The emperor himself had the best lamp-shade artisans in the empire work for him; such recognition was naturally the supreme honor.
Ancient Uses for Lanterns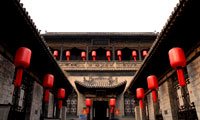 Red lanterns are extensively used in Qiao Family's Compound, a rich family
While the earliest Chinese lanterns were created for practical use in the house and as entrance-way lighting, they eventually became highly ornamental, and a status symbol.
This is evident from how the red lanterns are extensively used in Qiao Family's Compound, built in the Qing Dynasty, as well as at the gates to the Siheyuan housing compounds, typical of Beijing, but also seen elsewhere in China.
It was also quickly discovered that the lantern made an excellent "flashlight", or portable light.
Some historical experts believe that the concept of street lighting in Europe stems from European contact with Imperial China, where "street lighting" had long existed in the form of the Chinese lanterns hanging on doors and gateways.
Grand Celebrations in Ancient China
Typical for ancient Chinese society was its penchant for grand celebrations. One such celebration is the Lantern Festival, aka Little New Year, so named because it is the culmination of the Chinese New Year festival.
Ancient Chinese celebrations always contained an element of reference to other artistic genres, such as the fine art of calligraphy, or literature.
For example, a famous poet might compose a poem recognizing the artistic achievement of the artists/ artisans. Occasionally the fame of such a poem would eventually completely overshadow the fame of the subject of the poem.
Lantern Riddles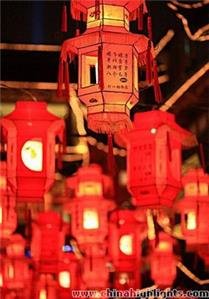 Lantern riddles, a unique folk custom of Lantern Festival
Guessing the meaning of lantern riddles has been a unique folk custom during the Lantern Festival since ancient times.
In ancient China, every family hung colorful lanterns at the gate. Some wrote riddles on pieces of paper, and attached them on the lanterns. The answer had to be guessed from a word, a poem, or a phrase.
Because the riddles are interesting and thought-provoking, and guessing lantern riddles makes the festival more interactive and lively, it has remained an essential activity during the Chinese Lantern Festival.
Lanterns Today
Although there is no longer a practical need for Chinese lanterns, they are still made, used, and enjoyed by the Chinese people. They continue to be a means of artistic expression, both in terms of functionality, design, and decoration.
The streets both in big cities and small towns are decorated with red lanterns during festivals, especially Chinese New Year, Mid-Autumn Festival, and Lantern Festival.
Best places to go are Beijing, Hongkong and Nanjing. In Beijing, temple fairs are held in various venues, and lanterns can be seen everywhere.
Related Links

China Highlights
Questions and Answers About Chinese Lanterns
shnum num
2012-07-01
Show Answer
why are chinese lanterns used is there a historic story behind them
Hi!While the earliest Chinese lanterns were created for practical use in the house and as entrance-way lighting, they eventually became highly ornamental, and a status symbol. I cannot find any believable historic story about lantern. But there are some legends. Please click: http://www.chinahighlights.com/festivals/lantern-festival.htm Peter replied on 2012-07-03
Ashley
2012-03-19
Show Answer
How do chinese lanterns usually look?
The most popular ones are red ones with ellipsoid shape. Lynn Ye replied on 2012-03-20
Paulomi sinha
2012-02-13
Show Answer
how did festival start
This festival starts from Xihan Dynasty which is over 2000 years ago in China. It is said that on the 15th of the chinese lunar new year, the monks light the candles to show their respect to the Budda, thus the holiday comes about. Sammi Dai replied on 2012-02-14
Nicole Rubio
2012-02-07
Show Answer
how did the Chinese lantern get that oval shape? American ovals aren't shaped like that
That was, very, very, very, very, very, very, very, racist. guest replied on 2012-08-15
Hello, China Highlights has prepared a guide of how to make a Chinese lantern at http://www.chinahighlights.com/travelguide/special-report/chinese-new-year/lantern.htm, including an interesting video. Iris Zhong replied on 2012-02-08
iuyhwokihjf
2011-11-13
Show Answer
when was the lanter made
Dear iuyhwokihjf, The Chinese lanterns are made in Lantern's Festival with a long history about 2000 years. On that day, people will make the lanterns and hang them on in order to pray for safety. I hope you would be satisfied with my answer. Candice Song replied on 2011-11-20
April Offer $25 Coupon
Send your inquiry before Apr. 30, 2014, and we will email you a $25 coupon.
The coupon is valid till Dec. 31, 2014, for paying tour packages worth $250 or up.
The coupon cannot be used for paying flight tickets, train tickets, hotel rooms and day trips.
Travel Advice or Question? Ask us here