Itinerary
We take the stress out of travel, no waiting for taxi or trying to remember where you put that hotel address, your guide and driver will meet you at the airport and take you straight to your destination.
Day 2:
Beijing in a Nutshell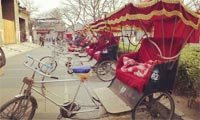 Our guide will start your tour with the most iconic sights, Tiananmen Square and the Forbidden City. The latter really is "a city within a city", a maze of stunning halls, gardens, and courtyards.
Lunch is also in historic surroundings, but serves new modern French dishes, a fusion of eastern and western culture.
Hutongs, a maze of ancient alleyways with traditional courtyard houses, is an essential part of Beijing's life of old. You can hop on a rickshaw ride through the narrow alleys and visit a local family.
If you are interested in Kung Fu, you can ask us to book tickets for the fantastic The Legend of Kungfu show.
Day 3:
Beijing: The Great Wall and Temple of Heaven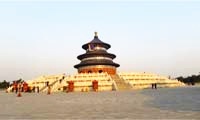 Breathtaking Mutianyu Great Wall starts your day; you get the maximum time to marvel as your guide and driver take you there directly. No shops. No Markets. No Tombs. No 'Workshops' which are really factory shops. A cable car takes you to a good section (avoiding a very steep climb), and for the way back you can choose to either take the cable car, walk down or walk along the wall for about an hour to descend by chairlift.
After lunch in a nearby restaurant that specializes in fish dishes, you are taken back to town for some fun action, kite flying on the grounds of the Temple of Heaven. Afterwards, you can explore the architecture of this commanding complex, built for the emperors to pray for good harvest. The garden often has locals practicing Kung Fu and tai chi.
You have heard of it, now taste it in the most authentic version, famous Beijing Roast Duck (or Peking Duck). It's sure to be a highlight of your dinner tonight.
Day 4:
Water Amusement Park (Fly to Xian)
Every child needs a break from sightseeing, no matter how interesting; this morning is dedicated to the best indoor water park in China, Water Magic Cube Amusement Park. This is where the Aquatics Centre was during the Beijing Olympics, and it is now open to the public. Feedback on our China family tours has been great.
After working up a good appetite, you can enjoy the authentic dishes of Old Beijing fare for lunch - hand-pulled noodles, for example. Ask to see how it's done; your kids will love it.
Later in the day your guide will take you to the airport for your flight to Xian, and you will be picked up at the other end and taken directly to your hotel.
Day 5:
The Terracotta Army and Dumpling Experience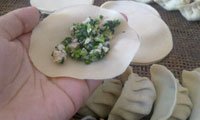 Today you get to see one of the wonders of the world, the Terracotta Army. In the adjoining museum some of the items discovered give you an insight into other aspects, such as the kind of weaponry the ancient army used. Lunch nearby is delicious, Hunan and Sichuan cuisine.
The elegant Big Wild Goose Pagoda is one of the most beautiful ones in China and surrounded by a stunning garden.
Tonight offers a hands-on experience, we get the kids involved in making dumplings for dinner; these small bites are a quintessential part of Chinese food culture.
Day 6:
Xi'an City Wall on a Bicycle and Shaanxi History Museum
Sure to be one of the highlights of your trip: cycling along the Xian City Wall; there are not many places on earth where you can do this. The walls, ramparts, gates and watchtowers are well preserved and give another history lesson in a fun form. If the weather is not good for biking, a visit to the Bell Tower makes a great replacement.
Lunch is in a famous restaurant serving Tang Dynasty style food, and the receipts date back to the Tang dynasty.
This afternoon you are free until your guide picks you up for your flight to Guilin. Naturally, a private car will take you directly to your hotel in Guilin and we will take good care of your family during the transfer process.
Day 7:
Guilin Classic Tour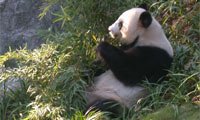 Historical sites change to more natural wonders in Guilin, famous for the karst mountain formations. Reed Flute Cave, Elephant Trunk Hill, and Seven Star Park (including the Panda House) are the most famous.
Day 8:
Guilin: Li River Cruise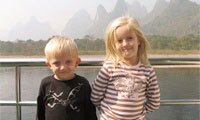 This morning the world famous Li River Cruise takes you down to Yangshuo, a small town made famous by its stunning scenery.
At lunch time you can participate on a Chinese cookery class, all the way from buying the ingredients on the local market to savoring the dishes; you even get to take the recipes home.
You will stay the night in Yangshuo, where there is an abundance of good restaurants, with dishes from all over the world.
Good to Know
We also offer an option to swap the cruise for a bamboo style motor raft, popular with families. As your travel advisor.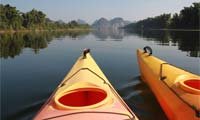 Kayaking is a popular activity in Yangshuo, because of the amazing scenery. The whole trip is 20km long and will take about 3 hours. The minimum is two people and the availability depends on the conditions. Afterwards, experience a local bus back to Yangshuo. If you prefer, you can relax in the town instead of going kayaking or hire some bikes or electric scooters to explore some villages. There is also a golf cart tour you can easily join, winding through quintessential Chinese villages.
Our guide and driver will take you back to Guilin for lunch, and then to the airport for your flight to Shanghai.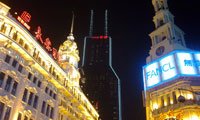 Children should love the start to the day: the viewing platform of the Shanghai World Financial Center at 474 (1,555 feet) meters, with a glass floor. The views are quite spectacular.
Yuyuan Garden was created in classic Chinese style during Ming Dynasty, and is surrounded by a busy market street where you can find handicrafts, antiques and souvenirs. The City God Temple nearby is also interesting display of architecture. Lunch gives you a taste of the flavors of traditional Shanghai dishes, famous for its steamed dumplings called Xiaolongbao.
More recent history is seen at The Bund, where European style buildings from different eras create a beautiful gallery of styles along the river side. We recommend a second viewing later at night, when all the lights are on. There is a chance to go to see how silk is created, if you are interested and not too tired after your day. This is a shop and so we no longer visit this attraction, however if you would like to go just ask the guide.
After dinner you can go to see the Shangcheng Acrobatic Show, which combines incredible acrobatic and circus feats.
Your guide will take good care of you until the last moment and make sure you check-in goes smoothly, as they take you to the airport.
Just let us know your travel style!
Guide vs. Free-time ratio / Hotel Style & Interests / Dates / People
We will then adapt this tour and create a unique quote based on your individual needs.

Free Quote