Hukou Waterfall
Overview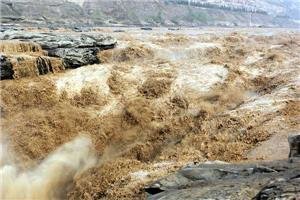 Hukou Waterfall
Hukou (mouth of teapot) Waterfall is the only yellow waterfall in the world and the second largest waterfall in China after Huangguoshu Waterfall in Anshun City, Guizhou Province. It is a naturally formed waterfall when the mighty Yellow River, the mother river of China, flows through Jinxia Grand Canyon on its middle reaches. The width of the waterfall changes with the season, usually 30 meters (98 feet) wide but increasing to 50 meters (164 feet) during flood season. China Highlights offers customized tours to Yanan, just fill out this form and we will response within 24 hours, free inquiry.
Location
Huhou Waterfall is located at the intersection of Shanxi Province and Shaanxi Province, 48 kilometers (30 miles) from Yichuan County of Yan'an and some 400 kilometers (249 miles) from Xi'an.
Features
It is a great pleasure that a visitors should not miss in the Yellow River Basin. The mighty Yellow River, the second largest river in China, surges its way form the Qinghai Province to the border of Shanxi and Shaanxi provinces where it suddenly found its way through a narrow valley blocked by mountains on both sides. The riverbed abruptly narrows down from 300 meters (984 feet) to 50 meters (164 feet), turning the placid water to rapids. The tremendous water splashes on the rock, forming a magnificent waterfall of 15 meters (49 feet) high and 20 meters (66 feet) wide, as if the water is pouring down from a huge teapot, hence the name Hukou (means mouth of teapot). The scene can be overwhelming, water stirs up masses of smoke and clouds, with color turning from yellow to grey, grey to blue. The locals call this awesome scenery "smoke from river".
Over history, a number of prominent poets and painters once traveled here. Wowing at the grand view, they left numerous works giving high honor of the waterfall. Visitors not only can appreciate the waterfalls and take photos, but also can take rafts to make an exploration, taste Yellow River carps and Yan'an wines. There are restaurants in the scenic area offering Chinese fast food and dishes featuring local flavors.
Best Time to Visit
the period from April to May and the period from September to November are the best times. Hukou Waterfall is abundant and of great momentum which makes it a spectacular sight during these two periods. Traveling here in winter may be of different interest as Hukou Waterfall becomes a huge silvery ice waterfall and little silver icicles hang on the cliffs around the waterfall.
Transport
Many buses to Hukou Waterfall are available at the bus station of Yichuan County, just about one hour drive. You also can take bus at Yan'an Long-distance Bus Station. There is just one bus a day starting at 7:30am and reaching Hukou Waterfalls at noon. There is tourist round bus from Xi'an to Hukou Waterfall which starts at 6:30am and goes back at 3 or 4pm.
Questions and Answers About Hukou Waterfall
cathy
2010-07-23
Show Answer
can we visit this place during august,2010?..as heard of flooding due to yellow river
Present foold is mainly in south of China, Yangtze River region. Huanghe is in north of China and is less affected. It will be no problem to visit Hukou Waterfall in August. If you have decided to travel to China in August, please email me at jean@chinahighlights.net the information of how many people in your group and what other places you want to visit beside Xi'an and Hukou Waterfall. I will be glad to email you a detaled proposal accordingly. Jean Fu replied on 2010-07-24
April Offer $25 Coupon
Send your inquiry before Apr. 30, 2014, and we will email you a $25 coupon.
The coupon is valid till Dec. 31, 2014, for paying tour packages worth $250 or up.
The coupon cannot be used for paying flight tickets, train tickets, hotel rooms and day trips.
Travel Advice or Question? Ask us here
You might like

The Most Popular Night Markets in Xi'an

China Highlights
Xi'an Travel Guide