Zhangjiajie Weather in August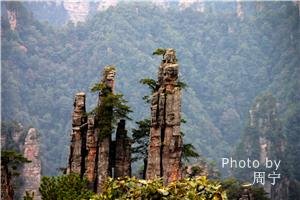 Weather: The weather is hot, and the temperatures are almost the same as those of July, but it is less rainy. The average highest temperature is 33 °C (91 °F) and the lowest 23 °C (73 °F). The rainy season ends in August. There is about 130 mm of total precipitation each August, and it rains about ten days of the month. Check the current weather and forecast>>
Clothing: Summer clothing is fine. If you want to go rafting on a river, bring a swimming costume that also covers you skin to avoid sunburn on a sunny day. The sun is hot, so wear sunglasses and a hat. If you want to hike, wear shoes with good traction.
Things to Do
Stay cool at Tianzishan: To escape the heat, we suggest going up to the Tianzishan (天子山) Nature Reserve. Tianzishan is a mountain in the Wulingyuan Scenic Area. The top of the mountain is more than a kilometer (4,140 feet) above sea level, and the nature and wildlife reserve covers 67 square kilometers (16,000 acres). The average temperature is a cool 12 °C (54 °F). There is also a tramway that is about 2 kilometers (2,280 yards) long.
Walk on Tianmenshan: Tianmenshan is the main attraction for most tourists in this UNESCO World Heritage park. Hiking all the way to the top of the mountain takes about two or three hours, and the hike might be too difficult for those out of shape. The stairs and paths extend all the way to the top of the mountain. At the top, there is a glass sidewalk that stretches 600 meters along the side of the peak; it is a kilometer above the valley floor. Walking on it might be the biggest thrill of the day. If you hike up, drink a lot of water. A hat will help prevent sunstroke or heat exhaustion on a sunny day.
The rocky hill has a distinctive hole like a giant keyhole to the sky. It measures 131 meters high, 57 meters wide, and 60 meters deep. You can climb the stairs to it. It is said that there are 999 steps to reach it. For easier access, you can take the cable car to the platform near the hole.
Take a cable car ride to the top: The cable ride to the top of Tianmenshan takes half an hour. This is a cooler and much easier way to enjoy the scenery. If you can manage to get a car for just you and your sweetheart, that would make for a good date.
Raft on Maoyan and Mengdong: To escape the heat, we suggest going down to the rivers for river rafting and swimming. Rafting on a river is a cool and thrilling summer activity in the area. The hot sun and relatively less rain is good weather for this popular water activity. Rafting on Mengdong River is an adventure where torrents of water careen at sharp turns and off steep ramps. The scenery alongside the river is breathtaking and gorgeous. Maoyan has rapids with tame water in between them. On it, you can float slowly by amazing waterfalls and scenery, and enjoy the rapids too.
Touring Zhangjiajie

High Travel Season
August is a busy month for tourists. Students and teachers have vacations. Hotel rates are high, perhaps double what is would be in low season, and tickets for flights and trains are more expensive too. It is advisable to book in advance. We'll try to arrange hotel accommodations you'll appreciate with our experience, and we might also help with tickets, so you won't need to waste time in lines at ticket counters.
Tour Options

Options can be found on our Zhangjiajie Tours page. Three or four days is enough to enjoy the beauty in the area, and you can modify tour details as you wish when booking with us.
How about combining rest on a cruise ship such as a Guilin Li River cruise or a Yangtze River cruise with exercise in Zhangjiajie? This would be a great combination during which you can see a variety of scenery in China. During a 7-day Zhangjiajie tour and Yangtze River cruise, you can first hike to see the natural highlights and then dine, relax, and watch China pass by on the Yangtze River.
Further Reading
Zhangjiajie Climate Information by Month
Questions and Answers About Zhangjiajie Weather in August
Anne
2013-07-31
Show Answer
Is zhangjiajie very hot now? is it safe to visit in view of the heatwave? when will temperature ease?
Dear Anne, Based on the information from weather forecast, the average temperature is about 28-40℃(82.4-104℉), it is very hot. I suggest you come to visit Zhangjiajie in September or October, it will be 20-25℃(68-77℉), it will be comfortable for traveling. Lussie Lu replied on 2013-08-01
Joanna
2012-08-01
Show Answer
Hello, we are planning to go to Zhangjiajie at the end of August. Is the weather ok at that time? Could you advise on places to see when staying around for about a week? And what''s the easiest way to get from there to Yangshuo? Thanks in advance!
The temperature at Zhangjiajie at the end of Aug. is around 37℃/100℉ during the day time. Generally visitors will keep two days for Zhangjiajie National Park (one day for Jinbian Brook, one day for Tianzi Mountan), for the third day they could visit Tianmen Mountain in Zhangjiajie city. Some younth like to extend the journey (4-5 hours by bus) to Fenghuang ancient town. No train or bus from Yangshuo or Guilin to Zhangjiajie, you could take two hours bus to Liuzhou City, then take the train to Zhangjiajie 2012 (Dep. 21:09 -- Arr. next day 08:30). You could book the train tickets at China Highlights website for free (3-10 days before departure).http://www.chinahighlights.com/china-trains/ Karen Karen Yang replied on 2012-08-02
Arphitha
2011-11-11
Show Answer
When is the best time (which month) to travel Zhangjiajie?
Hi Arphitha, the best time to visit Zhangjiajie is Spring and Autumn. It's from April to June and September to end of October. Michael Hu replied on 2011-11-11
Eileen Kuay
2011-07-29
Show Answer
what is the weather for 26 aug to 3rd of Sept,2011
Dear Eileen Kuay, Based on the former data, the temperature is about 26-37°C, it's very hot. You'd better take T-shirt. I will send an e-mail about the Zhangjiajie tour package for reference. If you have any questions, please feel free to let me know. I am glad to serve you. Lussie Lu replied on 2011-07-30
April Offer $25 Coupon
Send your inquiry before Apr. 30, 2014, and we will email you a $25 coupon.
The coupon is valid till Dec. 31, 2014, for paying tour packages worth $250 or up.
The coupon cannot be used for paying flight tickets, train tickets, hotel rooms and day trips.
Travel Advice or Question? Ask us here

China Highlights
Zhangjiajie Travel Guide