Zhangjiajie Travel Guide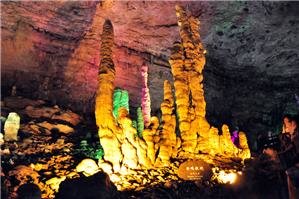 Yellow Dragon Cavern, one of the beautiful scenic spot of Zhangjiajie
Zhangjiajie is located in the south of China. It is a prefecture city of Hunan Province, in the northwest. It is about 400 kilometers (249 miles) from Changsha, the provincial capital of Hunan. Zhangjiajie was formerly named Dayong City. As the fame of Zhangjiajie National Forest Park is much bigger than the city itself, so the whole city changed its name to Zhangjiajie.
Zhangjiajie is famous for its grotesque peaks, limpid water and streams, dense forests and odd karst caves. In 1982, Zhangjiajie National Forest Park became China's first national forest park. Zhangjiajie is a natural zoo and green treasure trove. The forest coverage rate is over 95%, with more than 1,000 plant species. There are also rare animals such as the red-billed Leiothrix ("Peking Nightinggale"), macaques, South China tigers, giant salamanders and rhesus monkeys.
Avatar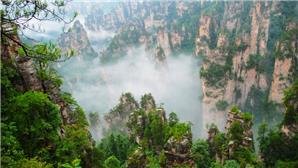 The amazing scenery of Zhangjiajie is used in the famous movie, Avatar.
The American Hollywood director, James Cameron, visited Zhangjiajie and was deeply attracted by the amazing scenery. So he used the pictures taken in Zhangjiajie for his famous 3D film, Avatar. The floating mountain in the film is the Qiankun Pillar in Zhangjiajie. Because of the film, it was later renamed "Hallelujah".
Acrobatic Flight
In 2006, the Russian Air Force performed their acrobatic flight skills over Tianmen Mountain, Zhangjiajie, which brought worldwide fame for both the city and the scenic area.
Attractions in Zhangjiajie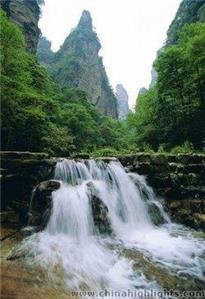 The natural scenery of Zhangjiajie National Forest Park
Zhangjiajie National Forest Park is one of several national parks within Wulingyuan Scenic Area. Wulingyuan Scenic Area consists of four parts: Zhangjiajie National Forest Park, Yangjiajie Natural Reserve Area, Suoxiyu Scenic Area, and Tianzishan Scenic Area. It covers an area of 369 square kilometers. In 1992 Wulingyuan Scenic Area was listed as a World Natural Heritage Site by UNESCO.
Besides Wulingyuan Scenic Area, there is also Jinbian Stream (Golden Whip Stream), Yellow Stone Stronghold (Huangshi Village) , Yuanjiajie, Tianmen Mountain, Puguang Temple, Mengdong River, and the famous Phoenix Town is not far.
Highlights
Glass Skywalk in Tianmen Mountain —try it and you will feel like you are walking in the sky. It is very exciting!
Jinbian Stream (Golden Whip Stream) —it is one of the most beautiful parts of Zhangjiajie National Forest Park. It was where the Mountain of Flowers and Fruits in the TV play series A Journey to the West was filmed.
Yellow Stone Stronghold (Huangshi Village) —you can see the peak forest there.
Yuanjiajie — you will see the "Hallelujah Mountain" which appeared in the film Avatar.
Tickets/Entrance fees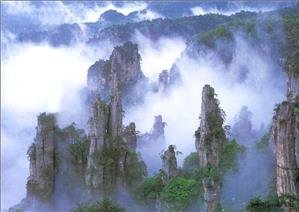 The scenery of Wulingyuan Scenic Area
A ticket to Wulingyuan Scenic Area is valid for three days. It is a comprehensive ticket, which costs 248 yuan (about USD 40) and includes a three-day park pass, free rides on the internal bus system, and insurance. Students under 25 years old with valid student ID (this also applies to foreigners if you show your passport) can buy student tickets for 160 yuan (plus an additional 3 yuan for the insurance).
You can also get a discounted ticket if you are 60 or over. Just show your passport to prove your age.
Climate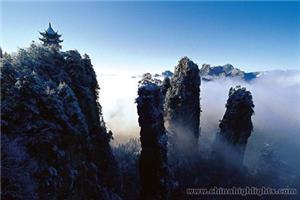 The spectacular peak forest of Huangshi Village in heavy fog
Zhangjiajie has a subtropical monsoon climate, with abundant sunshine and rain. The annual sunlight exposure is 1,440 hours, and the precipitation is 1,400 millimeters. The average highest temperature is 37°C (98°F) while the lowest is 4°C (39°F).
There is heavy fog in the park in the rainy season (April–June). The forest park is usually very humid during this period. Besides, there can be a big temperature gap within one day. In early morning or late afternoon, it can be 18°C (64°F). However, at noon, it can rise up to 30°C (80°F).
Best Times to Visit
From September to October, the autumn foliage becomes colorful and is very beautiful. Also, the temperature is quite good; a long-sleeved shirt and a thin coat will keep you warm enough.
From April to May, it is the rainy season in Zhangjiajie. The road will be slippery and the mountains will be covered by extensive fog, which gives it an enchanting atmosphere.
From December to February, it may snow or become frozen. It could be very cold in the mountainous area, with slippery roads; it is not very safe. Besides, the park is closed for one week in February for routine maintenance, so it is not recommended to visit during this time.
Transportation
By air
Zhangjiajie Hehua International Airport has flights to Hong Kong, Macau, Seoul and Busan in Korea, as well as to Fukuoka and Osaka in Japan.
For domestic cities, there are daily direct flights to and from Beijing, Shanghai, Guangzhou, Xi'an, Shenyang, and Changsha.
However, some of the cities, such as Shenzhen, Tianjin, and Xiamen, only have flights available every three or four days, not every day. If it is not convenient to fly to Zhangjiajie directly, you can go via Changsha as a transit city.
By train
There are limited trains going to Zhangjiajie directly. You can go via Changsha where there are more options for you to choose to get to Zhangjiajie. For example, train, bus or flight.
By taxi
From Zhangjiajie Airport to Zhangjiajie City, it costs about 20–40 yuan. From Zhangjiajie Airport to Wulingyuan Scenic Area entrance is about 100 yuan.
Note: Some taxi drivers may be unwilling to use the meter. They may attempt to charge you a "parking lot fee". If this is the case, you can call your hotel/hostel and ask them to speak with the taxi driver for you. It is also recommended that you negotiate the price with the driver before you start the journey.
Accommodation
Hotels in Zhangjiajie are mainly scattered in three areas: Suoxiyu area, downtown Zhangjiajie, and in the forest park. Though Suoxiyu is a bit further than the other two areas from the airport or the railway station, it is rather convenient to visit the attractions. If you stay near the railway station, it would be a lot of trouble to go to the scenic spot and back every day, as there is a long distance between them.
You are recommended to stay near the bus station because the transportation is more convenient there. However, the most comfortable way is to stay inside the scenic area.
Tips
The roads from the airport to the scenic area are winding mountain roads. Visitors who suffer from carsickness are recommended to take some medication in advance, or to ask the driver to slow down the speed.

Questions and Answers About Zhangjiajie Travel Guide
Julia Swift
2014-03-09
Show Answer
What is the current weather condition in Zhangjiejie?
Hi Julia, the temperature is from 7℃(45℉)to 18℃(65℉). Whitney Liao replied on 2014-03-10
Maggie
2013-04-24
Show Answer
Hi, my family and I are looking for places to go in the end of this week beginning og next week. We are currently living in Dongguan, guangdong and really need to get out of the City for a few days. Can you tell me a little about prices on transportation and accomodation? And would hanggjiajie be a Nice place to stay and just enjoy a bit of nature without the City hazzle and daytrips where you spend most time on transportation. We are able leave saturday night and go back wednesday Night. It would be my husband, 3 Year old son and myself and we are on a budget. Hope you can help us.
Hi Maggie, Zhangjiajie is very beautiful, with marvelous nature scenery. But there are no direct transportations from Dongguan to Zhangjiajie. You can take the flights from Guangzhou or Shen to Zhangjiajie. Do you mean you will start this Saturday? I will send you a proposal a bit later.
Whitney Liao replied on 2013-04-25
Bordyn
2013-02-05
Show Answer
Hello, My classmate and I will be coming in Zhangjiajie during March 7-12,2013. Spring Time right ? How is the weather in Zhangjiajie during that period. I would like to know cloth is suitable.
Hi Bordyn, March in Zhangjiajie is not springtime. During this month, the lowest temperature is 7 °C (45 °F) and the highest temperature is 16 °C (61 °F). Prepare warm clothes, such as a coat with a thick woolen sweater. March marks the transition period from winter to spring, and the temperature differences between day and night are large, so dressing in layers is suggested.
Whitney Liao replied on 2013-02-05
Gigi B.
2012-10-11
Show Answer
Hi,We want to tour Zhangjiajie this mid to late November. About how cold it will get? Please tell me the range of daily temperature. Thx
Dear Gigi, The average temeprature will be 10℃(50℉)to 20℃(68℉)during that time, it will vary greatly between day and night. You'd better take some thick coats and a sweater. Here is an useful website to check the new information. You could check it before leaving for Zhangjiajie. Click: http://www.weather.com.cn/en/weather/101251101.shtml We also have some tour packages for reference. Click: http://www.chinahighlights.com/zhangjiajie/tours.htm Lussie Lu replied on 2012-10-11
Byron Lee
2012-07-01
Show Answer
I and my wife ae currently in Wuxi, China fro my sabbatical from Canada. We would like to visit Zhangjiejie during July for 4-5 days. 1. We would like to take train from Shanghai to there, but some said it will take 9 hrs by train, but I saw it takes 20 hrs by train. Which one is correct?2. If we take 4 days tour, it will inlude 5 stars hotel, meal and other entrance costs, etc, that will cost how much. Please verify this for me.
Dear Byron, The over night train from Shanghai to Zhangjiajie takes around 21 hours. I send a detailed quotation of 4 days trip to Zhangjiajiewith 5 star hotel to your E-mail box. Please check it and feel free contact me at nancy@chinahighlights.net any time. I am looking forward to hearing from you soon. Nancy Nancy Deng replied on 2012-07-02
April Offer $25 Coupon
Send your inquiry before Apr. 30, 2014, and we will email you a $25 coupon.
The coupon is valid till Dec. 31, 2014, for paying tour packages worth $250 or up.
The coupon cannot be used for paying flight tickets, train tickets, hotel rooms and day trips.
Travel Advice or Question? Ask us here
Zhangjiajie Facts
Chinese Name: 张家界
Chinese Pinyin: zhāng jiā jiè
Location: South of China
Province: Hunan
Latitude: 28° 55' N
Longitude: 109° 58' E
Elevation: 183 M (600 FT)
Time Zone: (UTC+8)
Area Code: 0744
Population: 1.6 million