Zhangjiajie Travel Guide
Zhangjiajie is a newly developed international tourist city that lies on the border of Hunan Province. It is rich in water resources despite not being a coastal city. The region covers 91,563 square kilometers and it has a large population of 1.5 million, 60% of whom belong to the Tujia, Bai and Miao minorities.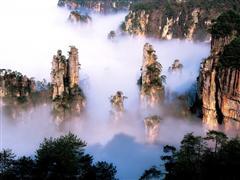 Zhangjiajie Scenic Area
Zhangjiajie is a surreal world. A land of sandstone pillars towering above mist-shrouded ravines, pristine waters gently flowing under dense forests, rapids thundering, birds singing and animals leaping, that's Zhangjiajie.
Zhangjiajie is famous worldwide, for its pristine national scenery and the government's proactive policy on tourist infrastructure construction in recent years has boosted the region's tourist industry.
Zhangjiajie city is situated in a semitropical monsoon zone. It enjoys with a modest humid climate, plentiful sunshine, flush rainfalls, fertile land and rich tourist resources. The city is famous worldwide for its pristine scenery. The government's policy on tourist infrastructure construction in recent years has boosted the region's tourism industry and made it one of the most popular tourist destinations in China.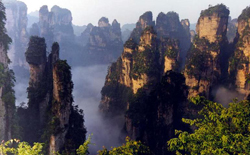 Zhangjiajie Scenery
Zhangjiajie's main tourist draw is the Wulingyuan Scenic Area, which was added to the UNESCO World Heritage list for its lush vegetation, unique sandstone pillars, pristine waters and a wide variety flora and fauna. Wulingyuan contains three major sights, including Zhangjiajie Forest Park, Suoxi Vale, and Tianzi Mountain, covering a total of 396 square kilometers.
Zhangjiajie is an energetic tourist city. Nine percent of the city, or about 500 square kilometers, has been zoned as a provincial national scenic spot and natural protection zone. The area also features scenic spots and historical sites such as Puguang Temple, Yuhuang Dong Rock Cave, and the former residence of renowned Helong and Duxin's. An attractive cultural tour destination, the local minority flavor and folk Wushu are popular both at home and abroad.
Area:9563square kilometers
Telephone code:0744
Zip code:427000
Nationalities:Tujia, Bai, Miao, Han and so on.

Planning a trip? Ask us here 800-2682918 (USA & CA)
86-773-2831999 (Int'l)
Q:
Maggie
Asked on 2013-04-24
Reply
Hi, my family and I are looking for places to go in the end of this week beginning og next week. We are currently living in Dongguan, guangdong and really need to get out of the City for a few days. Can you tell me a little about prices on transportation and accomodation? And would hanggjiajie be a Nice place to stay and just enjoy a bit of nature without the City hazzle and daytrips where you spend most time on transportation. We are able leave saturday night and go back wednesday Night. It would be my husband, 3 Year old son and myself and we are on a budget. Hope you can help us.
Hi Maggie, Zhangjiajie is very beautiful, with marvelous nature scenery. But there are no direct transportations from Dongguan to Zhangjiajie. You can take the flights from Guangzhou or Shen to Zhangjiajie. Do you mean you will start this Saturday? I will send you a proposal a bit later.
Whitney Liao Replied on 2013-04-25
Q:
Bordyn
Asked on 2013-02-05
Reply
Hello, My classmate and I will be coming in Zhangjiajie during March 7-12,2013. Spring Time right ? How is the weather in Zhangjiajie during that period. I would like to know cloth is suitable.
Hi Bordyn, March in Zhangjiajie is not springtime. During this month, the lowest temperature is 7 °C (45 °F) and the highest temperature is 16 °C (61 °F). Prepare warm clothes, such as a coat with a thick woolen sweater. March marks the transition period from winter to spring, and the temperature differences between day and night are large, so dressing in layers is suggested.
Whitney Liao Replied on 2013-02-05
Q:
Gigi B.
Asked on 2012-10-11
Reply
Hi,We want to tour Zhangjiajie this mid to late November. About how cold it will get? Please tell me the range of daily temperature. Thx
Dear Gigi, The average temeprature will be 10℃(50℉)to 20℃(68℉)during that time, it will vary greatly between day and night. You'd better take some thick coats and a sweater. Here is an useful website to check the new information. You could check it before leaving for Zhangjiajie. Click: http://www.weather.com.cn/en/weather/101251101.shtml We also have some tour packages for reference. Click: http://www.chinahighlights.com/zhangjiajie/tours.htm Lussie Lu Replied on 2012-10-11
Q:
Byron Lee
Asked on 2012-07-01
Reply
I and my wife ae currently in Wuxi, China fro my sabbatical from Canada. We would like to visit Zhangjiejie during July for 4-5 days. 1. We would like to take train from Shanghai to there, but some said it will take 9 hrs by train, but I saw it takes 20 hrs by train. Which one is correct?2. If we take 4 days tour, it will inlude 5 stars hotel, meal and other entrance costs, etc, that will cost how much. Please verify this for me.
Dear Byron, The over night train from Shanghai to Zhangjiajie takes around 21 hours. I send a detailed quotation of 4 days trip to Zhangjiajiewith 5 star hotel to your E-mail box. Please check it and feel free contact me at nancy@chinahighlights.net any time. I am looking forward to hearing from you soon. Nancy Nancy Deng Replied on 2012-07-02
Q:
Jim Whitman
Asked on 2012-05-07
Reply
hello, my name is Jim Whitman, I am an International Star of Country Music, I was very interested to read about the very successful Country Music Festival held at the UNESCO World Heritage Site in Zangjiajie. I have been promoting this on Facebook, see: Chinese Country Music Association. I would like to know more about this so that I can promote it further. Please send me as much information as you can.

Hi Jim, the third time countryside music festival will be hold in Zhangjiajie in 31th AUG to 4th Sept.Welcome to zhangjiajie and join the party! guest Replied on 2013-07-06
Zhangjiajie Facts
Chinese Name: 张家界
Chinese Pinyin: zhāng jiā jiè
Location: South of China
Province: Hunan
Latitude: 28° 55' N
Longitude: 109° 58' E
Elevation: 183 M (600 FT)
Time Zone: (UTC+8)
Area Code: 0744
Population: 1.6 million