Guilin Weather in July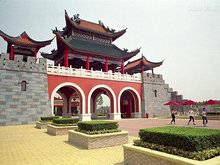 Weather: July is hot and humid, with occasional downpours and summer showers. It is the hottest month of the year, with an average temperature of 28°C (82°F).
Clothing: Prepare umbrella, sunglasses, and sun screen, and wear summer clothes like shorts, T-shirts, and skirts.
Things to Do
Cool caves: although it is a little hot in July, Guilin's summer, some cool caves could be your sightseeing choice. The Reed Flute Caves in Guilin's suburbs and the Silver Cave close to Yangshuo are the two most famous caves for travelers. In those cool caves, it's just like having air conditioning and lets you forget that it is summer.
Two Rivers and Four Lakes night cruise: take the Two Rivers and Four Lakes night cruise and enjoy the fabulous scenery of colorful illuminations on the banks.
Yulong River Drifting: July is one of the best times for river drifting, as it rarely rains during this month. Go to the Yulong River drifting course; enjoy the idyllic countryside on the riverside. Two other good drifting options are the Twelve Beach drift and the Nine Horse Fresco Hill drift.
Seven Star Park: the park is well sheltered by tall trees and these trees make a pleasant shade. It is suitable to visit even in the hottest July afternoon.
Guilin Climate Information by Month

China Highlights
Guilin Travel Guide