Reed Flute Cave
Reed Flute Cave (芦笛岩, Ludi Yan /loo-dee yen/) is a fascinating gallery of natural sculptures (limestone cave formations), now enhanced by multicolored lighting, which has been one of Guilin's many interesting attractions for over 1,200 years. It rates asone of the top four tourist sites in the city. The cave got its namefrom a type of reed growing outside, which can be made into melodious flutes.
Highlights of Reed Flute Cave
Limestone formations:The cave is filled with a large number of stalactites, stalagmites, and rock formations in weird and wonderful shapes. Illuminated by the colored lights, the cave looks like a dazzling underground palace. That's why the cave is also known as 'Nature's Art Palace'. The most liked formations are Rose Dawn over Lion Peaks and Crystal Palace.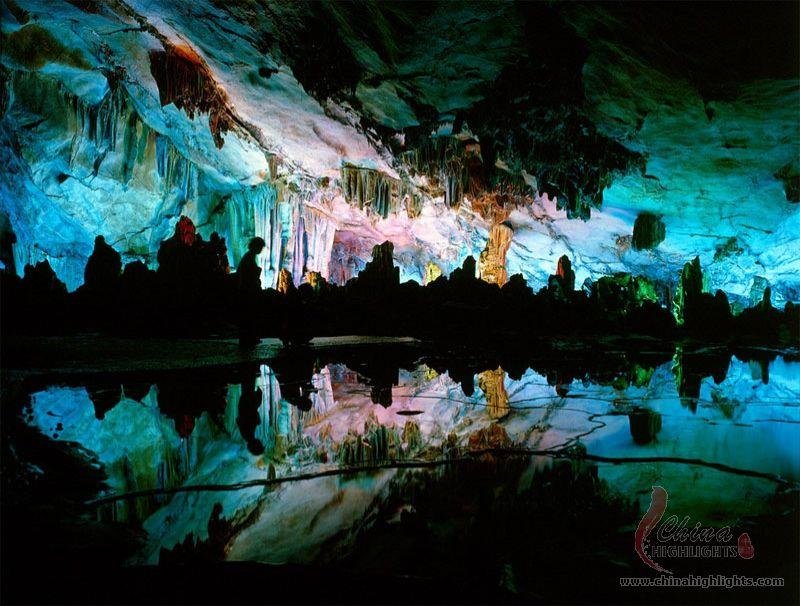 See spectacular stalactites & stalagmites at the Reed Flute Cave.
Historic inscriptions:Inside the cave there are more than 70 inscriptions written in ink, which can be dated back as far as 792 AD in the Tang Dynasty (618–907). These aged inscriptions tell us that it has been an attraction in Guilin since ancient times. Millions of tourists have visited Reed Flute Cave since its official opening as a tourist attraction in 1962.
Reed Flute Cave Tours
The cave is about 240 meters long and a tour lasts about one hour. Along the U-shaped route, visitors will have ample time see the oddly-shaped rocks and stone pillars while the guide narrates interesting stories about them.
Most of our classic Guilin tours include Reed Flute Cave. If you want to change the itinerary stay with us — we are experts at customizing tours to suit customer requirements.
A typical One-Day Guilin City Tour includes Reed Flute Cave, Elephant Hill, and Fubo Hill (or Solitary Beauty Peak with the Jinjiang Ming Prince's Mansion).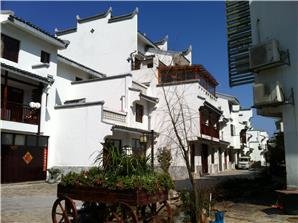 Visit Lujia Village on the way back to Guilin
Travel Essentials
Location:In the northwest suburbs of Guilin city (only about 4 km from its downtown), the entrance is situated on Reed Flute Road on the south side of Guangming ('Light Bright') Hill.
Opening hours: 8:00 a.m. – 5:30 p.m.
Bus routes: 3, 13, and 58
Lujia Village
Lujia Village is located at the banks of Peach Blossom River, on the way to the Reed Flute Cave. The village was renovated according to the prototype of North-Guangxi-Style folk houses. It is a good place to see the North-Guangxi-Style architectures and experience the local rural life.
Visit the Reed Flute Cave with China Highlights, on the way back to the city, stop by Lujia Village for a free visit. There you can get a better understanding of the Chinese architectures with the explanation from our tour guide. If you like, enjoy a cup of coffee to spend the leisure afternoon there.
Futher Reading
Questions and Answers About Reed Flute Cave
marini
2011-08-04
Show Answer
how to get there from hotel grand 0773
Dear Marini, You can take a taxi to the scenic spot, it takes about 20 minutes and it costs about CNY20 (US$3) per car. Or you can take a bus at Yang Bridge Bus Station which is near Guilin Department Store and it's located at Zhongshan Middle Road. You can walk there from your hotel, it takes about 5 minutes. It takes about 40 minutes by bus and it costs CNY1 (US$0.16) per person. Sometimes there are a lot of people in the bus and there is no air-conditioner. It's not comfortable to take a bus. Lussie Lu replied on 2011-08-05
April Offer $25 Coupon
Send your inquiry before Apr. 30, 2014, and we will email you a $25 coupon.
The coupon is valid till Dec. 31, 2014, for paying tour packages worth $250 or up.
The coupon cannot be used for paying flight tickets, train tickets, hotel rooms and day trips.
Travel Advice or Question? Ask us here

China Highlights
Guilin Travel Guide